A day in the life of Stevie Williams
3
Wakes up.  Has quick look in the bedside mirror.  Looking good.
Gets up and checks the full-length mirror.  Ah yes; those steely blue eyes.  LEGEND.  As Adam Scott said when winning The Masters "a f'ing LEGEND".
Makes coffee, and carries it out onto the deck for consumption.  Not just a normal carry to the deck; he guides the coffee out there with true authority taking the perfect route.  And it's a great cup of coffee too.
Fit for a champion.
Checks his voicemail.  There a quite a few requests for interviews.  Well there would be, wouldn't there he reflects.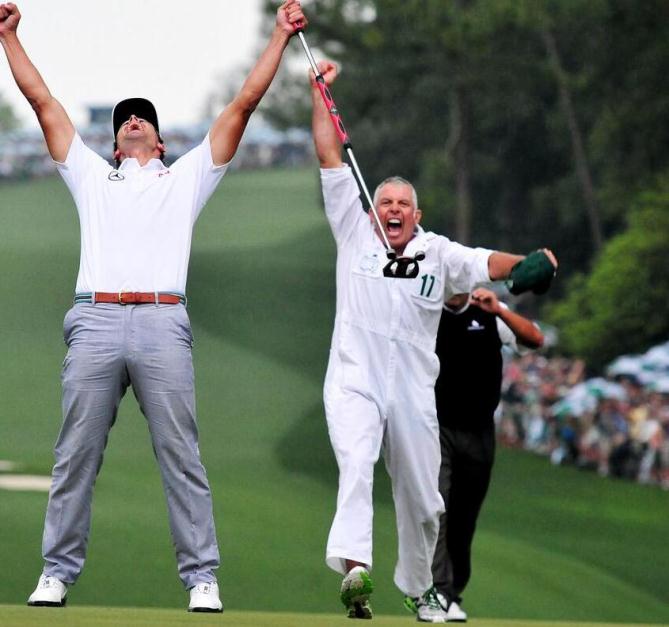 They are good interviews too; a powerful message delivered with more than just a little humour.  Manages to get in a dig at Tiger too; remembering not to drop the reference to the colour of his skin this time too.  A pro always learns from his mistakes.
Tiger.  If only he had someone to advise him not to take that illegal drop; those two shots were crucial.  Anyway, Steve's well and truly over the Tiger split now.
Inspects the trophy cabinet.  It's looking good as always; well-ordered and lovingly polished.  They are in alphabetical order; "Masters, Open Championship, Stockcar Racing, US open".  It's the attention to detail that matters
He ponders at the curiosity that there's no Hallberg Award in the mix.  But then it's not unusual for a true genius not to be recognised in his own country.
Checks out the bag cabinet. golf bags at 118 Golf
Right; there is work to be done.  Drives to golf course.  Fast; really fast.
It's always reassuring to know that there's that racing career to fall back on, not that it's likely to need to fall back on anything.
Arrives at the golf course just before Adam Scott.  That's the way it should be.  He remembers  how good his judgement was to accept Scott's pleas to be his caddy.  That was a wise move; he really has taken Scott to a new level.
LEGEND.
Practice goes well, as it usually does.  Wisdom imparted carefully, greens read like a book, and the golf bag carried around in style.  That's the best way to get good golf odds.
The session finishes with the traditional fist-pump.
Another perfect drive back to the hotel.  Dinner, a cheeky glass of red, another interview given graciously and off to bed.
But not before letting out one more "LEGEND" in front of the full-length mirror.