MVP Points from Martin Guptill Day
0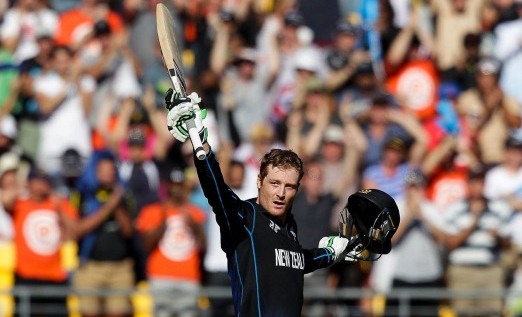 Knock-out time at the World Cup, and a match that will be replayed as often as the opening game of  the 1992 Cricket World Cup.
The records kept on falling, and the full ground in orange rode along with it. At the end of it New Zealand travels to Auckland to play a semi-final on Tuesday.  That was always likely to happen; what could not have been predicted is the way it has all happened.
Strangely enough, given the margin of victory, this has been the hardest match to allocate the MVP points for.
Ross Taylor.  Yes, that's right; Ross Taylor.  Clearly this was not his best form, but he did take part in a 143 run partnership, at faster than a run a ball that set up the innings.  Clearly the impetus for that partnership came from the other end, but Taylor played to the situation.
Daniel Vettori.  This is where it gets totally subjective.  Statistically his input was peripheral.  But in 10 years' time the second thing that people will remember about this match will be that catch.  And Samuels was looking dangerous.
Trent Boult.  Now to the real stars.  Boult really has been the icing on the cake in this campaign.  A sustained, hostile spell of swing bowling where he could easily have taken more wickets.  He had four within the first Power Play.  All ten overs of it.
Martin Guptill.  It would be fair to say nobody saw that coming.  Not 237*.  A masterful effort of pacing an innings. Well worked singles; often considered a weakness, early interspersed with technically perfect straight drives.  Then the fours started coming with regularity, finished off with an astonishing spell of six-hitting. A large of the reason he was picked for this campaign was because people remembered what he did in England in 2013.  That was just an entrée.
| | |
| --- | --- |
| Williamson | 21 |
| Anderson | 19 |
| Vettori | 17 |
| Boult | 16 |
| Ronchi | 14 |
| McCullum B | 12 |
| Henry | 11 |
| Guptill | 11 |
| Taylor | 10 |
| Southee | 6 |
| McClenaghan | 5 |
| Elliott | 5 |
| Milne | 2 |
| Mills | 2 |
| Latham | 1 |