Spark Sport passes first test
0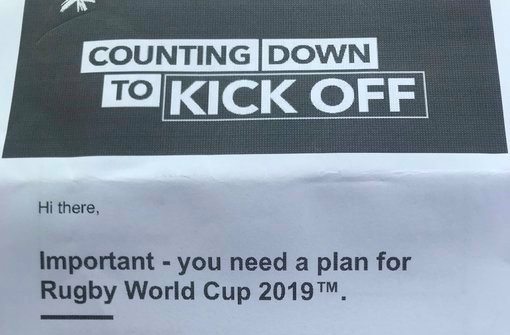 By Andrew Dunford
Friday was a big night for Spark Sport, marking the real start of their online streaming Rugby World Cup service in New Zealand. They've been around for a few months now and run some warm-up rugby events, but last night was the moment of truth.
Over the past few weeks, most of the focus on Spark Sport has concentrated on their readiness to deliver pictures to the living rooms of the nation. The new service is a big change for the NZ rugby-viewing public and it's fair to say the transition to streaming has not gone smoothly for all. From what I saw last night, Spark Sport passed this first test comfortably in serving nearly 60,000 live streams. Our main news web sites appear desperate for Spark to fail and had no trouble finding individuals with complaints, not least from those whose connections are not fast enough to stream the service, but this would be true of any television delivered via the internet and seemed to affect a minority. Ironically, the service may turn out to be better quality because some punters have stayed away in the expectation it will fail.
Now that Spark has proved it can deliver the service, the content is of much more interest. Here are a few thoughts from my Friday viewing, with the caveat that I was tired and half-asleep on the couch and watched the Japan-Russia match only until half-time.
After the brief but enjoyable opening ceremony, Spark had about an hour to fill until the opening match kicked off. They alternated between three main sets: a studio panel in New Zealand (anchor James Gemmell, Isa Nacewa, Jon Preston, Kristina Sue, Damian McKenzie), a pitch-side group at the stadium (Kimberlee Downes, Keven Mealamu, Sir Graham Henry), and the match commentators Scotty Stevenson and Stephen Donald.
An hour of pre-match chat seemed rather long for the amount of material Spark had on offer. Rotating between three groups of talking heads saying much the same thing was rather monotonous and this segment would have benefited from more technical analysis, for example a more detailed preview of the Japan v Russia match we were about to watch. The lack of a library of video clips to provide variety was painfully evident, but I did wonder why we didn't see a contribution from the excellent analysts at The 1014. The studio presentation was good, but the pitch-side features didn't add a great deal and the segments from the commentary box were spoiled by a low-quality production filmed from an unsatisfactory angle.
It was refreshing to see a different set of faces from usual in the studio and Spark has pulled off a coup in securing the services of James Gemmell, who did a fine job anchoring the coverage. Much less appealing was the appearance of advertising promotions within the presentation. Ad breaks are a commercial reality I readily accept, but subjecting paid subscribers to plugs for products during the show itself is tacky.
The match commentary itself was of good quality, although with Scotty Stevenson at the helm this was never really in doubt. Stevenson provides a fresh voice not always evident in his former Sky colleagues, and Stephen Donald alongside also offered more insight than I was expecting.
Overall the Spark Sport presentation went well for a first night and should be judged a success. I have seen some excruciating live sport telecast debut programmes over the years: this wasn't one of those. Give me more Gemmell and Stevenson, more of The 1014 and less product placement and I will enjoy it even more. And the real test is to come tonight when New Zealand plays its first match.
Follow Andrew on Twitter