The Future of our Rugby is a Bit More Important
4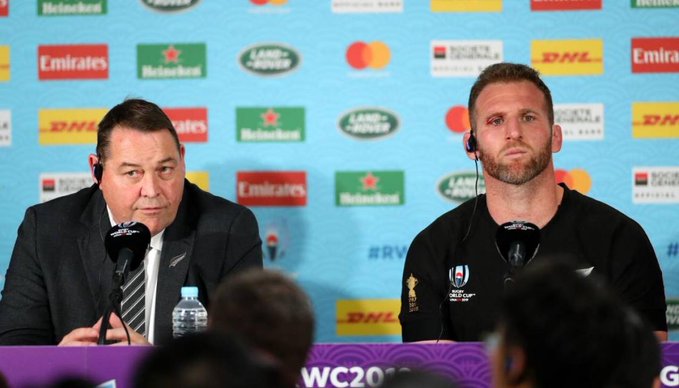 By Paul Montague
There has been a bordering-on hysterical reaction from a section of the social media wolf pack towards Steve Hansen's response to THAT question after the semi-final. Really, it's a pretty accurate reflection of the times we are in- taking something hugely out of context and being outraged by it. It's all becoming annoying and tiresome, not to mention usually lacking in logic. And in this case it's almost baseless; save for possibly a point that most of the questions from some in the ABs-friendly media over some years have been pretty lightweight.
If some people cared to pay any heed at all to the tone that Hansen spoke in, surely they'd have picked up that there was never any inference about any threat to the reporter, Andrew Gourdie. Both reporter and coach could have chosen their words a tad more carefully, but it's all a gigantic storm in a teacup. Nothing to see here. Hansen deserves a bit of a break on that front in his final week.
A better question on the England game might have concerned our tactical approach of flicking the ball on when the spaces were palpably closed. And on it continued with no thought to a Plan B. Second half '07 'rabbits in the headlights' versus France came to mind. We weren't just outplayed the other night, we were severely out-thought as well.
Even more worrying however, is the state of of rugby union here- if you've followed me at all on sportsfreak over the past few years you'd know that even though I'm a diehard fan of the All Blacks, I've never shied away from being oft-critical towards the way they've been run by NZR.
As alluded to more than once, why can't NZR see that eventually there'll only be a brick wall waiting at the end of any road in trying to keep our players in New Zealand- that the only way to properly ensure Rugby's future here is the re-establishment of a once-enviable domestic competition? They could do it- they are just not visionary enough, too apathetic or comfortable (or in reality, hamstrung by a huge TV deal), to consider the possibilities.
At the same time, they must consign to history the rule about players only being eligible for selection by remaining in NZ. Before you shout 'ridiculous contradiction', 'pie in the sky', or 'get real' about those two points just made, read on…
It would mean starting from square one in the future, but NZR should for once try being brave enough to make their goal to be the sustainability and growth of the domestic game their focus the next time the TV deals come up for renewal. Because the finances they currently splurge on trying to keep players already in the All Blacks from leaving due to the ridiculous tie-in to the 'no All Black selection from abroad' could instead be used for making domestic contracts, not All Black contracts, attractive to budding professional rugby players. In that way also, the greater proportion of the money NZR currently outlay on just the All Blacks and fringe All Blacks would end up being more evenly distributed.
The reality is that it's going to get harder and harder keeping the players here as things stand now- we are already facing a losing battle- more and more potential young All Blacks will start jumping ship abroad, because, basically out of the mouths of NZR themselves, we just can't compete with overseas money. If that is so, then why not change the whole perspective?
A massive domestic revamp and creation of the best rugby competition in the world in the most rugby-mad nation on the planet could be enough to pull in some big money from sponsors wanting to jump on the bandwagon. If some players do want to seek their future abroad however, so be it. Don't rule them out for a shot at the fabled black jersey just because they don't ply their trade here. We have lost national team talent like Charles Piu'tau and Steven Lua'tua to this archaic policy. It's going to get senseless persisting with it. It worked well in the past, but the goalposts are not in the same spot they once were. The money from France, Japan and England will get even more irresistible.
At any rate, perhaps after that salutary rugby lesson we received from England, it's not an entirely bad thing for now and even perhaps into the future if some of our best were to participate in the European Leagues. Because as Rugby Union's rules currently stand and the way the Northern Hemisphere have worked us out, our brand of razzle-dazzle isn't always going to cut it from now on. However, now that NZR have signed their latest TV deal quicker than a Spark streaming service capitulates, anything remotely changing has been shoved off the table pretty much for good.
Imagine being an outside consultant and being seconded to forensically investigate one of the flagship policies of NZR- the one about ineligibility for All Black selection from abroad. By all rights, the person seconded would make a logical guess that one of the reasons to stop the cream leaving would be ensuring the growth and prestige of a very strong domestic league with all the best players available for selection almost every week (not factoring in the basket case of the international Super Rugby competition here). Think of the shock when they discover that these players are usually PRECLUDED by NZR from playing here for their provinces and helping to grow the very game they are supposedly being encouraged to remain here for.
How completely warped and stupidly ironic is that?
*I want to know though what YOU think.
Where do you see our national rugby future in ten years? Do we continue down the road to potential oblivion (my take, admittedly) with NZR's top-heavy, All Blacks-centric approach, or is it time before it's too late for NZR to bring a bit more vision to the state of the game overall here? And what needs to happen differently, if anything? Give me a few thoughts if you can.
Posting your ideas in the 'Comments' would be highly appreciated. Many thanks.