The story of Didi Gregorius
1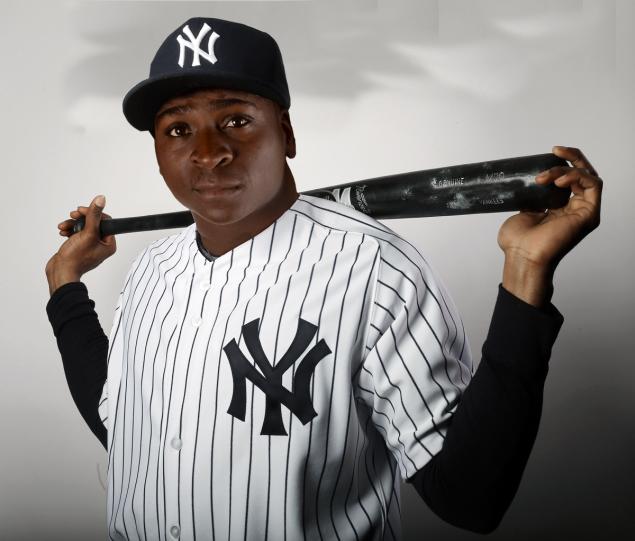 By Scott MacLean
As far as places to find an international sports star go, Porirua's Mana College would be an unlikely candidate. Yet in a windswept corner of their sports fields on Sunday that's exactly where you would. Didi Gregorius isn't a household name, but he plays for one of the world's iconic teams – baseball's New York Yankees – in one of the game's premier positions – shortstop – where he has the unenviable job of following in the footsteps of the great Derek Jeter.
Born in Amsterdam, Gregorius grew up on the Dutch Caribbean island of Curacao. For Kiwi sports fans it's not too far from the islands that make up most of the West Indies, and is where Phoenix midfielder Roly Bonevacia has chosen to represent internationally. Curacao's population is only 160,000, yet currently has several players on Major League rosters. Aside from Gregorius there's three other phenomenally talented young infielders – Andrelton Simmons (Angels), Jurickson Profar (Rangers), and Jonathon Schoop (Orioles), as well as Dodgers closer Kenley Jansen amongst others.
Gregorius was signed as 17-year old by the Cincinnati Reds and spent the next five years working his way up through their minor league system and even spent a stint with the Canberra Cavalry in the MLB-backed Australian league, before debuting late in the 2012 season.
That offseason he was traded twice, firstly to the Cleveland Indians and then again to the Arizona Diamondbacks where he played the bulk of the next two seasons in the Major Leagues. Then with Jeter having retired and needing their next shortstop the Yankees acquired him in the 2014-15 offseason, and after a rocky start has established himself in the Bronx Bombers lineup, setting highs with 20 home runs and 76 runs batted in last season. At just 26, he's entering what is considered the prime years of his career.
Gregorius has been out in New Zealand at the invitation of Baseball New Zealand spreading the gospel of the game at clinics up and down the country, including with national age grade squads, where kids from got the chance to take fielding instruction and have a real life big-leaguer look over their form in the batter's box, with Gregorius also putting on hitting shows of his own.
While Steven Adams is obviously the highest-profile Kiwi in the big five North American leagues, getting a home grown player to the Big Leagues has proved more elusive.  American-born John Holdzkom has had some success with the Pittsburgh Pirates, but the closest a locally-born player has come is former Toronto Blue Jay Scott Campbell and ex-softballer Travis Wilson with the Atlanta Braves, both who made it Triple-A (the top-level of the minor league system). That's something that Baseball NZ CEO Ryan Flynn wants to change.
"Of course it would be helpful to have our own Steven Adams in the sport of baseball, a homegrown star who is only getting better and promotes the sport with every move he makes and interview he gives. He's brilliant for basketball in this country and everywhere, to be honest. To be fair, both Travis and Scott were unlucky to make it to the Show; both were good enough and caught a bad break or two. We have a handful of young men in the US system right now who have a chance to go all the way, players like Jimmy Boyce, Ben Thompson, Jason Matthews and even Kyle Glogoski who is playing in Australia. And there are others, too. The issue right now is that we have momentum and can't wait for a player to 'make it.'
'Instead we need to develop a critical mass of players domestically and ensure our development system is such that we prepare hundreds for US colleges and/or professional and semi-professional leagues in North America and around the globe. If we do this, and ensure we slot in the numbers, the critical mass all sports in all nations require to truly produce a world class system and ensure a certain percentage do take the next step on the world stage, then we can all but guarantee some of our boys will do what Steven and Ryan Nelsen and Lydia Ko have done in their respective sports. It's coming. It's just takes time and a lot of hard work in the trenches by our club coaches, administrators and officials."
Having Gregorius here is part of that plan, and some of the success of that can be measured by the numbers that turned up to the clinics. In Mana twice the number expected showed up and even then Didi's arrival was about 30 minutes later than intended having been caught up signing autographs after his clinic earlier in Levin (off all places!). The following day more than 200 turned up to Wakefield Park.
Up close it's hard not to be impressed by him. Physically he's tall and athletic, with his footwork, throwing, and swing honed by years of coaching. It's hard not to imagine that if he'd gone in a different direction growing-up – unlikely given his father and older brother both played baseball and his mother softball – he'd be a heck of a footballer.
Better than that though he's affable and personable, traits that probably come in handy as much with kids as with dealing with a tough day in front of the notoriously fickle Yankee fans and New York press, let alone in the grind of a 162-game season and the massive shoes of the man he's succeeded. He's also unassuming, but also not short of throwing a jibe or two; a couple of youngsters who he'd seen earlier at the age grade camps copped some good natured banter as did a family who all showed up Blue Jays shirts. Your scribe wasn't immune either, but showing up in his Boston Red Sox jersey probably was a good part of that!
Gregorius isn't the first big-leaguer to venture here recently; former Yankee (and now-Met) Curtis Granderson and Paul Goldschmidt have also been recent visitors, while 25-year veteran Jim Kaat is also in New Zealand at present as are several members of the San Diego Padres organisation checking out the talent, including General Manager AJ Preller. Its small steps, but there are a swathe of clubs springing up around the country, and perhaps that first homegrown big leaguer, and more following behind, isn't too far away.
Certainly a bunch of kids walked away from Mana College with smiles on their faces, a bit awestruck, and inspired.
Follow Scott on Twitter