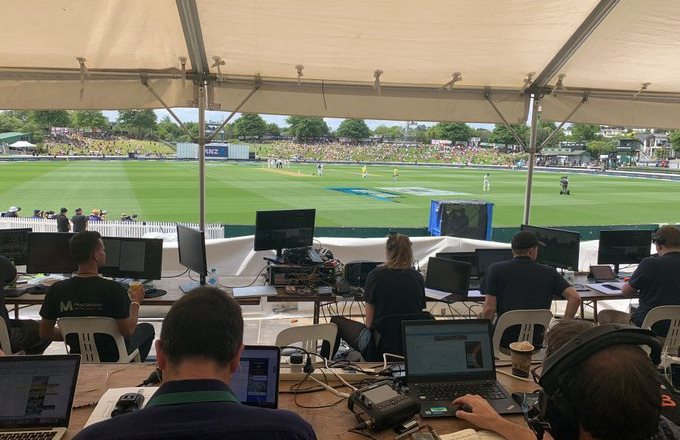 By Aiden McLaughlin
Many of you will know how precious time is when you have a young family. Priorities chance as do habits. I still watch a lot of sport but nowhere near as much as I previously did (I used to watch a LOT of sport). As the kids have become older though, my wife and I started to give ourselves a bit more time to do the things we enjoy outside our day to day routines, and for me, that's going to watch live sport outside of Hawke's Bay.
In February I went to see the Wellington Phoenix play Melbourne Victory at Eden Park and at the start of March I travelled to the Basin Reserve for the first time to watch the first two days of the Black Caps test against Bangladesh. I'm still waiting to actually go to the Basin though, given that both days were rained off. Frustrated though I was, I thought I'd get a chance to return to Wellington when England toured late this year. That was scuppered when the test venues of Bay Oval and Seddon Park were announced, but undeterred I decided to make the trip to Hamilton for day one of the second test. When organising the tickets, I had a look to see what other sport was on and discovered that the Breakers were playing the Illawarra Hawks the night after in Auckland and the road trip was set.
I got a good mate who lives in Te Awamutu on board for the cricket and we drove into Hamilton on Friday morning and stopped off at the supermarket where I opened up the email I'd been sent stating the allowances on what we could bring in. Bottled water is a good start on a warm day….no bigger than 1 litre….ok, right. Plenty of 1.5 litre options, plenty of 750ml options, hmm, not much on the 1 litre front; and the 1.5 litre options are more expensive than the 750ml bottles…never mind, not the end of the world, put it in the trolley, on we go. With snacks added, back to the car we went and we found somewhere to park. I worked out the seats we had were near one of the entrances and we were parked on that side of the ground, so that was handy; except that entrance wasn't open so we ended up having to walk all the way around to the one entrance that wa open. Plenty of time before the start of play, not a problem, and if I'm honest I could do with the extra steps on the Fitbit.
In we go and what a beautiful sight Seddon Park is. A decent sized crowd was there, bolstered by the forever loyal Barmy Army. I spot a lady who I met at Lords when New Zealand toured England in 2008. She goes around the world watching cricket and every couple of years I spot her on the tv in Sri Lanka, South Africa or some other foreign land. I briefly talk to her and bearing in mind she's probably met another couple of thousand people since our encounter, she's typically polite.
Seats identified, we start to get our bearings. We're not there to get drunk, but a few beers on a warm day will go down a treat. Now, where's the bar…nothing close by, but my friend predicts there will be a bar behind the bowlers arm where all the food stalls are. After about 30 mins play, we decide it's time for that first beer and off I trot. Ok, there seems to be sufficient food options; there's even Fritz's Wieners, but no beer, so on I walk to the only bar, which is more than halfway around the ground. This is the only way to get to it as the media area means you can't walk the shorter route from where our seats are.
The queue isn't too bad and the staff are polite and reasonably efficient. The patrons are patient although one asks a staff member why there isn't another bar. 'We only open another bar on busy days' she replies. Isn't today a busy day? 'No, not really. One day internationals are busy and we open up another bar over there' as she points to an area about 20 metres from where we are based.
Back I walk with two beers, clocking up more steps, trying not to spill a drop. If I do I'll get stick from the Barmy Army on the bank too, so another reason to be careful.
After a while I wander over to the media tent to say hello to someone and without any Red Badge staff present I walk straight in, easy as you like. It would have been interesting to see how far I could have ventured. By the time I say my goodbyes, there is a security guard nearby but he's busy.
'But my car is just there.'
'I'm sorry sir, I can't let you out this gate, you will need to go the gate you came in if you want to leave to return to your car'
'But that'll take ages. I know it's not your fault mate, but that's bloody ridiculous. It was the same in Mount Maunganui'
'I know, I'm sorry sir'
Lunch arrives and it's great to see the crowd allowed onto the outfield. Hundreds of people take up the opportunity and there are plenty of mini games going on. Well done Seddon Park.
My friend gets another beer in the afternoon session and we go through our food supplies and have a good chat with an English fan from Exeter, who is sat in front of us. Knowledgeable and friendly, he is loving his time in New Zealand.
Ross Taylor gets his fifty, then gets out. Tom Latham gets his hundred and tea arrives. Clouds circle and the rain starts upon the resumption of play. The fella from Exeter gets his phone out and points to the screen.
'Look at this lads, it's gonna be heavy, and it's around for a while. I reckon that's it' before he scarpers.
We go behind the back of our stand to find shelter underneath the temporary structure. After about 20 mins the rain becomes so heavy that's it's coming through the gaps above and we are dancing to avoid it. We look at each other; it's time to go and thankfully the forbidden gate from earlier has finally been opened to allow our speedy exit. About an hour later, when we're back in Te Awamutu, play is officially called off for the day.
Saturday morning arrives and I drive up to Auckland. Unsuccessful in my attempt to get an early check-in, instead I seek and receive a recommendation on a good spot to watch the morning session of day two over a quiet beer and a spot of lunch. After that and a bit of shopping in the afternoon, it's time to head to Spark Arena.
As I make my way there by foot, I get a sense of who's undertaking the same journey. It's a mixed crowd, much more so than I expected. Young, middle-aged and old are wearing their Breakers singlets. There are couples, families, groups of teenagers. A cross section of ethnic backgrounds. There are springs in people's steps; you wouldn't think they are going to watch a team who have lost their last five, have a 2-8 win/loss record and have been in the headlines for more off the court stuff than any sports team would want. People frankly, don't seem to care.
A group of four teenagers arrive and sit to my right, massively excited.
'There's RJ, there's RJ….Hampton boyyyyyyy' is the first thing one of them says during the warm-up. They are pumped to be there.
A couple of youth teams get on the court as the arena starts to fill up; they're pretty good and it's well worth watching as people take their seats, with beers and hotdogs in hand via the outlets on the concourse. If you're watching from ground level, staff are taking drink orders and delivering the beverages back to your seat so you don't miss the action (and you can pay by eftpos or cash).
There's music and it's loud; Sweet Caroline comes on as does We Will Rock You and the crowd are getting into it – actually, the choice of music is irrelevant, the crowd are just buzzing as they await tip off. Once the game has started, the noise and atmosphere is phenomenal. Someone dressed as Spider-Man is running around the arena, the announcer is on the go all the time, keeping the crowd engaged. Upon a time out, dancers make their way onto the court to fill the gap. Kiss Cam makes an appearance. Spot prizes for people putting phone lights on are given out. T-shirts are fired into the crowd as mementos.
LaMelo Ball is an NBA star of the future and despite him playing for tonight's opposition, you can sense the excitement when he's in possession – this knowledgeable crowd understands the significance of him and RJ Hampton playing in this league.
The crowd number is announced as 8,474 (their biggest of the season) as the game rolls on; the Breakers have held the advantage throughout but the once comfortable lead gets squeezed a bit before they run out 91-79 winners
Most of the crowd filter out; but a good number stay behind. Some sneak down from the upper levels to try and make it courtside so they can be closer to the players, their idols. Unless they support the Hawks, they leave Spark Arena with a big smile on their face.
For me, the morning brings a long drive back home, but it's worth it. Two very different experiences over the weekend. The traditional test match experience is great but it's lacking in some respects; as an established cricket fan they've got me, but are they getting new fans on board? Not on this showing. It's a different story at Spark Arena though. The current motto of the Breakers is 'Unbreakable' and given the way the crowd turned out and bought into the night, not even recent events off the court have been able to make a dent. The supporters are fully on board, now they need their team to keep winning to reward them and their loyalty.
Follow Aiden on Twitter