Cut from the same cloth with @girvana
0
by Sportsfreak
in Uncategorized
— 19 Jun, 2014
Two legendary coaches made the headlines in the USA over the past few days. One who won the NFL Superbowl four times and turned the Pittsburgh Steelers into the identity they are today – the other won his 5th NBA title as a Coach with the same team turning an unfashionable franchise into champions. Both coaches instilled the concept of team before all else to gain success
The NFL's Chuck Noll and NBA's Gregg Popovich both never felt comfortable with the media and would rather have their players and teams do the talking. These throw back coaches, although from different eras, both still had every team decision analysed by both fans and the media alike – to which they both just ignored.
Chuck Noll was an unknown when he arrived in Pittsburgh and was backed by the team owners for three seasons before he started getting over a 50% winning season. He built his team around character and youth and once you bought into his system you were backed. He also believed in work/life balances making sure players and staff spent as much time with family and friends, meaning days finished at similar times as most normal 9-5 workers did. Noll took his Steelers team to the Superbowl four times and won four titles. He still holds that record as do the Pittsburgh Steelers overall for number of Superbowls in total
 I have to parade another one of these in this weather ?
 Gregg Popovich has the same values as well . He adapts to his players rather than players adapting to him and can make NBA stars out of players who in reality really are not. In his 18 years as head coach at San Antonio he has missed the playoffs only once and has 900 NBA game wins under his belt – only the second coach to do so. Popovich also has the knack of turning other teams rejects into key contributors. Australian Patty Mills is a classic example. And here we are talking about a league where only eight teams have won the NBA title since 1984
Both coaches mantra was about the little things that make a difference to gain the extra edge. "Pressure is what you feel when you don't know how to do your job." Is a quote often used in similar forms by both men.
The sports world lost a legend and gained one in the last week. They don't make them like this much anymore in the world of social media and those wanting their very own brand. These coaches both taught rather than preached. Look at the numbers and titles. Enough said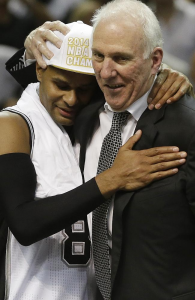 Pop – Dont worry Patty – this makes up for Australias effort at the FIFA World Cup
Dont forget to follow Hamish on Twitter