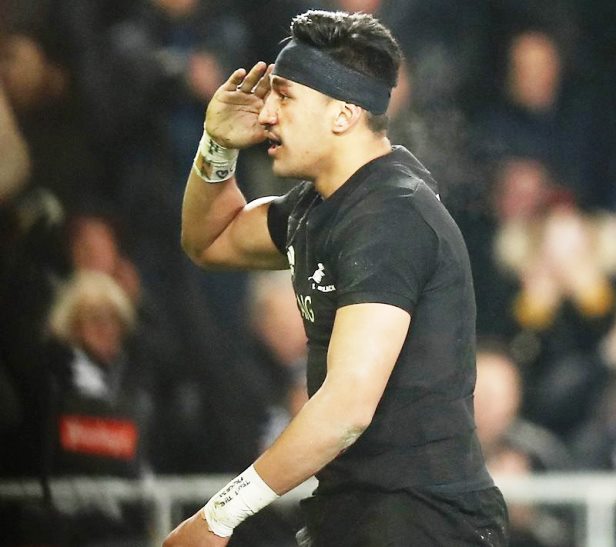 By The Spotter
That spellbinding try scored by Rieko Ioane in the 52nd minute of the Dunedin test last night stunned me into realising why Rugby can be so beautiful to watch. At 2.03 on the video below:
That being in spite of some people of World Rugby doing their utmost to masquerade as Buffoons Inc, the fact that NZ Rugby may or may not be a Kremlin-type incarnate, and that every second law of Rugby Union is a bigger ass than that loathsome and sociopathic slimehead in charge of America.
The timing of the passes of SBW and Damian McKenzie to put Ioane straight through the heart of the French midfield was just sublime. Subliminal even. And why? I'll qualify it like this: Go down to your local park tomorrow, set up some markers that exactly replicate the defensive positions of France's backline defence the second that SBW received the ball, and then with your mates try to re-create that move the All Blacks pulled. I guarantee you will look like the gooses of Goose Green as you try getting it correct. Even walking it through and getting the correct timing, positioning and release would be tricky enough.
As a boring aside, to illustrate how easy the ABs backs make things look when it's anything but (and yes, they are All Blacks and I plainly wasn't), my coach once had the bizarre idea to think I could be a playmaker at second-five. Only to discover in training that whenever we tried executing a double-round, it was all so wooden that our poor first-five was basically the recipient of a hospital pass from me on every occasion (in retrospect we were initially standing much too far away from each other).
It is their wonderful ball skills right across the park that continues to make the All Blacks the benchmark team for all others. Get some momentum up (and look at that dream platform the forwards laid on with their lineout drive before Ioane's try), and with their superior ball-handling and innate timing of the transfer, they are often just that bit out of the league of their opposition.
Many are saying France were disappointing, but no team would have lived with the All Blacks at Forsyth Barr. Perhaps only if an opponent had shut them out in the forwards, and even then it may have been difficult to stymie them completely once they got into that mood.
I won't pretend they can do the same to the Boks or even the Wallabies as I'm a cautious so n' so, but gee, that was a pretty powerful statement of intent. I haven't even bothered to see the aftermatch interview with Gruff Hansen yet, but deep down you'd have to think he'd be very satisfied indeed.
Paul M (talltree@xtra.co.nz)