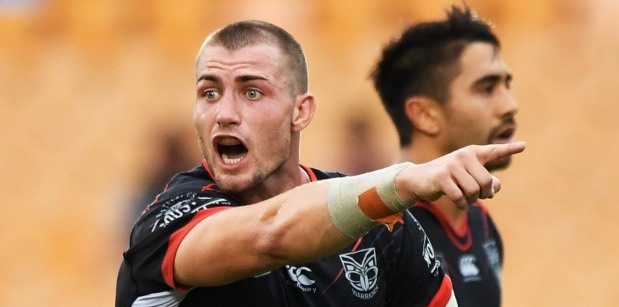 From The Spotter
Now one can justifiably see what all the fuss has been about.
On one of those typically overcast-looking, gloomy shithole of a Sunday afternoons in the most gridlocked city in the South Pacific, Kieran Foran in just his second NRL appearance for the Warriors against the Eels today, showed that he is already more than repaying the trust in him shown by Jim Doyle and his club.
Even sports followers without close connections to Rugby League but with a few brain cells up top, could have picked that the inclusion of Foran in the team would remove a lot of pressure off Shaun Johnson and allow him a freer running role further away from the ruck (because that has been exactly the tactic when they have been paired as the Kiwis halves over the past few seasons- with Foran operating as the halfback, as is happening now).
What has been an extra bonus though, has been the fitness and strength that Foran has displayed- he hasn't lost an ounce of pace or a kilojoule of force on those fronts at all; and if anything is even more powerful and direct than he was when running at the line in the past. He has a deft and quite possibly improved passing and kicking game in his current repertoire now too, for good measure.
Remember, this is a man who has been out of the big time for almost one year. Much more than just that fact alone however, Foran came over to Auckland  having left his children in Sydney after the break-up with his long-time partner, their mum.
Then there were the documented gambling episodes and his toxic friendship with Eddie Hayson- a known underworld figure, who basically intimated that he had been like a brother to Kieran (yeah good one Eddie, sure you were really helping Kieran get on the right track, what a saint).
Suddenly the NZ Warriors are sort of looking like a Finals team after a long hibernation. Making sweeping proclamations like this on the basis of a couple of wins against middle-of-the-road opponents (and at home) are fraught with dangers and improbability, but what the hell, I'm starting to feel converted, as long as Foran stays fit and doesn't get tempted away to the dog track (and no, I don't mean to the Bulldogs NRL team).
Just one gripe from today- why oh huge why was Charlie 'the human turnstile' Gubb starting in place of the highly-impressive James Gavet? Respectfully Mr Kearney, but what were you smoking before you pencilled in that position?
Email is good (does anyone out there actually do that?!): talltree@xtra.co.nz  (Paul)