Free time footballers surprise as much as they shock
0
As a Premier League footballer the one thing you do have is a lot of personal time.
Footballers may train in the morning from around 8 or 9am until 1 or 2 in the afternoon, but after that they are left to their own devices.
With this, especially for the younger players or those who aren't married or in a relationship, comes plenty of boredom and a "what to do" mentality.
The free-time mavericks
Some footballers, although not the norm, have passions such as painting and making art. Former Wolverhampton Wanderers and Sunderland defender Jody Craddock was actually quite accomplished at this particular pastime.
Others such as Richard Wright and Richard Lee, both goalkeepers, have invested in products outside of football.
Wright's decision to create his own brand of gloves and sell them on through various websites including Pro Direct Soccer was a lot more expected than Lee's venture, which saw him draw up plans to open up a hat shop with a partner.
Lee's deal was even featured on BBC programme Dragons' Den in 2006, when he sold 50% of the equity in the company to Duncan Bannatyne. Unfortunately for Lee the deal collapsed at a late stage.
However, not one to be easily defeated, Lee moved on and began writing as an author. His book "Graduation: Life Lessons of a Footballer" charted his move from Watford and the following season spent at Brentford.
Lee and Wright may have taken the more sensible options of investments, but many footballers with the amount of free time mentioned will spend their afternoons or evenings in casinos or betting shops.
How it can go wrong
There is also the option for online betting, something that Keith Gillespie among others failed to use in moderation, spending obscene amounts of money because they had it and the time to do it.
Phil Bardsley is another player who was lambasted recently when a photo of him in a casino emerged. It wasn't any ordinary photo either; Bardsley was covered in £50 notes lying on the floor of a casino. Tasteless to say the least.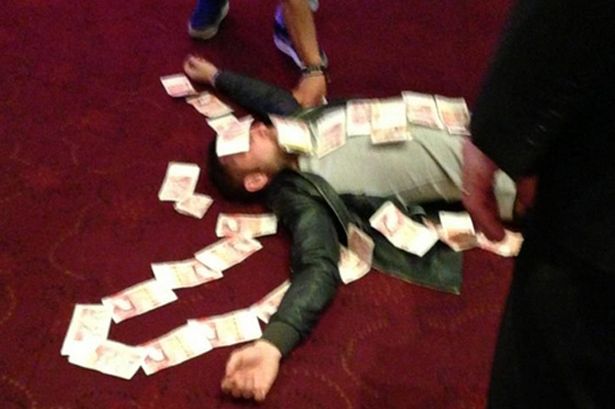 Not every player is like Bardsley and Gillespie, who now admit their actions were wrong.
Light at the end of the tunnel
Footballers certainly do have a lot of free time, but it isn't all doom and gloom that they fall into the trap of spending huge amounts of money gambling.
Richard Wright, Richard Lee and Jody Craddock show that there are many other pursuits outside of football and an increasing number of footballers are looking towards what will happen when they retire.
That means investments and looking at businesses and ventures, although that's not to say a little time can't be spent enjoy casinos and betting shops.
Like everything, doing it in moderation is the key to success and happiness on and off the pitch.