Hamilton. The City of the Future of the Sevens
0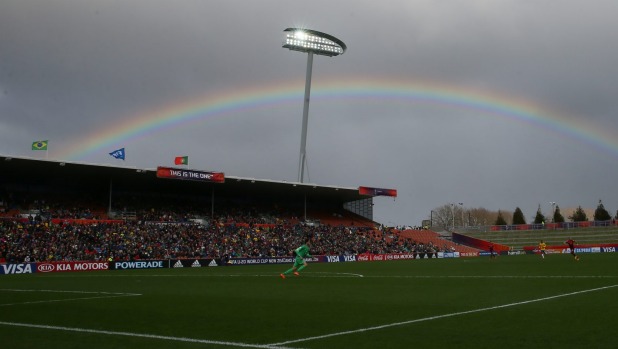 The worst kept secret in New Zealand rugby was unveiled last week when the announcement was made that the New Zealand leg of the IRB Sevens Circuit was being moved from Wellington to Hamilton.
The only minor surprise was that it did not go to Suva, where it would probably have had a longer term future, but World Rugby sets rules.  So there it is; London, Paris, Hong Kong, Vegas, Sydney and, um, Hamilton.  All the glamour.
The sharp rise and fall of the Wellington Sevens will probably form the subject of PhDs in years to come.  The dress-up theme was organic.  In its second year patrons suddenly went dressed up in Hawaiian shirts, and from there on it got creative.
For a decade it was the festival weekend on the New Zealand sporting calendar. But with the advent of the Auckland Nines occurring the year after a crack-down on public drunkenness it was the perfect storm.
And how people seemed to extract an inflated sense of schadenfreude over it all is something that also needs to be covered off in the thesis mentioned above.
There will be challenges though.  The stadium in Hamilton is not known for high culture, but rather for local identities such as Lisa Lewis and Warren "Possum" Allen.
But the approach of having four distinct areas appealing to the varying groups of punters means that the various strands of Sevens supporters can each enjoy themselves without getting in the way of each other.  It also means the police effort can be more focussed and leave the less obnoxious patrons alone; which was a real criticism of policing in Wellington in the 2014-6 years.
There will be no need to breathalyse everyone on entry when there is only one stand to worry about.
And with the sideshow of the off the field issues gone, people will be able to focus more on the actual sevens.  After all, New Zealand are the defending World Cup Sevens champions, and are the favourites to win the World Rugby Sevens Series in 2018.
The novelty factor, the demise of Duco, and a concerted effort from the people of Hamilton mean that 2018 is likely to be a success.
It's the years after that which will be the bigger challenge.  Just a shame there won't be a parallel women's tournament going on; because that's where New Zealand's real strength is in the sport.