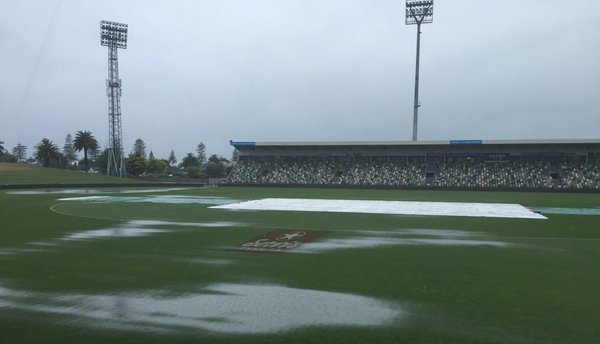 As things currently stand, McLean Park is figuratively getting in the sea.
As recently as 2008-10 Napier was New Zealand's third ranked test venue behind the Basin Reserve and Seddon Park.  It was a small, and rigidly ordered, list but Napier was there, and it was third..
Yesterday, Napier was once again associated with disappointment
Did that earlier status bring on complacency?  Probably.  Since those day NZ Cricket and the ICC have lifted the bar in terms of facilities.  Take practice nets for example; in Napier you still need to go across the road to the ironically named Nelson Park.
Because it is Saxton Oval in Nelson that has clearly come from nowhere to leap ahead of Napier as the Central Districts premier venue.  In the seven test summer coming up in 2016/7 you can be pretty sure that Saxton Oval will gain test status, and McLean will not.
Napier was a venue at last year's World Cup, but only because Whangerei did not have the wider infrastructure to handle the demands of an international tournament.
Yesterday's ODI vs Pakistan was washed out which was good and bad news for the venue.  On one hand it saved it the embarrassment of having sold fewer than 3,000 tickets for the match in a summer when gate-taking records have been broken.  On the other hand it emphasised how poor the drainage is at the ground.  The ghosts of 2006 have returned.
The ticket sale aspect has to be the biggest concern.  The previous third best test venue in the country was allocated one day out of 36 in this season's home international fixture list.  Sell-outs in Christchurch, Nelson, the Mount and the Basin, along with higher than expected crowd numbers at Eden Park and Wellington Stadium would indicate there is a bit of post-World Cup interest going on across the country.
Yet this has bypassed Napier.  The pre-sales for yesterday, which can not be blamed on the cyclone, of under 3,000 screams that it's time to move cricket around to parts of the country that care.
The landscape has changed.  Hawkes Bay Cricket; the ball is in your court, and there is a fair bit of catching up to do