MLB time. The National League Preview
0
By Scott MacLean
The National League has a bit of a bi-polar look to it. On one hand there are a group of teams that clearly view themselves as contenders this term, while on the other are those that are clearly in a rebuilding mode. That mix will distort the standings somewhat, particularly for the wild-cards where teams with weaker opponents within their division will have an advantage.
National League East
New York Mets: The Defending NL Champs have an all-world starting rotation at their disposal in Matt Harvey, Jacob deGrom, Noah Syndergaard, backed by rookie Steven Matz and 40-something veteran Bartolo Colon. They were also able to – surprisingly – re-sign Yoenis Cespedes though postseason hero Daniel Murphy moved on. However the same Achilles heel that did them in in the World Series – their defence – remains a big question mark.
Projected finish: 89-73
Washington Nationals: Widely tipped as World Series favourites, the Nats stunk it up badly despite a monster year from MVP Bryce Harper and an excellent one from Matt Scherzer. Injuries played a part, but underperforming players and clubhouse acrimony cost manager Matt Williams his job, replaced by old-school veteran Dusty Baker. With several high-paid players and others on the verge of free-agency it's a possible make-or-break season.
Projected finish: 86-76
Miami Marlins: Another club with a new manager, with former Dodgers skipper Don Mattingly taking the helm, and bringing in with him a new hitting coach – Barry Bonds (yes… that Barry Bonds) – who's seen plenty of media attention. On the field they're continuing to build, but much will depend on keeping star slugger Giancarlo Stanton and pitcher Jose Fernandez healthy.
Projected finish: 81-81
Atlanta Braves: Spent most of the offseason dealing away players for prospects and taking on others bad contracts, much to the chagrin of their best hitter, first baseman Freddie Freeman, as they look towards moving into their new ballpark next year. No two words about it, they are going to struggle.
Projected finish: 65-97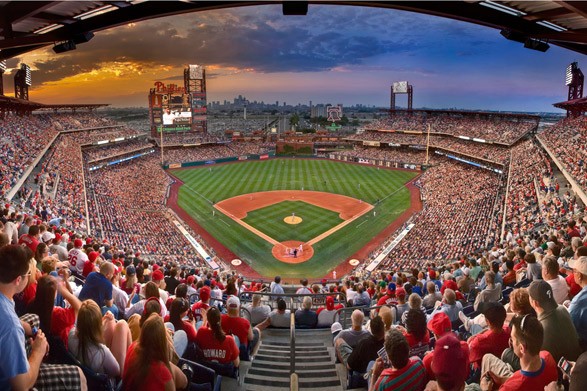 Philadelphia Phillies: The Phillies are going down the same path the Astros did; tear it down completely and rebuild. Only Ryan Howard remains from the team that went to back-to-back World Series, and that's only because no else will take on his massive contract. It'll be another long season in the City of Brotherly Love.
Projected finish: 59-103
National League Central
Chicago Cubs: The off-season's biggest spenders, bringing in Jason Heyward, Ben Zobrist, and John Lackey as they look for their first title since 1908. With those players, plus Rookie of the Year Kris Bryant, Cy Young winner Jake Arrieta, Anthony Rizzo, Jon Lester and talented youngsters Addison Russell, Kyle Schwarber, Jorge Soler, and Javier Baez they are going to be very very good.
Projected finish: 101-61
St Louis Cardinals: They won't be as good as last year, with Heyward and Lackey signing with the rival Cubs. But they will get their ace Adam Wainwright back, have developing young players of their own, and are usually difficult to rule out at any time. Having plenty of players who can play multiple positions gives the line-up flexibility, especially with Jhonny Peralta out until the All-Star break at least.
Projected finish: 92-70
Pittsburgh Pirates: Bundled out of the playoffs in the Wildcard game the past two seasons the Buccos are almost desperate to get beyond that this year. Star outfielder Andrew McCutchen is their man main in a solid, if unheralded line-up, while Gerrit Cole heads up their pitching staff. One guy who might break out is youngster Gregory Polanco who could give them a terrific tandem with McCutchen.
Projected finish: 91-71
Cincinnati Reds: The Reds have bitten the bullet and moved into a rebuild mode, starting with last year's trade of Johnny Cueto to Kansas City. Joey Votto, Brandon Phillips, and Jay Bruce are still in town; Votto won't be going anywhere but they've taken calls on the other two who could be in high demand later in the season. Their focus will otherwise be on developing their talent for their next period of contention.
Projected finish: 69-93
Milwaukee Brewers: Another team that's decided to go down the rebuild route, and has seemingly moved on everyone they can starting with trading away Carlos Gomez last summer. Ryan Braun remains, but that's largely due to his contract and PED-tainted history, while other teams have interest in trading for catcher Jonathan LuCroy.
Projected finish: 54-108
National League West
San Francisco Giants: As it goes, the Giants win every even year with titles in 2010, 2012, 2014. Signing Johnny Cueto and Jeff Samardzija gives the rotation – headed by Madison Bumgarner – real depth (though Samardzjia needs to rebound after two rough seasons), while bringing in Denard Span to play centrefield gives them a real talent everywhere except in left. Catcher Buster Posey is an outstanding hitter, and they still have the best manager in the game in Bruce Bochy.
Projected finish: 92-70
Los Angeles Dodgers: The Dodgers again came up short last year, but even though they had a busy offseason they are arguably not as good as last year. While the great Clayton Kershaw still heads the rotation, behind him the staff has been hit by injuries and the loss of Zack Greinke, and you wonder how new manager Dave Roberts will get all his veterans enough at-bats to keep them happy. Still will be a good team though.
Projected finish: 89-73
Arizona Diamondbacks: Got aggressive early in the offseason, swooping in late to sign Greinke away from the Dodgers (and Giants), and then trading for Shelby Miller that gives them two top frontline starters. The line-up though, outside of the outstanding Paul Goldschmidt is a work in progress and that's what will keep them from being real contenders.
Projected finish: 84-78
San Diego Padres: A quiet winter after the flurry of activity the year before, perhaps a sign that GM AJ Preller's gamble didn't pay off. With a line-up of mostly journeymen, and former prospects and stars it might be another summer of struggle, but there are some bright lights amongst their young pitching coming through. Derek Norris will be one backstop in demand in trades later this year.
Projected finish: 70-92
Colorado Rockies: This team is pretty much Nolan Arenado and that's it; and the third baseman is so good he'll be an MVP candidate even if this team stinks as much as it's likely to. Carlos Gonzalez will provide support, but their pitching is average at best and they still no closer it seems to solving how to pitch effectively at altitude.
Projected finish: 68-94
A handful of games start the season Monday our time, with the traditional Opening Day the next day.
Follow Scott on Twitter