New Zealand Are World Cricket's 'Reverse-Chokers'
0
By James Rodbourn
Sunday's World Cup final saw easily the most tortured chapter added to New Zealand's Cricket World Cup history.
But it was also yet another textbook example of a New Zealand team that almost always punches above its weight at World Cups.
As soon as Kane Williamson's men upset India in the first semi-final a week ago, they guaranteed that they would once again either equal or out-perform their pre-tournament ICC One Day International ranking. The final ICC ODI rankings released just before the tournament started had New Zealand ranked 4thin the world.
The ICC rankings were introduced in 2001, but have since been backdated to 1981 for One Day Internationals by ICC's official statistician David Kendix. As such, they are able to provide a great snapshot of where each team was situated going into every World Cup, except for the 1975 and 1979 editions (Kendix argues that before 1981, ODI matches were still too sporadic to allow for reliable rankings).
If you take the pre-tournament rankings for the 8 teams that have played in the majority of World Cups since 1983 (Australia, England, India, New Zealand, Pakistan, South Africa, Sri Lanka, West Indies), and compare them to their eventual tournament placing, New Zealand stand out like a sore thumb as world cricket's 'reverse-chokers'.
In the 10 tournaments starting from 1983, New Zealand has failed to equal or better their pre-tournament ranking just once. Before the 1983 tournament their ICC ranking was 3, and they ended up finishing 5th (missing out on a semi-final appearance due to run rate). Every other team in the list above has at least 3 instances of failing to match or better their pre-tournament ranking.
More impressive still is that on average no other team is particularly close to New Zealand. Across the 10 tournaments, the Black Caps have averaged a final placing 1.7 places higher than their pre-tournament ranking. The next highest is Sri Lanka on 0.5 places. All the other teams are in negative except for India, who is basically even (0.1 places higher per tournament).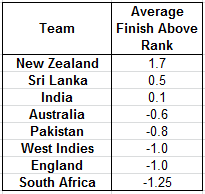 Of course, a team like Australia would argue that this measure is harsher on teams such as themselves who almost always do well in the rankings, because they have to perform at a very high level at the World Cup in order to even match their ranking. That combined with the Black Caps being ranked surprisingly low before a couple of memorable World Cup campaigns (Brendon McCullum's famous 2015 team being ranked 6th before the tournament started seems weird in retrospect), does assist in making New Zealand's 1.7 number look as impressive as it does.
Nevertheless, even if you discount the other nations, finishing an average of 1.7 places higher than your ranking is incredibly impressive whichever way you spin it. Across all 12 tournaments to date, New Zealand has progressed past the group stage more than any other team (10 times) and has also progressed to at least the semi-finals the most times (8 – equal with Australia).  Not bad for a team that has NEVER held top spot in the ICC ODI rankings at any point.
After those 8 semi-finals, New Zealand is agonizingly still searching for their maiden World Cup triumph. They may have developed a bit of a reputation for being pretty good but not good enough, but chokers they are not.
Follow James on Twitter