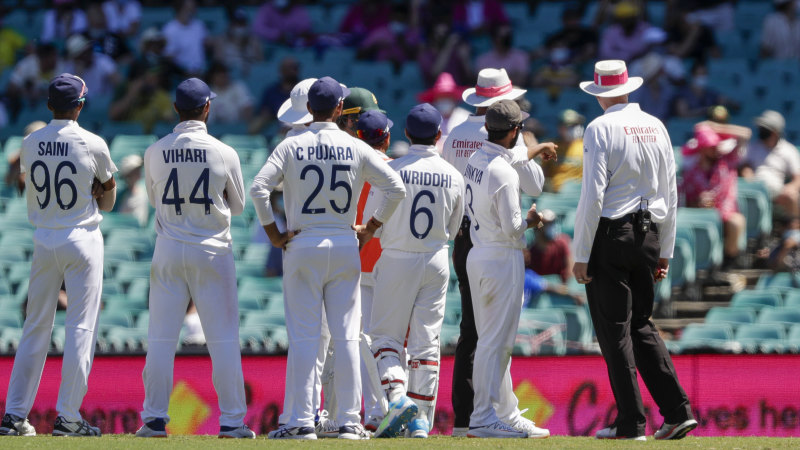 By Jack Cottrell
For ten minutes during day four of the third test between Australia and India, the visitors halted play after bowler Mohammed Siraj complained of racial abuse.
The media reported it different ways. There are a lot of "alleged racial abuse" or "believed the abuse was racist" on moderate sites. There's a lot of skirting around the R-word.
The Daily Mail and Fox Sport details what others in the crowd heard and decided wasn't racist – just heckling, just banter, just making fun of Siraj's name. As if mocking someone's name cannot be racist.
The Times of India reports far more serious racist abuse – an unnamed source saying Siraj was called a "brown dog".
Some of the reactions from other corners has been disappointing. White guys demanding to know exactly what was said before they condemned racist abuse, because they must be the ones who are in a position to judge what's racist and what's not.
First off, let me say that a man of my complexion isn't the world's foremost authority on racism. Or really, any authority – I've never been subjected to it. But I know a bit about microaggressions, and how what seems completely innocuous to anyone on the outside, can in fact be bigoted harassment.
'Microaggression' is a shorter term for 'death by a thousand cuts'. Microaggressions are the tiny ways that discrimination shows up in your everyday life, the ways that make you feel diminished, make you feel like the 'other'. They make you feel even more like shit because you know if you told people who don't get it, those people would say you're making a big deal out of nothing.
Let's look at things that happened before Siraj took a stand and said that if the abuse didn't stop, the game would.
Before the start of the series, Siraj's father died – and he couldn't go to his funeral because of covid quarantine restrictions.
Before the start of day four, the Indian team told umpires and Cricket Australia officials that Siraj and Jaspreet Bumrah had been racially abused.
Before Siraj went over to field on the boundary, he'd bowled a poor over when India were already struggling in the test.
And then some assholes had a go at him. And then they made fun of his name.
*
The most painful homophobic abuse I've received around sport wasn't being called a homo or a queer. It wasn't the multiple times during my very lengthy androgynous phase that someone called me an "It". It wasn't even being pushed and shoved in a crowd at Westpac Stadium by three guys who called me a faggot.
It was the word "Rainbow".
While I was being an assistant referee at a club game, a kid noticed I had rainbow laces – like half the All Blacks at the time. He pointed it out to his dad. His dad then looked at me, sneered, and said it – just one word.
"Rainbow."
The tone conveyed everything. The utter disgust, the contempt, the loathing. With one word I felt small, I felt I was disgusting, I felt like I didn't belong there.
Much like Siraj, context was everything. Two weeks prior, a dear friend had killed himself at just 19, because he couldn't live with being queer.
I went home and cried while I took my laces out. I left them in my boot bag for almost a year, because of one word.
*
I don't know anything about Mohammed Siraj beyond the bare facts I've put down here. I don't know whether his father gave him his name. I don't know whether the more serious accusations, the more unambiguously racist taunts are true.
But that doesn't matter – maybe there were statements that any decent person would have to condemn. Maybe Siraj's tolerance was just put over the top by six dickheads who might have been a light annoyance on another day.
It needs to be the person on the end of it who gets to decide what abuse is tolerable. What mockery they'll will put up with to just get on with the business of playing cricket. And arguably, it's a bar that has been set far too high for far too long.
P.S. If you're white, and you're *determined* to say that this whole thing is Not Racist, maybe sit down for a while and try to really analyse why you so badly need to feel that way.
Follow Jack on Twitter