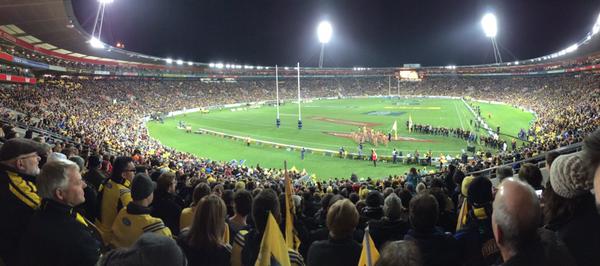 The Highlanders led from start to finish against the side that led the competition from start to finish.
The most eagerly awaited Super Rugby Final of All TimeTM was won by the team that made the fewer mistakes, took their chances when they came, and ticked off most other clichés along the way.  It even had drama before it started with the very late withdrawal of Ardie Savea.  For most of the week it was assumed he would not play, but a 6:20pm scratching probably set a record.
They started the stronger side and although not dominating an end-to-end first half kicked their points; unlike the Hurricanes.  But when Nonu went over after a long period of attacking it looked as if the tide was starting to turn.
The key moment was the Elliott Dixon converted try at halftime.  It was a tight TMO call, and your view on it probably depends on which side you support.  It did mean the visitors had an eight point lead at the break though.
For large parts of the second half the game calmed down a bit, Barrett found his kicking boots and the margin started to decrease.  The crowd was reeling out the Jerry, Jerry, Jerry chants and the passes were sticking a bit better.
Ben Smith dropped the ball stone cold with no pressure on him.  Two minutes later Julian Savea dropped the ball with an open line five metres away.  These are two crucial outside backs come World Cup time.  The Savea drop stopped the Hurricanes going ahead for what would have been the first time in the match.
Five minutes after that Aaron Smith would kick the ball dead when the Highlanders were on attack.
And then for the last 10 minutes the Highlanders changed the game plan and played just like the Crusaders used to play when they were good.  And, for the first time in the evening, things became very predictable.  The Plucky Highlanders had won their third knock-out match in succession when they had gone in as underdogs.
Who would have guessed that the first final hosted by the Hurricanes after 20 years would end like this