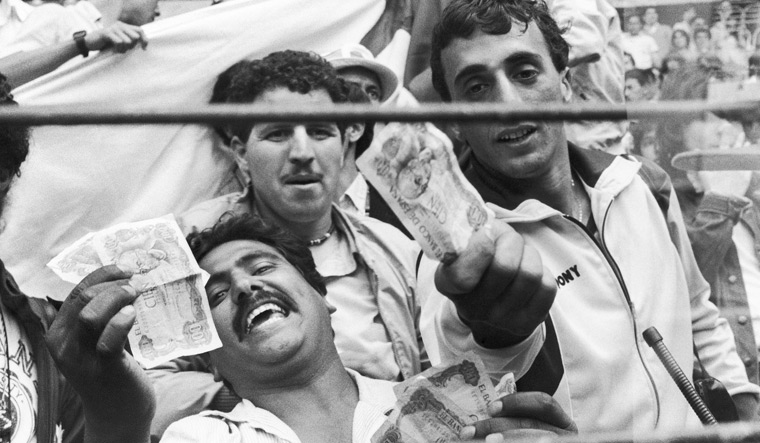 By Euan McCabe
I fitted in a quick visit to my doctor before bedtime on Tuesday morning. She always likes to check on me at this stage of every tournament just to make sure I am okay. Having already watched a total of 32 games during the first 11 nights, I was now entering the most intensive period of the tournament – 16 games in just 4 nights. And she knew from past experience that I was potentially susceptible at this point to what she had first diagnosed in 2010 as Gijon Fever.
The FIFA Book of Scandal is a voluminous tome which dates back to its first edition in 1930. Its pages contain a plethora of sordid words – corruption, bribery, collusion, fixing, bungs, threats, kidnap, dictatorships, assassination and war amongst them. And that is just off the field. Kicking, hacking, strangling, feigning, assaulting, head-butting, spitting, biting and inappropriate use of the hand are some that can be associated with events on it.
The boycott of the very first tournament, in Uruguay in 1930, pretty much set the tone. There were fascist salutes from champions Italy in 1938; the 'suicide' of Austrian Matthias Sindelar in 1939; the Battle's of Berne (1954), Santiago (1962) and Wembley (1966); the war between Honduras and El Salvador in 1969; the qualifying match in 1973 when Chile played amongst themselves because the Soviet Union refused to turn up; the military dictatorship pay-off of Peru to lose 6-0 to Argentina in 1978; the theft of the never-seen-again Jules Rimet Trophy (exact date still uncertain); the Kuwaiti Sheik who interfered in a game and got a goal reversed, and the brutal and unpunished assault on Patrick Battiston by Toni Schumacher, both 1982; The Hand of God in 1986; Frank Rijkaard spitting on Rudi Voller in 1990; the roadside execution of Andres Escobar in 1994; 'The Great Satan' match of 1998 between Iran and USA; the Rivaldo fake (2002), the Zidane head-butt (2006), the Suarez hand (2010) and the Suarez bite (2014); and, almost as if an icing on this whole rotten cake, the near-collapse of FIFA itself during the bribery scandal of 2016. And I have not mentioned any referees or their decisions in that lot. Or linesmen. Or their paymasters. I simply do not have the space for that.
Now, have I missed anything else of consequence?
Ah yes, of course, Gijon, Spain 1982, where West Germany and Austria fixed a match between themselves in order to ensure both advanced from the group stage. The two other teams sharing the group, Algeria and Chile, had played their final match the day before, leaving everybody else able to work out exactly what score was required the following day to allow the Germans and Austrians to both advance. And that included the Germans and the Austrians. It took just 10 minutes in Gijon for West Germany to score the goal it required to move into second place in the group behind Austria, and the two sides then proceeded to pass the ball around amongst themselves for the remaining 80.
This led to FIFA insisting that in future the final two matches in each group be played at the same time. Made sense. Not great for me, however. It meant four games a day. And then there is the small technical matter of somebody who claims to watch consecutive matches being confronted with two at the same time. Nor did it entirely eliminate the collusion factor either. As we have seen from past and present World Cup tournaments played since 1982 there is nothing to stop teams from finding out what is happening over in the other group match and then adjusting their playing style accordingly.
My own situation has always been complicated by these simultaneous matches. In 2002 I experimented with the dual TV approach. I had actually set this up for the cricket in the summer so that I could watch the games from New Zealand and Australia at the same time. But cricket is a sport where most of the time nothing happens. So unless a bowler was arriving at the popping crease in both countries at the exact same time, I could usually get away with it. But football is different. There is usually something happening at the same time in both games. And being a male I cannot watch more than one thing at a time.  And furthermore, watching two games at once means you are not actually watching both in full. So I ditched it in 2006 and went back to watching one game, recording the other and then watching the second game straight afterwards. And trying not to find out what was happening in the second game whilst watching the first.
So it is always with great trepidation that I approach this awkward part of the tournament. The weight of the number of games I have already watched is coupled with the prospect of even more whilst having to wrestle with the uncertainty of lots of different things happening simultaneously but attempting not to know about half of them at any one time. And the tournament itself enters a strange Jekyll and Hyde phase where some games are played with frenetic intent as three or four teams fight against each other to advance to the knock-out phase at the expense of each other; while others plod along against a back-drop of sterile nothingness as certain teams do their utmost not to budge from where they presently sit. And another all too common theme is a simultaneous combination of both frenetic and sterile in the same group. My doctor has a term for how it affects me: Gijon Fever.
So what did happen this year? Or what did not happen this year?
Well, the first night – Monday – saw Uruguay and Russia and then Egypt and Saudi Arabia offer up a nice gentle beginning. The first two had already qualified and the last two had already been eliminated, leaving a nice orderly procession of two games where neither was affected by the other. Given what then followed from Spain and Morocco and Portugal and Iran left the first set of games feeling like Foster and Allen opening up for Metallica. This was nuts, and even managed introduce a brand new term to the World Cup lexicon – The Double VAR. Everybody waited as two referees studied the Space Invader machines in two separate cities at the same time, with the ultimate decisions deciding the final finishing order of Group B. It was like playing a fruit machine and waiting to see what combination spun to a halt. An olive and an orange came up in the end. But what about that Spanish offside referral? The torso of Iago Aspas was offside but his legs were onside. They do not come much more marginal than that.
Tuesday night kicked off with Australia desperately trying to let the Peruvian tyres down in Sochi as Denmark and France ambled through a light training session over in Moscow. Then Argentina and Nigeria tried to knock each other out in a fist-fight in St Petersburg as Iceland desperately tried to keep up with both against Croatia in Rostov-on-Don. It was Marcos Rojo who eventually delivered the ultimate punch, putting Argentina through with Croatia and Diego Maradona in hospital.
Wednesday night was the opposite of Monday. Metallica came first this time. But it looked at the outset like it would all instead be rather dull and processional  – the in-form Mexico would account for Sweden and top the group, while the resurgent Germans would blitz South Korea and coast into second spot. But few could then believe what they were seeing – at both venues. Sweden used its 35% of possession to put three goals past Mexico as Germany used its 70% of possession to put zip past  Cho Hyun-woo in the Korean goal. The fruit machine was spinning again. And two late South Korean goals scored on the break saved Mexico and sent World Champion Germany home. This game must surely rank as one of the great upsets in World Cup history. Barely believable. But thankfully Foster and Allen returned and calmed things down as Brazil and Switzerland both steered a reactively safe path through to the Round of Sixteen.
Thursday night was truly surreal. In Samara Colombia and Senegal met in the incredibly tight Group H. Colombia's massive legion of supporters desperately sought the one goal that would move it into the all-important second place. And they duly erupted when it finally arrived in the 59th minute – scored 800 kilometres away by Poland's Jan Bednarek in its match against Japan in Volgograd. Now Japan was out and Colombia and Senegal were in. The fruit machines were spinning once again. Then Colombia's Yerry Mina scored the goal which broke Senegal and African hearts. Now Senegal was out and Colombia and Japan were in. And that was sufficient for Japan over in Volgograd, who then passed the ball around amongst themselves for the last quarter-hour in order to protect a 1-0 loss. Poland, happy to win 1-0, was complicit in what was a truly bizarre state of affairs, even by World Cup standards. But it worked. Senegal could not get an equaliser in Samara and Japan became the first team in World Cup history to qualify on the basis of receiving fewer yellow cards. And the first team in World Cup history since Austria in 1982 to protect a defeat.
And just when everybody thought matters could not possibly get any stranger, they did. Out came England B and Belgium B to play a game that both could not decide whether it was better to lose or better to win.
I was clearly not the only one suffering from Gijon Fever.
Follow Euan on Twitter.  He needs to get to 100 by the time the Round of 16 begins