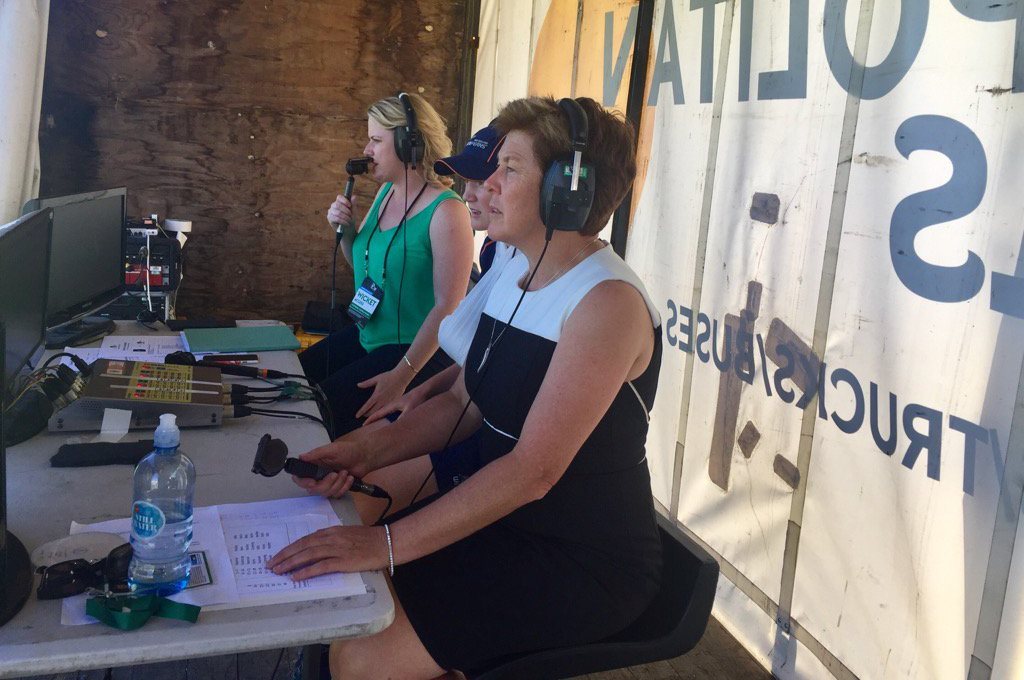 By Harbour Heather
Where all the ladies at?
How fantastic was it to see our White Ferns on television on Sunday? In the sunshine at Eden Park Outer Oval, playing against our ultimate nemesis, Australia's Southern Stars. Free admission no doubt helped with getting some people along to watch, as did the fact they've just beaten Australia in Australia in a T20 series.
The answer to that question is easy. It was bloody fantastic.
Part of what added to the enjoyment were the voices of ex-White Ferns captain Debbie Hockley, and sports broadcaster Rikki Swannell. Alongside Craig Cumming and Scott Styris (akin to the substitution bench in Sky's A commentary team), and Kyle Mills (who is a regular rotating seat in less significant games, like the Super Smash), Hockley and Swannell made valuable contributions in their respective roles.
Swannell should be familiar to the all-round New Zealand sports fan. For a long time, she was sports editor for Radio Sport and Newstalk ZB, leading the newsroom and covering many high-profile events and stories.  Having recently left NZME, it is great to see/hear her building on her television experience with netball and tennis (among others) by being involved in the summer game.  Before Christmas, she was featured in the Super Smash, the sole female in the commentary box.  She is more than a token feminine voice – she knows and loves her sport, and has broadcast experience to boot.  Which is more than some ex-players can say as they step into the industry upon retirement.
As a girl, Debbie Hockley was everything I wanted to be.  She was a fantastic batter, and I mainly had to read about her feats rather than see them on television. In 118 ODIs, she scored over 4000 runs, averaging over 41.  In the 19 tests she played, her average was 52.04. She played into her late 30s, retiring after New Zealand won the Women's World Cup at Lincoln in 2000.  In short, she knows her shit. On Sunday, she added insightful comments and analysis, and provided a necessary informative layer to the commentary team.  She naturally knew the players, their backgrounds and the history between the two teams.
Now, as a fully-grown woman, I wouldn't mind having her current job either. She is the first female president of an ICC test-playing nation, and that sets this little feminist heart on fire. Her knowledge of and experience in the game listed above qualifies her for this position. It perhaps rules her out of a permanent slot in a commentary team, as there were topics and issues she chose to pass on when raised on Sunday. But it does mean her talents and capabilities aren't going to waste, contributing to the game on a national level.
Swannell and Hockley's professionalism and seamless input into the commentary experience raises an interesting, yet seemingly eternal question – why can't women have a permanent spot in the seat when men are playing?  If life was simple, inclusion and appointment into any role would be based on merit, but this is regularly not the case – in business, politics and sport.
Rugby and cricket hold prominence for the average Kiwi sports fan, and there are no females in Sky's leading commentary teams for either.  As Swannell and Hockley showed on Sunday, the talent exists, it's just a matter of bringing it in.  To be fair, we do have some female input into these sports. Melodie Robinson has made herself a home in Sky's rugby build up and magazine show line up.  Cricket has Laura McGoldrick holding down The Cricket show and round-the-ground colour pieces during the international summer.
But why has no female cracked a permanent position alongside Nisbo, TJ, Smithy or Rigor?
Perhaps part of it is tied to the fact that most female sportspeople have to balance their professional career with a part time job to help make ends meet. (Shall we ask Abby Erceg if this is a factor?) In many cases, they have some sort of career to fall back on, or an understanding employer they feel loyalty to. This means they may not have the same feeling of 'what next?' common amongst sportsmen, who have had full professional contracts and lived and breathed only trainings and games for 10-15 years.
The more cynical line of thought is to look to a 'boys club' mentality, not just within Sky and their commentators, but also their audience. Are women not welcome to provide comments on men's performance?  Do men feel threatened when a woman is more knowledgeable and informative than them on a game they love so much?  And is it that feeling within the industry itself, or outside it, which is the blocker?
There's no denying that sports journalism is a male-orientated industry. But we're lucky to have Swannell, Kimberlee Downs, Michelle Pickels and Dana Johannsen (among others) contributing to media coverage. It is especially great when their work is on the All Blacks, the Black Caps and Warriors. Or, put a different way, it is especially great when their work isn't just netball or women's hockey. Because it can feel, at times, that that's all women can contribute to. And sure, it makes sense for women to comment on netball, because it is predominantly a women's game. But that hasn't stopped male sports broadcasters from commentating on the Silver Ferns. And why can't that work both ways?
Swannell even hinted at this herself, when joined by Hockley and injured White Fern Maddy Green in the commentary box (truck), that perhaps they were making history.  One could feel the sly grins behind the microphones.
Legitimately interested to discuss this. If a female can contribute just as much sporting knowledge and broadcast professionalism in the commentary box as a man, what would it take to see her hold down a permanent position in a commentary team for one of our leading male sports teams?  Either in the anchor role, like Swannell, or expert analyst, like Hockley?  Would New Zealand sports fans have preference for a lady in one of those seats over the other?
Above this, it must be said – thank you, Sky, for bringing us a Rosebowl game live, and for including Rikki and Debbie in your line up. More of both, please.
Follow Heather on Twitter