A Wholly Appropriate Catch-cry
0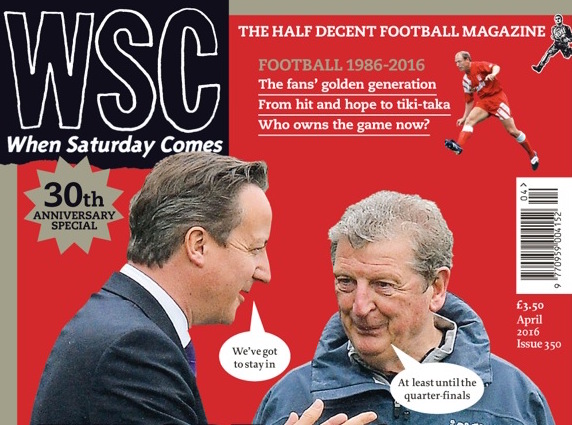 By The Spotter
'It's coming home'. It's what they'll tell you about the World Cup trophy in old Blighty. Not withstanding the unlikelihood of that actually happening when one considers who else is left; it will be very, very difficult. They will need to catch a bit of luck somewhere, you'd have to think.
If they did manage to win the thing, let's hope they don't lose it and require a dog to sniff it out from under a hedge, as in the last time they ever had it. How very British, somehow.
That line of 'It's coming home'- it's hard to deny or begrudge the connotation and sentiment behind it. England is undoubtedly the 'home' of Association Football (which, incidentally, is where the term 'Soccer' derived- the beginning 'Soc' taken from AsSOC). And why? Hopefully the following little argument is compelling enough.
Aside from being popularised in its present form and taken to other parts of the globe by the English, football has, for the best part of almost one hundred and fifty years been the sport of choice of the towns and villages, particularly those in proximity to greater London. As Rugby League is to the northern towns, football is traditionally the sport of the working class in most other parts of the country. As Rugby Union is to here, so then is football over there.
The smaller clubs not in the top leagues, and the ones smaller still, are amazingly supported by very loyal fans who take every conceded goal personally and every management decision undertaken as somewhere on a par with vital family news.
We over here tend to think of the FA Cup as being a bit of a dead duck nowadays, but tell that to the diehards of those smaller clubs who dream of getting to the first round proper; they are just about liable to try knocking your block off for daring to suggest such an abominable thing.
There wouldn't be many more poignant magazine titles than the one of the iconic British football fanzine 'When Saturday Comes'- the title alone implies the importance of the game itself to the British. In 1993 a book was published with six regular writers from 'When Saturday Comes', which were accounts of their favourite year in football. Even a moderate fan of British football would devour this book. It's called 'My Favourite Year'.
A personal favourite account is written by Chris Pierson, when in talking about the most memorable season of his team, St Alban's City, relates the appeal of football to the masses, in the context of it being possible for virtually anyone who has played the game to occasionally get lucky and score an extraordinary goal:
'It has happened to everyone who has played the game…Not every sport can offer such a thrill. However often you go to your municipal swimming baths you will not chance upon someone establishing a new world record. Yet, by he law of averages, every Sunday, some bepaunched and breathless punter from publand will strike home the ball in a way that the peerless Pele or the mighty Bobby Charlton could not have bettered. It can happen anywhere and, if you wait long enough, will happen almost everywhere. That is the beauty of football: a little bit of the sublime, rather more of the ridiculous and quite a lot of everything in between.' (From 'My Favourite Year'- a collection of new football writing. Edited by Nick Hornby. Published by HF & G Witherby: 1993).
So very true. And what will the so-called bepaunched and breathless from publand do if England capitulate in the semi-final? More than likely go back to discussing that other national pastime of theirs- the weather.
-Paul Montague