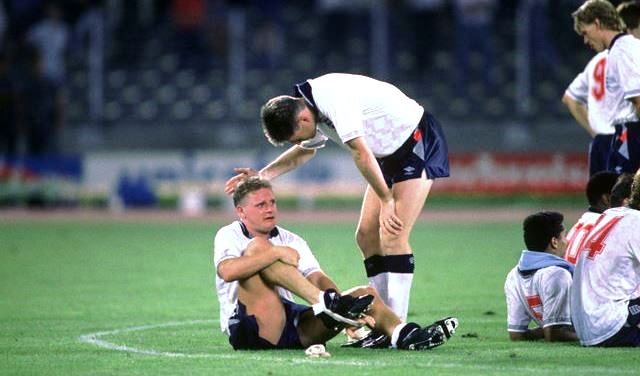 By Euan McCabe
As the winter rain and howling wind lashed against my windows on early Sunday morning as England led Sweden 2-0, I found my mind drifting back to the last time England had won a quarter-final match at the FIFA World Cup.
It was Italia 1990 against Cameroon in Naples. And I was watching it on TV in a hotel room in Rome. Even though the sun was setting outside, it still felt about 40 degrees and I had got no sleep at all the previous night. The insidious heat of an Italian summer had combined with an all-night party conducted outside my hotel window by the entire population of Rome, fuelled by the home team's quarter-final win the evening before against Jack Charlton's Republic of Ireland. Amongst other things, it certainly gave a whole new meaning to Will Shakespeare's: Friends, Romans, countrymen, lend me your ears. The party was over now but I had all of the shutters and windows wide open in a vain attempt to beat off the heat. There were certainly no windows open last Sunday morning and, rather ironically, the recollection of that sultry evening only prompted me to lean across, bump up my Wellington heater and dream forlornly of an insidious Roman summer.
What was I doing sitting in a hotel room in Rome when England was playing a quarter-final down the road in Naples? Well, I had not come to Italy to watch England play. I had come to see Italy. And I had not been disappointed. The two Azzurri matches I had witnessed in Rome's exceptionally boisterous Olympic Stadium, against Uruguay and the Republic of Ireland, were the kind of sporting events few are likely to forget in a hurry. Italy, and myself, now had to leave Rome to make our own trip down to Naples to account for an ailing Argentina in the semi-final before returning to Rome for the final. And as Gary Lineker converted his second penalty of the night on my TV to give England an extra-time 3-2 win over Cameroon, I was excited by the prospect that England was now potentially just 90 minutes away from joining Italy and myself in the Rome final. What a night that would be, pretty much my dream final.
Of course, dream any things rarely materialise; I mused a week a later as I sat once again in my insidiously hot Roman hotel room, watching Italy play England on my TV in the third-place play-off match over in the distant fishing port of Bari. My prize the following night in the Olympic Stadium finale was the dockyard brawl between Argentina and West Germany, played out in front of a stadium full of pissed-off and extremely irate Italians. And that included me. Still, at least I can say I have been to a World Cup final, even if was quite possibly the worst World Cup final in history.
So, will this year's final be between France and England? Or Belgium and England. Or Belgium and Croatia. Or France and Croatia. The only certainly is that it will be one of those four combinations. Because picking, expecting, or hoping for any one particular combination is fraught with danger, as I found out in 1990.
I have returned to work now. So, in order to fill out this particular World Cup dairy, I am now going to lift the piece from my book, The World Cup Baby, which documents Italy's, and my, fateful trip down to Naples for the 1990 semi-final against the ailing Argentina. It tells the story of one of the World Cup's most extraordinary semi-final nights as we all look forward to the two latest instalments. It also serves as a reminder that losing a World Cup semi-final can actually be a worse fate than losing a final. At least Argentina got to play in the 1990 World Cup final, even if it lost what was quite possibly the worst World Cup final in history.
From the book The World Cup Baby
It was Mexicans on the bus this time.  
They, too, proved inquisitive but hospitable towards me, the only irritant being one hombre who persisted in trumpeting Hugo Sanchez a superior player to Diego Maradona. I was having none of it, and told him so. Some doolally Mexican on a bus was not spoiling one of the most anticipated days of my life – when I would finally get to see the incomparable Diego Armando play live.
Little did I realise just how close to Maradona I would later end up.
I was milling around outside the San Paulo Stadium before the match when I noticed a group of excited people gathering near the back entrance. I went across to investigate, quickly establishing this must be where the team buses would pass before entering the stadium underground car park. Thus the reason for a crowd of expectant people. I joined the group, using my height advantage to see from the back. I soon noticed, however, that I was being shoved and pushed from behind. The group had since grown into an impatient horde, in which I was now trapped towards the front. It was now uncomfortable, difficult to breathe and impossible to escape. I then felt what I thought was a gun in my back. I turned instinctively to see a gun pointed in my back – and a member of the Italian Army shouting aggressively at me to move. I managed to wriggle my arms up above my head – partly in surrender but mainly to indicate that I had little option in the matter: I could not move. He angrily squeezed his way around me, continuing this laborious process until finally reaching the front. I was relieved. He would now order dispersal and release me from this perilous crush. But no, he placed his gun on the ground and pulled out a cigarette. He had just wanted a front row seat. And he got one. A bus was soon spotted approaching from further down the road. This caused near hysteria as the crowd shunted forward in excited anticipation. I was grappling for control when a chorus of booing, jeering and wolf whistling prompted me to look up. The Argentinean team bus was passing directly in front of us. Everybody aboard the coach was dressed in a suit except for a clearly visible Diego Maradona. He wore an Argentine football shirt and tightly wrapped headband, and grinned and waved cheekily at the jeering mob outside. I was thrilled to see The Little Man in the flesh – and so close. But I knew what now awaited me. The crush created for that coach would be nothing compared to the next one. Still, I decided the view was so superb that I was going to just breathe in, hold on best I could and enjoy the sight of the Italian players up close. Excited shouts and shuffled movement soon telegraphed a sighting of the second coach. Things became frenzied as it neared, an enormous shove causing me to lose my footing just as the coach began its turn into the driveway leading down towards the stadium. I struggled desperately to regain my bearings when suddenly the pressure eased off and the crowd went silent. I looked up to see a bus with about half a dozen middle-aged women sprinkled throughout its otherwise deserted interior. They, too, waved with impish impropriety, this time at a crowd too stunned to render any response at all.  
You had to be there. But, believe me, rarely is humour so beautifully understated yet so profound. And I still have no idea who those women were. Cleaners or kitchen hands? Relatives? Decoy runners? Undercover police? 
Thankfully, the right bus came along shortly afterwards.
Matters would prove just as awkward and unpredictable once inside the stadium. 
Enrique had exceeded his brief this time by providing a seat just a dozen rows from pitch side. However, it was not long before things became both crowded and heated in our vicinity. People appeared to be challenging the right of other people to be occupying certain seats, and not without typical Italian overstatement. 
I groaned to myself. The only thing worse than a big oaf pushing past you in a darkened picture theatre, is the big oaf who stops at your seat and then asks to check your ticket, implying that you are perhaps occupying his.
But this looked much more serious. The number of arguments taking place and people standing around unsure of their next move suggested some duplicates had been issued. I did not want my enthusiasm for this fantastic occasion blighted by some crimson-faced, salivating local producing a ticket identical to mine and then indignantly flapping it in my face.
I observed those being challenged. All were adopting the 'Possession is nine-tenths of the law, especially in Italy, just try and shift me if you want' approach. The challengers were not so blasé, loudly expelling their frustration on everybody else in the surrounding area. One stormed across to a dozy-looking policeman, let fly with a vitriolic barrage of complaint, stopped abruptly, glared expectantly at the policeman, and was treated for his efforts with the most desultory, disinterested shrug of the shoulders humanly possible.
My planned response, if challenged, was to suggest to the challenger that he "see Enrique in the Rome office if he has any complaints". That should occupy him for about a week.
The match kicked off with the walkway aisles overcrowded with people squatting in them, leaving me to assume the official attendance of 59,978 was some sort of Italian accounting slight.
At least everything initially went to plan out on the pitch.
Italian goalkeeper Walter Zenga was forced to beat away an early shot from Jorge Burruchaga – the crowd gasping at the audacity – but there was a sense of both the presumptive and the familiar when a Toto Schillaci goal arrived in the 17th minute. The crowd around me forgot its troubles as a bug-eyed Schillaci passed close by during a lengthy, sprinted celebration spent one step ahead of pursuing teammates.
Argentina teetered as Italy threatened to run riot. 
To progress this far was already quite an achievement for a punch-drunk World Champion that had staggered from game to game like a prize-winning dog slowly going blind. This Argentine team was a frayed image of the victorious 1986 World Cup side. But it was driven onwards by the glorious memory of the Azteca. Stubborn, tenacious and with a fierce pride in the shirt, an uncompromising and often cynical defence combined with isolated excerpts of Maradona genius to remain afloat. Just. Never have I seen a football team more determined or driven not to lose. Or fortunate – there can be little doubt those players gained additional strength from a belief that God was with them, and it often seemed He must have been.
I cannot remember exactly when it happened. It may well have been before Claudio Caniggia's goal levelled the score midway through the second half. But I was struck by a realisation that this game was now different. The Azzurri was no longer in control. For the first time at the tournament, the Italians looked uncertain, hesitant even.
Argentina, meanwhile, doggedly stuck to the task, slowly sucking the confidence from the home side with its uncomplicated two-tier policy of continual harassment and defiantly clinging to possession.
The game had changed hands. 
The introduction of Roberto Baggio and Aldo Serena simply made Argentina more determined. And aggressive. Ninety minutes came and went. Italy appeared just as unconvincing during extra-time, even the shock dismissal of Ricardo Giusti – for an off the ball assault on Baggio – failed to loosen Argentina's remorseless grip. It was a match headed for penalties, in a stadium morbidly confronting failure for the first time. The World Cup Dream was listing alarmingly as a dumbstruck nation was forced to watch on.
A shoot-out was unfair. They always are. But this was no lottery. Each Italian player was forced to step forward with the weight of a nation bearing down on his shoulders like never before; each Argentinean stepped forward armed with decree.
And confirmation of this destiny was the presence in the Argentine goal of Sergio Goycoechea.
The 26-year-old Colombian-based goalkeeper had started the tournament as a nobody, a second choice to 1986 hero Nery Pumpido. But the unfortunate Pumpido (the man who would later have his ring finger ripped off when it caught on a goalpost nail during a practice session) shattered his leg in a sickening clash during Argentina's group match against the Soviet Union.
It would be a sleight of fate that paved the way for Goycoechea's emergence as one of the best-remembered performers at Italia 1990. The plucky shot-stopper would prove the perfect foil behind a relentless, overworked defence, making a major contribution to Argentina's stuttered and ugly progress. Defending for Argentina in 1990 may have been a grim task, but Sergio Goycoechea was never anything less than enthusiastic and inspired.
Goycoechea was also an accomplished penalty stopper. He saved first from Roberto Donadoni and then an ashen-faced Serena; twisting around, picking himself up and setting off on a weaving sprint towards an advancing bench.
I looked around me. People just stood staring ahead. Some vacantly, others bewildered, most in disbelief. I thought earlier it might end like this, even prepared myself for it. I had far less to lose. But even I found myself grappling with reality. It was over. A lone group of Argentine supporters danced joyously in the distance, making the already bizarre atmosphere seem even more surreal.
The Italian players had slumped off. The Argentineans followed soon after. Some of the crowd departed, many remained, transfixed to the spot, waiting for players to reappear and continue the World Cup Dream.
Follow Euan on Twitter