By The Spotter
A mighty Kauri has fallen. A courageous man and seminal thinker is no more. At the wicket you always looked like you could do anything. A murderous hook shot off the nose, no bother. An exquisite on-drive even from short of a length on the off, a cinch.
For the national team you of course did so much, but they'll never forget you at Central Districts, either. In that Shell Trophy season of 86-87 you were nigh on invincible. You scored 1,348 runs over just fifteen innings that domestic summer. You had five innings over 150 and another of 144. Your average was 103. Absolutely incomparable in New Zealand.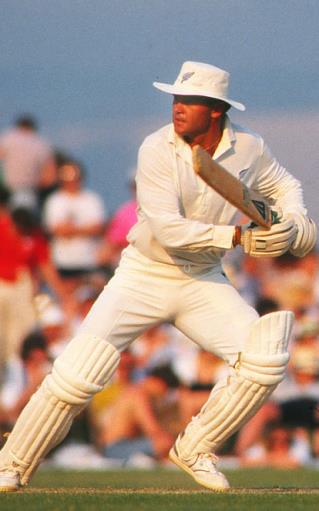 I remember listening on Sports Roundup when you came into bat against Auckland that season. I damn well had a feeling about what was probably going to happen though. About four hours later you had 154 not out, with god knows how many fours whizzing to the fence. It seemed like about forty actually, but was probably a fair bit less.
You decimated all-comers. I recall your only slip up being when you got 13 and 8 in one game. It was against Otago (I had to check that). Crikey, they must have been pretty cock-a -hoop to have got those wickets.
With 'Paddy' Greatbatch you guys almost single-handedly won the Trophy for Central that season. There were six century-plus partnerships out of twelve innings' together. Remarkable- it will almost surely never be topped.
You were always a big part of my adolescence for a good few summers. I loved your stance at the crease, the two flourishing and deliberate taps of the bat as the bowler careered in, and the impeccably straight head and supremely confident glare back down the wicket. Good grief, even your forward defensive had the air of the majestic about it. Why, I could even forgive you for always seeming to save your best when up against your real home, Auckland.
Go well Martin and thank you for being the most beautiful shot maker that a fan could ever lay eyes on.
And a song from an era when you were at the peak of you powers somehow seems appropriate as a tribute to you.