Death, Taxes And A Hundred At The Adelaide Oval
1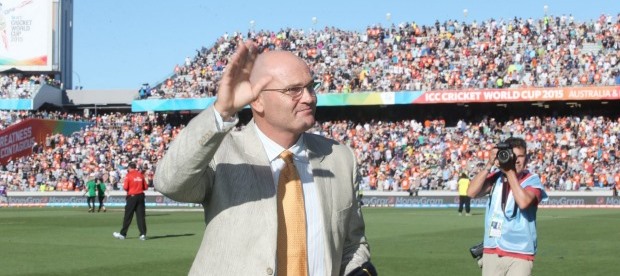 By Greg Simpson
"Today, while some confusion exists, my mask has gone and I am happy to look at the real me for the first time in a long time. I accept who I am. When folks ask me what the meaning of success is, I reply that it's accepting who you are."  – M.D Crowe 2013
When Martin Crowe coined his now famous quote; 'There are three certainties in life – Death, Taxes and a hundred at the Adelaide Oval' , I never expected I'd be inspired to write these words about him, on the day he takes his final 'walk out to the middle' so to speak – his final journey. Maybe when he was 83 I would, but not now, not at 53. But here I am, the 'third certainty' got him, like it does all of us eventually. My hero has left us, left us wanting more, as all legends should.
It was the 11th December 1987. This young Kiwi boy from Hawkes Bay, who had just turned 10 a few days earlier, watched as his idol – and that unmistakable strut – made his way out to the middle of the Adelaide Oval. New Zealand had started strongly at 128/2, as they so often did in the Eighties with John Wright and Andrew Jones sitting above Martin David Crowe in a strong top order. A tick under 4 hours later, with the score now 341/3, having caressed McDermott, Reid, Waugh and May to the boundary 17 times and one time over it, he departed again. This time the strut was more pronounced, more of a swagger, as the local South Australian crowd begrudgingly rose to applaud a magnificent 137. How could any true cricketing fan not applaud that stroke-play. Those glorious straight drives, the text book pull shots, and cuts through backward point with perfectly rolled wrists. Another one of your 'three certainties' was complete – a hundred at the Adelaide Oval.
This cricket obsessed kid, went straight to his bedroom and slid his 'card cricket' board game out from under his bed. I remember taking the pencil and blank scorecard that was to be filled out with any team I wanted, and writing in each batting slot from 1-6: M.D Crowe. I didn't want anyone else to be a batsman in my imaginary team. I just wanted Martin Crowe. I wanted to be Martin Crowe.
When we are young, this innocent idolising of sports stars is prevalent. It's obsessive. We think of them as our heroes. We imitate them. Whether it was me tying a bandana around my head, venturing out to the lawn, and practicing my straight drives and thinking they were 'exactly' like Crowe's.  Pestering my poor parents constantly for a Duncan Fearnley cricket bat. It even extended to being a 17 year old and captaining my 1st Eleven school team and batting in a floppy hat… Just like Crowe. He was 'that' cool. I never did perfect that strut though (or get the bat). But as we grow up are these people really heroes in the true sense of the word? Probably not. They would probably be the first to agree with that sentiment. They are just normal men that happen to be good at sport. Actually, in Martin's case, he wasn't normal. He was a deeply complex, flawed person, some referred to him as a tortured genius, who just happened to be one of the best in the world at his craft.
'The ultimate measure of man is not where he stands in moments of comfort and convenience, but where he stands at times of challenge and controversy' – Martin Luther King Jr
This, for me, is where my childhood 'idol' transcended from just being another sporting star, to my 'hero' in adulthood.
Since being diagnosed in 2012 with cancer, Martin, or more affectionately 'Hogan', opened up for the first time in his life. In his words, he 'removed his mask' that had been firmly in place since his early 20's, and in doing so bared his soul for us all to see. He discussed how his depression and the suppression of negative 'toxic' thoughts throughout his career/life had probably caused his body to be riddled with cancer. That's what he believed. He talked about the fear he's fought his entire life. Fear of rejection. Fear of unworthiness. Fear of humiliation, and ultimately fear of failure. Then when it was time to face his greatest fear – Death and leaving abandoned those he loved most, he finally looked in the mirror and faced that fear head on… "Face the truth Marty" he told himself "It's time, it's not too late".
'The two most important days in your life are the day you were born and the day you find out why' – Mark Twain
As he looked in that mirror, at the age of 48, facing his greatest ever challenge since probably Marshall, Holding and Garner at Queens Park Oval in 1985, the ultimate measure of the man came to the surface. As he 'de-masked', he found out who he was and why. He mused that by accepting who he was, is life's ultimate success. Most would close the curtains and shut themselves away. He chose not to. He faced this challenge very much in the public eye, with the honesty, bravery, humility and class of a hero.
Watching this process unfold had a profound effect on me personally. When he discussed wearing his mask for nearly 30 years, and the confusion that reigns mentally beneath that mask, it struck a chord with me.
"Confusion is the opposite of clarity. The mind, and thoughts that come thick and fast at you, are muddled, twisted and distorted. You search for clues as to how to go forward at any moment, and as you decipher it all, you can become untrusting, unsure, and uncertain as to the clues you find. The higher the expectation of life, the harder it is to work out. Confusion is a killer."
He helped me realise that I was wearing a mask too. That I was confused. He helped give me some clarity when I really needed it most in my life. I've made many changes since as a result. As he was staring down death in the face, my childhood idol was giving me valuable life lessons. For that, I thank him so much. As always, I just wish I could've thanked him while he was alive.
Hogan, I will never forget the 188 in Brisbane. The 299 at the Basin. The 142 at Lords. Your final century on one leg in India, securing a rare sub-continent victory. I most definitely won't forget the 100 not out in the opening game of the 1992 World Cup versus the Australians at Eden Park, after coming in at 13/2, and the epic ride that you took a country on for that next month. Opening the bowling with an off-spinner, giving an opening batsman a free license to launch attacks from the very first delivery. It had your genius written all over it. By then this young fan was 15 and he got to witness you scoring 74 not out at McLean Park during that tournament. I'll never forget you pulling a short one into the stands with such ease.
Thank you for those memories.
But I'll always remember you most for the heroic way you faced death and the valuable life lessons you taught us all, along that highly personal journey. That is your real victory and legacy. That's what your wife and children should be most proud of. Your wisdom will be sorely missed.
Maybe I got it all wrong as a kid. Maybe I should've tried to be Richard Hadlee, as no one could be Martin Crowe.
You can rest easy now Hogan. Your job here is done.
Follow Greg on Twitter