An Open Letter to Conrad Smith
1
Dear Mr Smith,
Retire.  Now.
Stop listening to the New Zealand rugby public, its media or anyone else telling you to carry on.  Think of yourself; it is actually quite important.
You are a smart guy; a qualified lawyer in fact, as we are often told.  You must realise that these head knocks are going to have a long-term effect on your life.
The head is far and away the most important part of the body.  You only get one of them.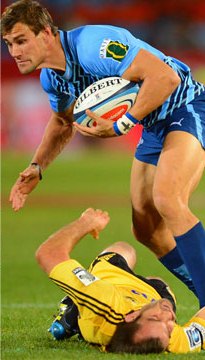 You suffered concussion in the first match of the season.  You got past the mandatory stand-down period after a bit of nudge & wink cleverness. But nudge & winking when it comes to a head knock actually isn't that clever after all.  And you know that.
And then there was the facial damage you suffered last year; that must have had an impact.  And the previous instances of concussion
Last weekend sealed it.  The sight of you hitting the ground was sickening.  We felt for you; it was awful.
What's the point?
Perhaps you are battling on out of some loyalty to the Hurricanes you captain. On one level that is admirable but, Conrad, they are 11th in the table.  Nothing much will change.
The next World Cup maybe? You will be 34 then, that's pretty old for a centre at the top level, and at this rate you will not be there anyway.
You have achieved so much in the game.  All Black for nine years, 66 caps, World Cup winner and generally regarded as this country's best ever centre. There is very little more you can achieve in the game, other than ruining your retirement years.
You have been around in the peak of the professional years, and have a range of future options awaiting you.  There is the legal path mentioned above, possibly media options, and coaching.
But not if your faculties are lost.
You can actually create a legacy here.  Players carrying on when they shouldn't is an issue in all contact sports.  Perhaps it's time for someone, a player with more to his life, to say that this is actually an important issue; there is more to life than a sporting career that is not in the best interests of the athlete involved.
So Conrad, please chuck it in.
Regards & Best Wishes,
Your Conscience
PS:
October 5 2014
It has happened again.  And, inevitably it is not being talked about in the media.  Instead they seem more concerned about a knee injury to the third ranked halfback.
But we care.  Kerr-Barlow's knee will recover, but we don't know what impact this new knock to your head will have.
So, at the very least take the rest of the year off.  The test against the Wallabies in a fortnight is meaningless, and there is no Grand Slam as part of the northern tour this year.
And then, over Christmas dinner with your family, think about the bigger picture.