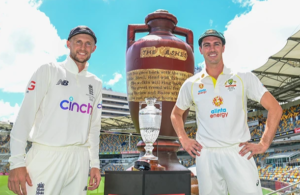 By Aiden McLaughlin
I'll be honest – I thought I'd be typing this piece out at some stage of day three of the first Ashes test. England's – actually, make that Dawid Malan and Joe Root's performances in their second innings, showed that the visitors have the ability to compete in patches, but the loss of 8 wickets for 74 runs this morning, was surely no surprise to most people with even a passing knowledge of the limitations that Joe Root's team possess.
Post match, Root was adamant that if  he had his time again, he would still choose to bat first; he pointed to the fact that Australian skipper Pat Cummins would have done the same. The issue for Root wasn't the decision to bat, it was his side's execution with the bat on that first day. But even if it seemed to be the right decision when looking at the conditions, was it the right decision for this starting XI? Would it have been wiser for England to play to their strengths, their bowling attack, rather than potentially expose their vulnerable batting line up? If they conceded 400/450 over the first couple of days, then the test would still be alive. If the batting faltered, as it did, then the match was almost certainly gone.
Selection wise, Root again, showed no regrets. In fact, when it came to the performance of spinner Jack Leach, who had figures of 1-102 off just 13 overs in the Australian first innings, he took some of the blame himself, indicating that he had used Leach at the wrong time, allowing the Australian batsman to take advantage and push their score forward at speed. He felt that Leach provided the best balance to the type of attack England wanted to get out on the park in Brisbane.
It seems likely that Leach and Chris Woakes will make way for James Anderson and Stuart Broad for the second test in Adelaide this coming Thursday. A day night test may well see conditions to suit the veteran duo, but some of that will be dictated by the decision made by whoever wins the toss. More significantly, for me, is who can come into the batting line up to help put together the types of totals that England will need to win at least two of the remaining four tests? Well, that's the problem – for all their seam bowling options, England are lacking in batting depth, and with the Aussie attack looking stable, that has to be what Root will be most concerned about.
For Cummins, almost everything went to plan in his first test as Australian captain. It was the perfect start, as Mitchell Starc took the wicket of Rory Burns first ball. England were bowled out cheaply. Australia made a first innings score of over 400, always a good score to get past, with David Warner, Marnus Labuschagne making 94 and 74 respectively and Travis Head really taking control of the match for his side, with 152 off just 148 balls. There will be concerns about Marcus Harris at the top of the order, and a duck for Cameron Green, batting at six, wasn't in the plan. But the lower order chipped as they went from 306-7 to post that total of 425.
For England though, they head to Adelaide and the pressure is already on. A drawn series is no good to them, they need to win it outright and from where I sit that means they probably need to win three of the last four tests, as I'd expect Australia to win at least one more.
In 2010/11, when England recorded their first series win in Australia since 1986/87, their batting line up was Strauss, Cook, Trott, Pietersen, Collingwood and Bell and most of them played out of their skins. It was one of the best batting lineups England have ever fielded and it needed to be. Right now, with the exception of Root, it's hard to see where the big individual scores and the competitive totals in the next four tests will come from.
Follow Aiden on Twitter