Atherton on perspective in International cricket
0
by Sportsfreak
in Uncategorized
— 30 Jan, 2014
In tomorrow's edition of The Times (UK) Mike Atherton will highlight just how ridiculous the ICC Position paper is, and how ill-founded the self-appointed sense of supremacy around those promoting it
Based on antiquated methods of calculation — those of scoring more runs and taking more wickets — New Zealand beat India this week to complete a comprehensive victory in the one-day series between the teams. The Black Caps should enjoy the moment; in years to come, the scoreline will be adjusted to take into account the size of the respective countries' balance sheets.
I'm being facetious, of course, but the irony will not be lost on observers that the two countries dominating the proposed revamp of world cricket are having a difficult time of it on the field. India are on a streak of five defeats and one tie in their past six one-day internationals; England's winter international record reads played 11, lost 10.
India's performance over a couple of hours in the fourth one-day international against New Zealand was as bad as anything produced by England during their Ashes horribilis. A Test series between New Zealand and India follows and it will be interesting to see whether India fare any better against them than England did at this time last winter, when they hung on to draw the final Test and the series by the skin of Matt Prior's teeth in Auckland.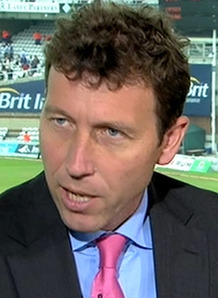 When you think about the inherent advantages enjoyed by India and England, it is remarkable that New Zealand can be competitive at all. Populations of an estimated 1.2 billion and 56 million respectively against 4.5 million; economies of scale of both India and England, the fourth and eighth-largest economies in the world, dwarfing that of New Zealand; board revenues climbing into the hundreds of millions against the paltry sums brought in by New Zealand Cricket. Unlike in India, cricket is not even the main sport in New Zealand, where the most naturally talented athletes aim for All Black, rather than Black Cap, status.
In the working paper, offered up to the ICC by a working party of the Finance and Commercial Affairs Committee, the indication was that on and off-the-field considerations over the past 20 years would be uppermost in deciding how revenues are redistributed. Of course, what that means in reality is whether, by the fortuitous circumstance of geography and history and size of population and economy — of coming, in other words, from a wealthy country — you bring in a lot of money to the ICC through television revenues, or not much. What it does not mean is how well you have played in those ICC events, or how well you have been governed off the field, which are the two things you have some control over.
On both those measures — playing and governance — New Zealand have put England to shame. Whichever way you slice the cake, New Zealand have fared rather better than England in ICC events over the past two decades. Not relatively better, when considerations of size, population and money are taken into account, but better on a direct, absolute comparison. The Atherton measure of calculation gives the winner of an ICC event five points; runners-up four points; semi-finalists three points; quarter-finalists (or super six/super eight stage equivalent) two points; and a first-round departure nul points.
On that measurement, New Zealand score 13 points to England's six in World Cups since 1993 (the past 20 years being the time frame suggested not by me but by the Finance and Commercial Affairs Committee working paper); they score 14 points to England's 15 in Champions Trophy tournaments in that time and have nine points to England's 11 in World Twenty20 tournaments. A 36-32 victory for New Zealand. (India come out best of the three, with 42 points overall.)
New Zealand have consistently played to their potential, or above it, throughout most of that period, in World Cups especially. The only times they blanked and did not score any points are the Champions Trophy tournaments of 2002 and 2004. England blanked in the World Cups of 1999 and 2003 and in the Champions Trophy in 2002 and 2006. No prizes for guessing which country can lay claim to having primed its team more successfully for the big events. It is not England.
Off the field, New Zealand has led the way not only in cricket governance, but world sport governance. The revamp of New Zealand Cricket happened in 1995, when John Hood was commissioned to lead a review of its structures, and the result was that the previous board voted itself out of existence and a new, slimline governance model of seven independent directors was introduced. It was ahead of its time: one director had to be a former cricketer, one had to be a woman and it became a beacon for all other sporting bodies looking to change their decision-making procedures.
Malcolm Speed, a previous chief executive of the ICC, had many observations of cricket governance in his book Sticky Wicket. Early on in his new role, he travelled around to get a feel for how cricket was run in the various territories. He had this to say: "In Pakistan, it was difficult, as there was no board. In India we met with a board of 32 people, one of whom proudly told me he had been attending BCCI meetings for 52 years. New Zealand, with its independent commission, made up of seven directors (including a woman — the only one we encountered in our meetings) and the chief executive was the most impressive."
In what can now be viewed with great irony, a previous chief executive of New Zealand Cricket, Justin Vaughan, had this to say shortly before Lord Woolf led his review into the governance of the ICC: "Our model has been adopted by all our provincial associations and in the eyes of the cricketing world New Zealand governance standards are seen as the gold standard. If I were a betting man, it would be that Lord Woolf will come up with sensible recommendations; the risk is whether the ICC will adopt them all." Indeed.
New Zealand is, in cricketing terms, a "small" country, viewed at the moment by England, India and Australia as little more than a scrounger on benefits. That they have managed to marshal their lean playing resources in ICC events over the past two decades rather better than most, and that they have the "gold standard" in governance, counts for nothing under the new proposals.
A suitable analogy would be that of two students: one is rich, privately educated and lazy; the other, poor, state-educated and hard-working. Both take the same exams to get into the same university. The rich, lazy student is given a 20 percentage points start over his rival. Sometimes you just have to admire the brazen cheek of it all.
Republished completely without permission because this is the Internet