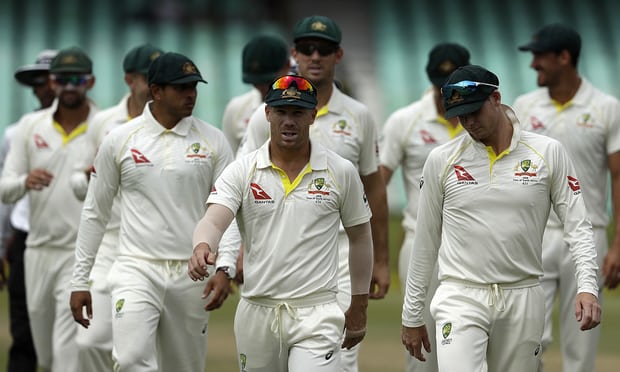 By Harbour Heather
Do you remember, just as recent as last month, when the Australians were here and some of us were wondering (albeit in quiet whispers) that maybe David Warner had matured into an okay, reasonable guy? A respectable captain? And on a good day, some of us might even swallow our pride and say he's a tremendous player, without the caveat "…but also a total knob"?
Now he's up for a potential match ban for his involvement in an unsavoury off-field incident in the Durban grandstand. And we're not really surprised.
Usually, what happens on the field stays on the field, but this incident broiled over into a much-publicised grandstand staircase row, loud and boisterous enough to draw an undressed Faf du Plessis from the home change room to see what all the fuss was about.
The whole episode has got me thinking. What place sledging? It's a storied part of the game. You can't be a cricket fan without hearing about Eddo Brandes or "You just dropped the World Cup." But it also makes grown men look like fools. Now, you have professional sportsmen pointing the finger in a "But, but… he started it!" manner best suited to four year olds.
There's no question wives and kids should be out of bounds when it comes to sledging, and the charge against Quinton de Kock is that he made remarks about Mrs Warner. Now, we weren't there, but the odds are quite short on Warner having provoked a dialogue with de Kock, surely? Allegations from the Proteas include that Warner brought up de Kock's mother and sister.
Is this where the 'gentlemen's game' is at these days? Nothing more than grown men throwing around 'Yo' momma so fat' jokes?
I'm all for the mental intimidation a well-placed chirp can provide in any sport. And in test cricket, it can be a good way to pass the time. You can accept the cursing; it's a product of fired-up sportspeople in any game, in good times and bad. The best sledges are the witty, smart ones. Ones you know will eat away in the mind of the batter. But the craft seems to have disappeared. "We're going to break your f—king arm"? It takes limited brain function to come up with that one.
It's important to view this latest incident with the lens of the Australian team asking for the stump mics to be turned down for the series. When they play at home, the subservient Channel 9 broadcasters turn the faders for on-field microphones up and down between balls and overs. Yes, the occasional f-bomb isn't great to hear through the television, and Channel 9 could be protecting their brand against broadcasting standard complaints. But it's convenient that this helps mask what the Australians are throwing around in the field. Conspiracy theory? Or a reasonable assumption based on past evidence? You decide.
Sponsors are so quick to drop athletes these days at the slightest hint of wrong doing, with or without evidence. Yet the Aussie cricket team continues to be sponsored, lauded and held high. It's written off as part of their make-up, how to get an edge over their competition. Even the newspapers get in on the act with their back page headlines. Just a case of white line fever? Call it what you like, but asking to have the stump mics turned down is an indication that they're going out there with the intent to say things that cross the line.
What's comical in this situation is the moment anything happens back to an Australian they kick up a fuss. As if it is unwarranted, undeserved. Steve Smith couldn't handle jibes from James Anderson in the recent Ashes. David Warner didn't like the taste of his own medicine. Unfortunately, more often than not, the Australians' verbal tactics are more than ably supported by their actual cricketing talents, rendering opposition jibes futile. I just wish they weren't so bloody good, as winning masks the idiocy of it all. And demonstrates to impressionable young cricketers that that's how you win a test match.
Is the spirit of cricket the biggest have in sporting history? These days, it seems there are more stories in line with what's emerged from Durban than stories of batsmen being called back, players walking or fielders outright saying they didn't get their hands under a catch. Has it got something to do with the rise of T20 leagues around the world, where international players get to know each other better, and accordingly, the best way to rile each other up? Spending six weeks in the bubble of the IPL circus would sure give you a good idea of how to push someone's buttons.
There's a place for sledging, when it's done in a way to make a player question their next shot, or shake their confidence. What there's not a place for is straight up abuse. Just like they do on the field, the Aussies seems to lead the way in this facet, too. There's a line between mental intimidation and crude bullying. It's being crossed continuously, and the players know it. The onus needs to be on the umpires to have the backbone to control this, long before it gets too heated.
It's a shame this has become an accepted part of the game.
Follow Heather on Twitter