F1. São Paulo 2023 Review
0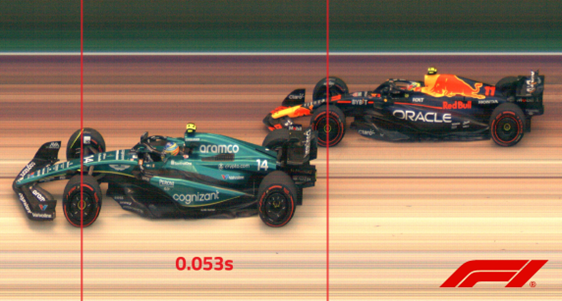 By Gavin Huet, Chelsea Wintle and Aiden McLaughlin
Driver of the day
Chelsea – Fernando Alonso had my heart on fire through that final lap. He drove a masterful defensive race, primarily battling Sergio Perez, a driver desperate to prove his worth before the close of the season. Perez finally managed the overtake on the penultimate lap, but Alonso stayed on his tail, leading to a heart-stopping final run to the finish where Alonso took it by a nose. This is what we watch for! Special mention to Lando Norris, who had a very impressive weekend of his own, finishing a mere(!) eight seconds back from first-placed Max Verstappen.
Aiden –
Sing it with me…They were closer now Fernando
Every hour every minute seemed to last eternally
I was so afraid Fernando…
Oh my goodness Mr Alonso, how did you manage that P3? Tenacious, resourceful, intelligent. It was inevitable that his Aston Martin would be caught by Serio Perez's Red Bull, so Alonso used all his experience to make sure that when he was caught, he could keep the Mexican at bay. First of all, he worked to preserve his tyres as best he could. Once he was caught he stepped up his own pace again to get out of DRS range. He expertly used his battery and also varied his line on the track from one lap to the next, so Perez was puzzled to know which way to attack, and struggled to get clean air. When he was eventually passed, Alonso hung in there and managed to overtake Perez on the final lap. He just never gave up. The most deserved podium of the whole season for me.
Gavin – Fernando Alonso! The overtake on Lewis Hamilton at the restart after the red flag was probably the crucial bit but that drive at the end of the race to hold off Sergio Perez in the much faster and more powerful Red Bull was a sight to behold and ultimately gave us a race worth watching – in fact it was probably the best drive of the season. Starting in fourth and ending in third only tells part of the story as the second half of this season has seen Aston Martin going from podiums to being very much off the pace. A welcome return to form for both Fernando and Aston Martin (special mention to Lance Stroll, the other Aston Martin driver who qualified in third and ended in fifth – that would have felt like a win for him after his recent form and troubles).
Moment of the weekend
Chelsea – The first lap brought chaos, with Alex Albon and Nico Hulkenberg veering into one another, ricocheting Albon into Kevin Magnussen. The left rear was torn from Albon's Williams, launching his tyre over the head of Danny Ricciardo, and ending the race was over for both Albon and Magnussen. "Looking back," said Ricciardo later, "It is nice it did not hit me." Quite.
Aiden – When Perez went a little too deep in the first corner of the last lap, Alonso smelt blood. He knew Perez would be compromised coming out of the next turn and, with DRS at his disposal, made the final passing move around the outside of turn four. A genius at work.
Gavin – The Ferrari of Charles Leclerc failing on the formation lap. This is indicative of where the Scuderia are right now especially if you remember this is the second time in the last few races that only one Ferrari made it onto the starting grid. On the bright side this does give birth to a new meme of Charles : "No, I lost the hydraulics, I lost the hydraulics! Why the f— am I so unlucky?" It was bad timing for Ferrari considering the struggles that Mercedes endured this weekend as it meant losing out on more precious Championship points.
Hot take of the weekend
Chelsea – I quite enjoy the occasional limited-field race, and Brazil certainly delivered. With a DNS from Charles Leclerc and DNFs from Albon, Magnussen (the aforementioned chaos), Bottas, Zhou (engine cooling trouble) and Russell (power unit overheating), only 14 of the 20 drivers actually passed the chequered flag. Of those, both Ricciardo and Piastri were hampered by damage caused by the crash on the first lap, which left them each a lap down when the red flag was waved. Tough weekend for many.
Aiden – Mercedes are still more likely than McLaren to win a race this season. Yes, yes, I know the Silver Arrows went backwards in Brazil, and significantly so, but McLaren seem to have hit their maximum level for 2023, whereas Mercedes still have the ability to turn up in Las Vegas, a track unknown to the whole paddock, and have their cars in good enough shape to win. George Russell is my tip for the race win on the Vegas strip.
Gavin – Sergio Perez started in ninth and ended the race in fourth having been out-foxed by Fernando Alonso at the end of Grand Prix. Though it does not look like a great result I think it really is as the Mexican driver is under pressure for his place in the team with both Daniel Ricciardo and Liam Lawson eyeing it out. Red Bull are ruthless with their drivers and I still think he is vulnerable but if he can compete like he did this weekend, and crucially qualify better, he may just have bought himself some more time in the hot seat.
Cold take of the weekend
Chelsea – Toto Wolff called this his "worst weekend in 13 years" and it's easy to see why – Hamilton dropping from 5th to 8th and Russell not completing the race at all. Even more frustratingly, nobody seems able to identify what exactly is going wrong with the W14. After three races on the trot, Mercedes now have two weeks to make tweaks before all teams hit a fresh circuit in Las Vegas where, hopefully, it's anybody's race. To a point, anyway.
Aiden – The head scratching over the best format for sprint weekends continues. It'll be a big decision in the off season, but make no mistake, they are here to stay. They bring more viewers than standard practice sessions and as Martin Brundle said over the weekend "the worst sprint race of the last three years has been a whole lot better than the best practice session".
Gavin – The Mercedes car this season is one that Lewis Hamilton will be very happy to see the back of "Only a couple more races with this car, and it's gone, and I'll be happy. This year, you're just counting down the days." Harsh but fair from the veteran and I am sure even the team (well Toto Wolff did say it was his worst weekend in 13 years) will be happy to see this car consigned to the museum. Now the question is will next year's car be any better because if it is not how long will Lewis be around for, and surely at some point the team will need to start building the car around George Russell.
Follow Chelsea   Aiden Gavin   on Twitter