Go to the Rugby League World Cup
0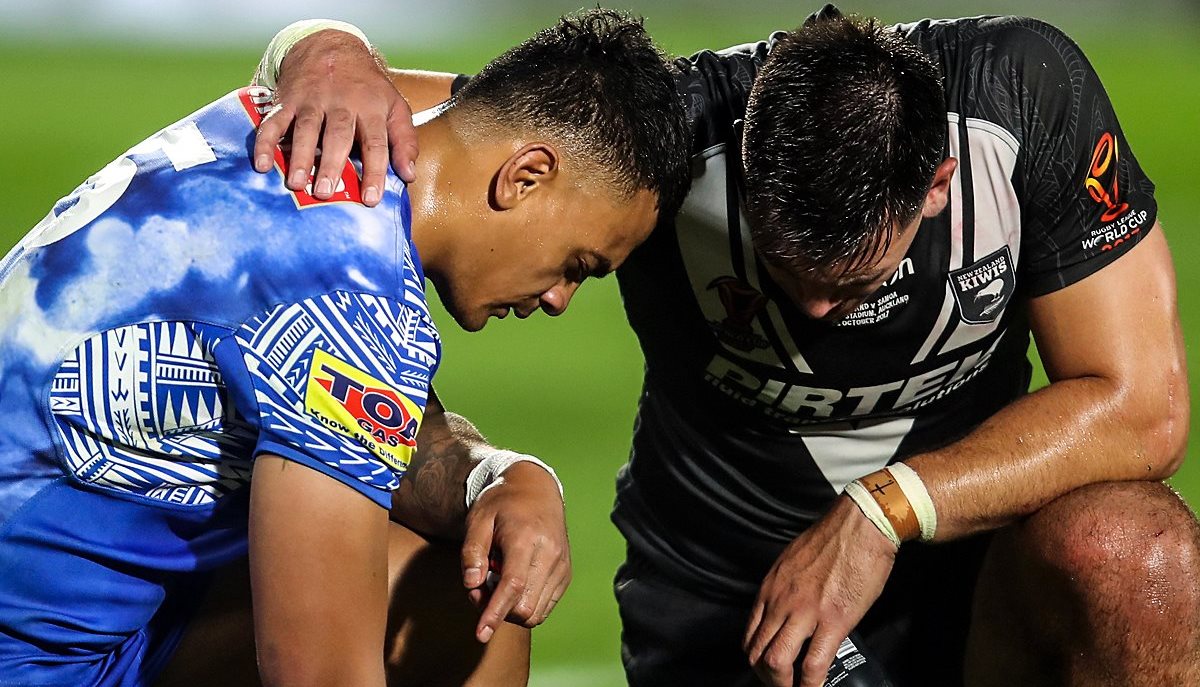 By Harbour Heather
Even if the Warriors have drained your interest in the sport. Even if all the suspension and defection drama before the tournament has left you disenchanted with the Kiwis. This tournament is something sports fans should revel in.
The nature of international league is fickle, often seen as secondary by our Aussie neighbours to their mate-against-mate series. Eligibility rules are cloudy and cause confusion. But, evidenced by a 17,000 strong crowd at Mt Smart on Saturday night, when the whistle blows, the contest can still bring out passion and pride.
The Samoan fans made the evening with their tremendous atmosphere. Pacific nations are proud people. They need very little encouragement to be flying flags from their front gates, their cars, their person. Arriving in droves, facepainted Samoan fans were in full voice and song, excited at seeing Toa Samoa play in the opening match of the tournament on New Zealand soil.
They sang their anthem with passion, they echoed and called in response to the Siva Tau. They booed the haka to remind the Kiwis that this wasn't necessarily a home game. And when Samoa scored with time up on the board, the crowd erupted. Last try wins? Both sides of the crowd left buoyant – Kiwis fans with a sound win and good points differential under the belt, the Samoan fans high on a bonus try after a very long second half.
Leaving the ground, it was all blue shirts, flags and honking. As if the game was played in Apia.
And therein lies the best part of this tournament. Even if you don't have a team to support, jump on board one of the smaller nations. It is not difficult to be swept up in their enjoyment. Crowd numbers may not compete with what the All Blacks are accustomed to, but the noise generated by the fans will having you wondering.
It's their passion which makes it. Joy at seeing their team, their homeland, represented in front of them. Some of these teams almost cease to compete outside of World Cup rotations. This is a once in four-year opportunity for players to represent their country, their heritage, and they will give their all. As will their supporters from the stands. Quiet and subdued New Zealand fans are left in their wake.
There are six games remaining around the country – two in Christchurch, two in Hamilton, a quarter final in Wellington and a semi-final back in Auckland. This gives people nationwide the chance to see at least four teams – the Kiwis, Scotland, Tonga and Samoa – in action, with others potentially appearing in the knockout stages. Ticket prices are reasonable with kids starting at $10 and adults from $35.
Hot tip: Samoa v Tonga in Hamilton will be an incredible, hard-hitting, full-voiced night of entertainment. Money well-spent.
Often the future of international league is debated. This tournament gives the New Zealand sporting public the chance to help cement it. As a nation, we are quick to tout our love of sport, especially at the highest level. The next few weeks bring the opportunity to support a game which offers skill and spark, and needs attendance to ensure that the international level is regularly seen on our shores.
Go to the Rugby League World Cup.
Follow Heather on Twitter