Great Australian Test Cricket Stories
0
Ashley Mallet is best known as an Australian off-spinner who took 23 tests to reach 100 test wickets, which happens to be the same number of tests as Shane Warne, Glenn McGrath and Graham MacKenzie.  He now works as a coach of spin bowlers.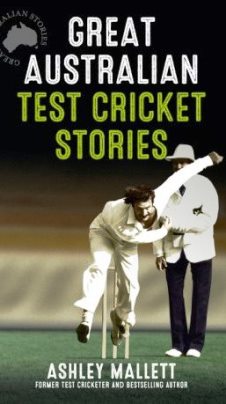 He is also a sports writer and this is his 33rd book.
He has assembled a wide-ranging collection of stories outlining the history of Australian cricket.  And the range of topics is eclectic enough to make it a worthwhile read.
The book's style is a bit mixed, and follows a rough chronological order.  It is the kind of book you can pick up and read in random order.
It moves from old Aussie folklore, which is fascinating, to profiles of David Warner and, strangely, KP, which can be easily skipped.
There is even a chapter on the 12th Man, and how the Billy Birmingham social phenomena of the 1980s and beyond came to be.
As with any retrospective of Australian sports history the most fascinating is around World Series Cricket.  It turns out the genesis for this was the back to back tours of India and South Africa in 1969/70, and how the players were treated "like monkeys" culminating in the whitewash in The Republic.
Who knew that was originally a five test series, but the players put their foot down in what was to become a sign of what was to happen later that decade?
This is the part of the book probably delivered most personally by Mallet, and it provides yet another insight on a fascinating multi-threaded chapter.
Mallet, who had retired in 1977, suddenly got approaches from both sides, and it led to this great exchange:
"A day later, The News chief of staff Geoff Jones received a phone call.  "Don Bradman here… Can I please speak with Ashley Mallett? Ordinarily Jones would have said something like "If you're Don Bradman I'm Spiderman" but no, he transferred the call.
"Ah, Ashley, I'll get to the point" he said in that unmistakeable squeak. "We want you to come back to play for Australia". 
The Bradman line is an interesting insight into what we all thought about The Don, and the cloud that his presence held over Australian cricket following his playing days.  It is not the only time the squeak is mentioned.  There is even a chapter wondering if Victor Trumper was actually the better batsmen.
He also digresses into a fascinating perspective on chucking; particularly by spinners and this again is where his personal experiences shine through.
Two of the best chapters relate to Doug Walters and Gary Gilmour (referred to as the last amateur) probably encapsulate the book best.  It is a wistful throwback to when cricketers were enormously talented and played hard, yet were still Ockers.
Walters, for example, during the 1971 series against the "World XI" was out after Day 4 of a test with old mate Brian Taber.  After cold ones he went outside into broad daylight.  "Gee it's still light.  I guess I'd better get back to the pub to get some sleep.  I've got to bat tomorrow.
"No Doug, you've got to bat today".
The part when Walters goes for an Ashes century in a session with accountant Ross Edwards acting the handbrake at the other end is brilliant.
Walters and Keith Miller epitomised the Aussie Larrikin better than all others.  And it is the tales of players like that which are the highlights of this book.
And, as much as we may struggle with it, Australia cricket has a lot of stories to tell.  And, yes, if you go looking for them, there are chapters like the Warner one to wind you up.  But it is the less well known tales that make this one worth a read