Gutless. Spineless. Pathetic.
0
By Scott MacLean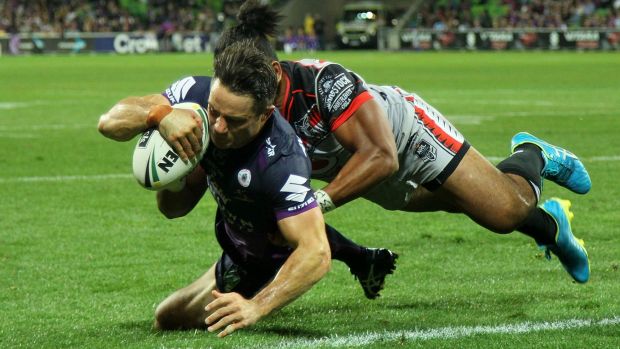 What the Warriors served up for their fans on Monday night was nothing short of disgraceful. Yet the match had all the elements to be a cracker. Matches against Melbourne often seem to bring the best out of the Warriors, who actually have a pretty decent record against the Storm. Add in the Anzac Day commemorations and people could rightly expect a decent contest. And then the match kicked-off.
Less than 7 minutes in and the Warriors were standing behind their posts for a second time already. They should have been there a third time moments later but rookie Storm winger Suliasi Vunivalu (who would still bag two tries) stuck a foot into touch.
By the time the game hit 25 minutes gone the Storm had crossed twice more, Warriors centre Blake Ayshford had already visited the sin-bin for a professional foul (a victim its seems of an edict issued to the referees this week to deal with players holding on in the tackle after a line break), and the defence was doing a decent impression of turnstiles. I, like many I suspect, headed for bed.
On the commentary Fox analyst Greg Alexander (a former Warrior himself) was pulling no punches with his description of the Warriors effort (or lack of). That clearly touched a raw nerve with the Mt Smart's sides number one media cheerleader who was sitting on a Sky sound stage in Auckland wondering how he could put a glowing positive spin on the debacle.
Could someone gag Greg Alexander. The @NZWarriors may not be performing but don't ruin a game with negative commentary

— stephen mcivor (@stephenmcivor5) April 25, 2016
The telling sight for me was the goings-on behind the posts after each concession. Captain Ryan Hoffman (a former Storm player being utterly humiliated in front of this crowd) and predecessor Simon Mannering imploring effort out of their teammates, but being met by a sea of blank faces. From NRL veterans Manu Vatuvei, Isaac Luke, Ben Matulino and star player Shaun Johnson? Nothing.
If a unit had performed like this in the World War I trenches then there's a likelihood that (given the attitudes of the Duke of Wellington still prevailed in the British Army a century after Waterloo) they would have been charged with cowardice.
Predictably, there's been the usual casual-racism tinged social-media commentary after the game. But strip that element away and the message is clear; people have had enough. Hardcore Warriors fans are a passionate bunch, and the effort they expect from their side was sorely lacking. That in turn doesn't inspire the casual fan to bother tuning in either.
Changes – whether it's the coach, some of these highly-paid players, or the culture (and perhaps all three) – need to happen immediately otherwise it will be just another lost season. Being beaten by a better side is tolerable, showing a complete lack of effort is inexcusable.
Gutless.  Spineless.  Pathetic.
Follow Scott on Twitter