Joe Schmidt: Ordinary Joe
0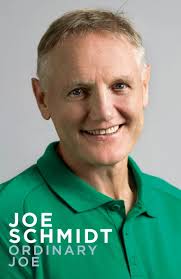 By Aiden McLaughlin
At the start of April this year, I attended a fundraiser for the Hawke's Bay Rugby Union. Joe Schmidt was the guest speaker. As with all these things, what's said in the room stays in the room, but I'll share one memory. When the event was coming to an end, people stayed around to catch a brief chat with Joe, maybe a picture too; I was one and as I edged towards my turn, a rather drunk, insistent Irish lady who had already spoken to him more than once, elbowed her way back into his space to interrupt his conversation, this time with an entourage of relatives, to get some selfies. I was annoyed, not for me, but for Joe; it was bloody rude. He handled it beautifully, was polite (again) and more than satisfied her demands. I suspect it's not the first time he's had to deal with that nor will it be the last. I got my five minutes with him and he was great to chat to and I wished him well for adventures ahead.
Since then a Rugby World Cup has been and gone and in the aftermath, a number of autobiographies have been released to catch the Christmas dollar. One of those is from this man, born in Kawakawa just over 54 years ago.
The choice of title of an understandable one. But beneath the ordinary exterior is a story of someone whose talents, mixed with a number of sliding door moments, have led to some extraordinary career achievements.
'Deciding to leave the security of my job with the Bank of New Zealand and go into teaching; and shifting our family from Palmerston North to Napier then on to Tauranga to take new teaching jobs – these were positive choices made with an open mind. There was always a fear that things might not turn out well, but the potential for growth and the reward of new experiences provided sufficient motivation to counter my apprehension.'
The book is divided into three parts. In the first, Schmidt does a good job of describing his early years as a kid growing up in Te Aroha and Woodville – as a book heavily pushed in the Irish market, many readers will get a really good feel for his surroundings in those early years. After that, we learn about his teaching career and movement into coaching in New Zealand, something he describes as an 'accidental coaching career.'
'I think coaching is really about helping players to understand the 'why' and 'how' which can potentially elevate them beyond the 'what' and 'when'. 
Part two provides a look at Schmidt's coaching beliefs and values. Chapter titles such as 'Mindset', 'People' and 'Leaders' are fleshed out with techniques and examples, primarily from his time in Ireland with both Leinster and the National team and there are references to Ted Talks and Pep Guardiola training sessions, along with plenty of academic theories, which bring out the teacher in him.
'And that's the last game. Not the fairytale I hoped for…For me, I hope that I can look back in time and get some perspective…Not the trophies but the triumphs, the moments where we broke new ground or made a difference.'
The final part provides diary entries regarding the 2018 Grand Slam and the recent Rugby World Cup. The World Cup section is relatively brief and leaves you wanting more; clearly there was a drive to get the book finished and onto the shelves, but I hope he revisits this in years to come and gives it the depth and additional detail it deserves.
With no ghost writer employed here, the agenda and content goes unchallenged. That's a shame because Schmidt's story is an interesting one. It feels unfinished and maybe that's very deliberate on his part. Perhaps one day there will be more chapters to write and further reflection on the most recent and arguably most interesting part of his career. For now, the book reflects his Ireland career – a relative success, but one that could have finished on a high rather than a sense of disappointment.
Follow Aiden on Twitter