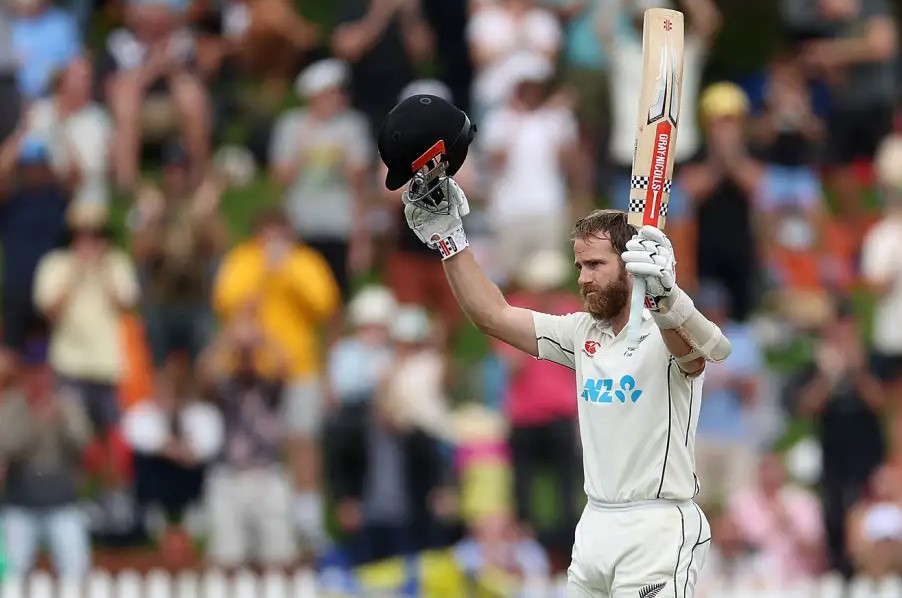 By Rahul Patil
England 1st innings 435 for 8 (Root 153*, Brook 186, Henry 4/100). New Zealand 1st innings 209 all out (Southee 73, Broad 4/61, Anderson 3/37). New Zealand 2nd innings f/o 483 all out (Latham 83, Williamson, Blundell 90 132 Leach 5/157). England 2nd innings 48 for 1 (Duckett 23*, Southee 1/19)
There is an unwritten rule in cricket that the umpires enter the field of play first, the fielding side next and then the batters. Five minutes before the start of play today Williamson and Nicholls were all padded up and ready to go. They waited for the umpires for what seemed an eternity and then themselves entered well before the fielders did. It looked like they were trying to send a message to the opposition. A message that said "We are really keen to get things underway today. We are confident to take a big lead and put you under pressure." This is minor in the scheme of things but it's the small things that sometimes make big differences.
With a nonchalant flick of his legs on the fourth ball of the day Williamson etched his name in the history books as New Zealand's highest run getter in test cricket. A childhood prodigy who was always destined for greatness has made it to the pinnacle. It's not been all smooth sailing though. A dodgy elbow probably Williamson's biggest roadblock. Like most top level athletes, Kane too has managed to find way to co-exist with his injury and still score runs in all 3 formats. At the age of 32 Kane is already the best batter to have ever played for New Zealand and when he eventually retires he will be miles ahead of the rest on any list.
There was no celebration on reaching the landmark though. The job was not done yet. In fact, it had just begun. Celebrations are for normal people. Champions just look ahead at their next target and move on.
Cricket is a game where individuals fail more often than they succeed. Batters therefore do not mind if they get out before they are set. The dismissals that hurt them the most are the ones when they are well set. Henry Nicholls will be hurting. He did all the hard work in reaching 29 of 94 deliveries and then threw it all away playing a poor shot. From a personal point of view, it was an important series for Nicholls but unfortunately the big runs haven't come. Will a test average of under 37 after 52 test matches be good enough to warrant selection for the next series against Sri Lanka?
Elite level sport demands a certain kind of steely resolve from the individuals who play it. Kane Williamson and Darryl Mitchell both have that steely resolve but are poles apart in the way they express it. Williamson the monk in meditation. Not tempted by any of the English offerings. Mitchell the fighter in a MMA ring. Not ready to take a backward step. Together they put on 75 in 102 balls with Mitchell doing the bulk of the scoring with 54 at run a ball. For the first time in the series the Blackcaps were ahead of England.
A smart bit of cricket ended Mitchell's innings abruptly. Foakes came up to the stumps to keep him in his crease, Broad banged it in short and induced the error from Mitchell. New Zealand's lead was 73 with 5 wickets in hand.
Tom Blundell has been New Zealand's most consistent batter in this series. So it didn't come as a surprise when he strode out on his home ground and batted like he owned it. The perfect Yang to Williamson's Yin, they forged the third consecutive 50 partnership of the day, the second century partnership of the match and frustrated their opponents by putting on 158 for the 6th wicket.
In the process Williamson brought up his 26th test century. The celebrations this time too were also very economical. A quick hug from his batting partner, the removal of the helmet, a wipe of the brow, a quick raise of the bat, another wipe of the brow, another quick raise of the bat, a punch of gloves with Blundell and then back to his crease to mark a fresh guard. At that stage New Zealand were 183 runs ahead. The job still wasn't complete.
With two warnings yesterday for bowling more than two short balls in an over and a knee injury to deal with Ben Stokes the bowler was absent. Ben Stokes the captain though was working overtime to break the 6th wicket partnership. An inspired gamble saw him throw the ball to Harry Brook who had never bowled in test cricket before. As we have seen in cricket so many times before, the non-bowler managed to strangle a well set batter down the leg side. Williamson departed for a marathon 132 and showed all 'Bazball' lovers that there's more than one way to skin a cat.
What followed next was 'village cricket' at its best. Lazy running between the wickets by Bracewell and an ugly brain fade hoick by Southee. 455 for 6 soon became 482 for 9. Being stuck on 90 Blundell had no option but to try and smash his way to a hundred. The lower order helped him get to his hundred at the Mount. The same lower hundred robbed him of a well deserving hundred today. New Zealand finished on 483 setting England a target of 258 to win.
In typical fashion England shaved 48 runs of their target in just 11 overs for the loss of Zack Crawley's wicket. If New Zealand bowl the way they did tonight this could all be over by lunch time tomorrow. The batters have brought the Blackcaps back into this game by batting for 163 overs. It's the bowlers turn to show some grit now.
Follow Rahul on Twitter