Man gives honest interview. Vilified
0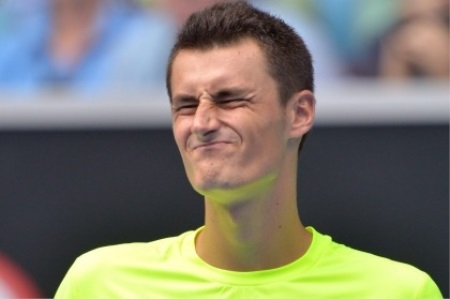 Tennis is a lonely sport; almost uniquely so, and one that attracts a certain type of driven person.  From Jennifer Capriati, through Boris Becker to Andre Agassi it is full of over-achievers in teenage year who have paid for it in later life.
This week Bernard Tomic gave an interview, that when you break it down, was extremely refreshing.  And insight into a current 24 year old player which had echoes of Andre Aggassi's autobiography Open.
That book is regarded as one of the greatest sports autobiographies ever, but it was written from the reflective safety of retirement.
Anyway, apparently Tomic has never tried  . What Tomic is saying is that, after years of practice, he views his tennis career as a graft.  He doesn't love his job; he does it for the money.
And how many people out there don't think the same?  Hands up….
Remember the professional tennis circuit is very much a 12 month treadmill.
Tomic is clearly going through a tennis style mid-life crisis (and 24 seems about right).  But who is to judge who?  As an aside, his advice to those thinking of buying tickets to watch him play are better advised to watch it on TV is actually pretty sound.
It is easy to jump to xenophobic and other types of stereotypes when painting a darker picture.
"His father is Croatian and Tomic has variously tried to have him evicted from matches. But to this day his father remains his coach (no matter which professional coach he has, like Lleyton Hewitt). From wiki:
 In 2013, John Tomic was sentenced to eight months in prison and banned from the ATP World Tour for 12 months for headbutting and breaking the nose of Bernard's hitting partner, Thomas Drouet.
The beauty of Wikipedia.
Tomic has expressed the issues of being a modern day tennis player early.  He needs support, rather than sneering from ex-players and Wikipedia commentators.  And he has raised some good points.
It will be interesting to see what happens from here; but he needs help and empathy.
And let's hope he never loses the honesty.
Footnote:  Margaret Court likes putting the boot in.  That's probably the best reason to get in behind Tomic