MLB time. The American League Preview
0
By Scott MacLean
After six weeks at their Spring Training bases in Arizona and Florida, the Major League Baseball season swings back into action over the next week with Opening Day, the first of 162 regular season games between now and the end of September, ahead of the playoffs in October.
This year there's a real imbalance in some of the divisions – particularly in the National League which we'll look at later – so there's a decent chance that there will be teams that finish with more than 100 wins and others that fall below 100 losses. With an unbalanced schedule that favours more intra-divisional games some clubs will benefit more than others and that will impact on the playoff races.
In the American League everyone will have their eyes on World Series champs the Kansas City Royals who have defied projections the past two years. Can they do it again or will someone else emerge at the top of the tree.
The National League preview will follow tomorrow.
American League East
Toronto Blue Jays: Canada's team blasted their way into the playoffs and that seems the plan again with a line-up core of MVP Josh Donaldson, Jose Bautista, and Edwin Encarnacion. But the window might be closing with the latter two potentially both free agents after the season. Pitching again could be their issue, but keep an eye on starter Marcus Stroman who throws harder than anyone standing 5'8" tall has any right to.
Projected finish: 93-69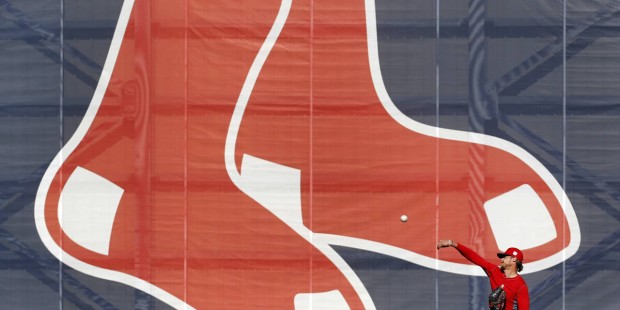 Boston Red Sox: Shored up a fairly lacklustre pitching rotation by shelling out for marquee free agent David Price, and also brought in strikeout machine Craig Kimbrel to anchor the bullpen. Desperately need last year's signees Hanley Ramirez and Pablo Sandoval to bounceback and prove they aren't flops, but youngsters Mookie Betts and Xander Bogaerts are the future with beloved slugger David Ortiz calling time on his career at seasons end.
Projected finish: 89-73
New York Yankees: The Yankees did something they seemingly never do – stayed out of the free agent market, and there's an element of waiting here for several contracts to end and move on from. Their biggest move was to acquire flamethrowing reliever Aroldis Chapman but he'll miss 30 games because of a domestic violence-related suspension. If things start slowly there could be plenty of off-field drama, yet again, in the Bronx.
Projected finish: 84-78
 Baltimore Orioles: It's hard what to make of the O's. Terrific two years ago they fell aback last year. In the offseason they paid a lot to keep slugger Chris Davis, and made some other trades that don't quite fit together. Davis and superstar third baseman Manny Machado are the club's cornerstones, but it's their relative no-name pitching staff that will play a bigger part in determining their fortunes.
Projected finish: 80-82
Tampa Bay Rays: The Rays have a habit of overachieving no matter what people project for them. I'm not quite as high on them as others are, but they could be a contender if everyone stays healthy and produces at their expectations. Trouble is that health is an issue with Evan Longoria and key pieces of their pitching corps missing plenty of time over the past two seasons.
Projected finish: 78-84
American League Central
Kansas City Royals: The Champs haven't changed tack one bit, staying true to the formula of contact hitting, stellar defence, and shutdown bullpen that's brought them success the past two seasons. It won't hurt them one bit if one of their players like Lorenzo Cain or Eric Hosmer busts out into a bona fide superstar, nor if Yordano Ventura can keep his emotions in check and pitch like his talent says he can.
Projected finish: 88-74
Cleveland Indians: The Tribe regressed in the weight of expectations last year, but if they've learned from that they'll be contenders. They have terrific pitching headed by Corey Kluber and Danny Salazar, a phenomenal young talent in shortstop in Francisco Lindor, and Michael Brantley might be the best player you've never heard of. Plus they have Terry Francona as manager who's been in this position before when he was with Boston.
Projected finish: 86-76
Detroit Tigers: After they slumped to last place ageing Tigers owner Mike Ilitch, desperate for a title before he dies, again opened his chequebook. Into Motown come pitcher Jordan Zimmermann and outfielder Justin Upton, adding to what is now a veteran squad. Any team that employs Miguel Cabrera will be a force, but there's a strong possibility this team could simply be expensive strugglers.
Projected finish: 82-80
Chicago White Sox: While not as busy as the cross-town Cubs, the Southsiders were active bringing in infielders Todd Frazier, Brett Lawrie, Jimmy Rollins and outfielder Austin Jackson. However a bizarre spat between members of the club executive and first baseman Adam LaRoche over the amount of time the latter's son was spending in the clubhouse, leading to LaRoche choosing to retire, threatens to derail the season before it even begins.
Projected finish: 75-87
Minnesota Twins: Exceeded expectations to remain in contention for as long as they did last term, and could do again if things break right for them. That includes getting another solid season from second baseman Brian Dozier, and a successful transition to right field for hulking slugger Miguel Sano.
Projected finish: 74-88
American League West
Houston Astros: Bloomed last year as contenders, perhaps at least a year earlier than planned, so expectations will be high. Twenty-one year-old shortstop Carlos Correa is already a superstar, Dallas Keuchel one of the game's best pitchers, and there's more than enough talent elsewhere to go further than last year when they fell to Kansas City in the divisional round of the playoffs.
Projected finish: 89-73
Texas Rangers: Like their cross-state cousins Texas were surprise contenders despite their two best pitchers – Yu Darvish and Derek Holland – missing nearly all of 2015. Those two will be back at some stage, Prince Fielder looks to continue his mid-career revival, and Rougned Odor could become a star this year. And like Houston they have talent in the high minors they can call on.
Projected finish: 86-76
Seattle Mariners: Predicted to win the division the M's imploded. The result is a thoroughly turned over roster under new GM Jerry DiPoto to add pitching and improve the defence. The core of the club, superstar pitcher Felix Hernandez and hitters Robinson Cano and Nelson Cruz remain in place for new manager Scott Servais, but contributions from the rest of the roster will be needed.
Projected finish: 83-79
Los Angeles Angels of Anaheim: Despite employing the game's best player in Mike Trout, and now having defensive whiz Andrelton Simmons the Angels have a flawed roster. Albert Pujols and Jered Weaver are shadows of the forces that they were and there's little help on the horizon in the farm system either. Could be a year of struggle.
Projected finish: 80-82
Oakland Athletics: Few people in sport love to tinker with their roster more than A's GM Billy Beane, and this season has again been no different. They're likely to be fringe contenders this year at best as they build for the next few seasons, but one to watch in the here and now is starting pitcher Sonny Gray who will be a contender for the Cy Young award at seasons end.
Projected finish: 74-88
Follow Scott on Twitter