By Hamish Girvan
With the pre-season now over and the rosters set we can look forward to a season of football that will no doubt throw up the usual hype and storylines.
The NFL season kicks off on Friday NZ time with a matchup of last season's Superbowl finalists the Denver Broncos and the Carolina Panthers (more on that below) Now is there a closer team to New Zealand as the crow flies based in in Los Angeles via St Louis Missouri, in the Los Angeles Rams. Also of note New Zealander Paul Lasike made the playing squad of the Chicago Bears as a fullback
Already we have a worldwide story with back up 49ers Quarterback Colin Kaepernick not standing for the USA national anthem. Somehow I don't think Kaepernick will be voting for Donald Trump this coming election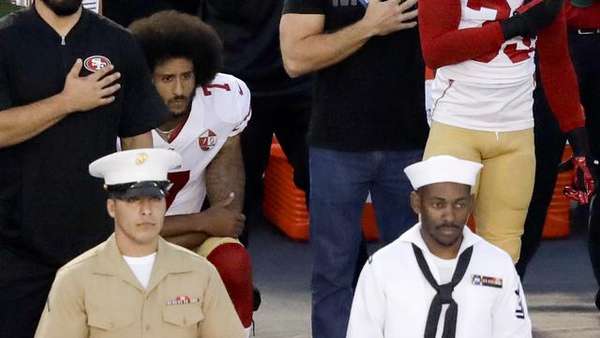 Patriots quarterback Tom Brady will be watching the first four games from his couch as the Deflategate ban was finally accepted. Brady will come back fired up – after handing over the reins to back up Jimmy Garoppolo who has looked steady in the pre-season games he has played, The Patriots just keep on keeping on – no surprises if the make Super Bowl again
Rex and Rob Ryan – Rex recruited his brother Rob this season as assistant head coach running both defense and offence so expect the Buffalo Bills defensive stats to decline this season, Rob has a history of being the best "Teflon" coordinator in the NFL. Oakland, Cleveland, Dallas and New Orleans have all has the pleasure of Rob leading their defense to a new level of mediocrity. Personally I don't get it – he's an obnoxious buffoon with limited talent as his record shows. Brothers in Arms now who will both drag each other down
Robert Griffin the 3rd – (RG3) the much maligned quarterback has gone from the dysfunctional Washington Redskins to the dysfunctional Cleveland Browns – new pastures may mean a change of scenery but no prediction of any change of success – in fact his stats may decline looking at the Browns season ahead
Most improved division. In terms of competiveness this season is the AFC South. Three teams – the Colts, Texans, and Titans all have  reasonable shot at winning it – The Jaguar's look like they may not live up to the early season hype that they would be on the improve. The Texans have last season's Denver back-up Quarterback in Brock Osweiler guiding them and a defense led by JJ Watt that should push the favorite Colts all the way. The Titans have a physical game led by running back core DeMarco Murray and Dereck Henry, and second year quarterback Marcus Mariota should improve after an injury ravaged first season
Los Angeles Rams will have an 8-8 record– For those who have seen HBO's pre-season series Hard Knocks Jeff Fisher states he does not want to have an 8-8 record – roundly ridiculed last season by division winning Cardinals coach Bruce Arians, Fisher really has a job to do to avoid that or anything worse. Hard to see anything better that at this stage with the no.1 draft pick they selected at quarterback, Jared Goff, ranked as their third best in their roster
Flashiest stadium – the  Minnesota Vikings have the newest stadium in the NFL and are using it for the first time this season – it's also the venue for next seasons Superbowl (hint – build a stadium and you seem to get a Superbowl awarded very quickly) Unfortunately they don't have their starting quarterback Teddy Bridgewater to start in it though, seriously injured in training in the week leading up to the season start – Sam Bradford to lead the NFC North challenge anyone ?

No 1 draft pick – The San Diego Chargers will be odds on to get the no.1 draft pick next year by having the worst overall record. They took months to agree to a contract with their first round draft pick from last season _ Joey Bosa and indications are its too late for him to make any impact this season. With an aging team and injury ravaged already they will struggle on the field with their front office the West Coast equivalent of the Cleveland Browns at times
Super Bowl prediction – Pats v Green Bay – maybe an easy option however both teams have the pedigree and reams to go all the way. Green Bay have made the playoffs on a consistent basis but have not won the NFC Championship since 2010 (and they went on to win the Superbowl that year also). This could be their chance with the NFC still weaker than the AFC
Game of the week – It has to be the season opener – a repeat of last season's Superbowl with the Carolina Panthers heading to Denver to take on the Broncos. There is no Peyton Manning for the Broncos now since his retirement of off to drink some Budweiser however the Broncos Defense is now their strength. Last season's superbowl MVP, Von Miller, now has a $114.5M contract in his hands is a beast and who will be on the Panthers quarterback, Cam Newton, tail all game. New Denver quarterback Trevor Siemian has come from ranked number three last season to their starter however with the Denver's running game and defense he may not have to do much.
The Panthers deservedly made the big game last season however this year it could be different. They are a known quantity now and as Superbowl 50 showed, stop Newton and you shut down their game. A home win should be the call here however the Panthers are 3 point favorites at time of writing. Take Denver and the points start
NB: NFL will be televised on both ESPN and free to air Duke (Channel 23) this season.
Follow Hamish on Twitter