NFL Betting Tips : NFL Football Betting Tips
0
We have all the insight you need about every bet type in the NFL so you can make the returns you so obviously deserve.
NFL Betting Tips – How To Bet On The NFL
How to Bet on NFL Point Spreads
Point spreads are easy enough to understand in the NFL. They show by how much a team is favored and unestimated. If the New England Patriots are a -7 against the Buffalo Bills, you're effectively betting that they'll win by more than seven points. Conversely, in the Bills' case, they would be a +7. If you bet on them, you're saying they will lose by less than seven points or end up winning.
Whenever you're betting on the spread, stick to lines that you think are too generous in one direction. If the Patriots are a -7 and you think they'll win by at least 14 points, then go for it. But if you think it'll be close, it's best to look for a bet you're more confident in.
This works with the underdogs, too. Don't bet on the Bills as a +7 unless you believe they're more like a 3-point underdog or slight favorite.
Your margin for error is slim when gambling on spreads, so it's best to suss out the lines you believe to be most flawed in your favor.
Click here to immerse yourself into all-things NFL and learn more about every bet type, including when, where and why to employ a particular betting form.
How to Bet on NFL Overs and Unders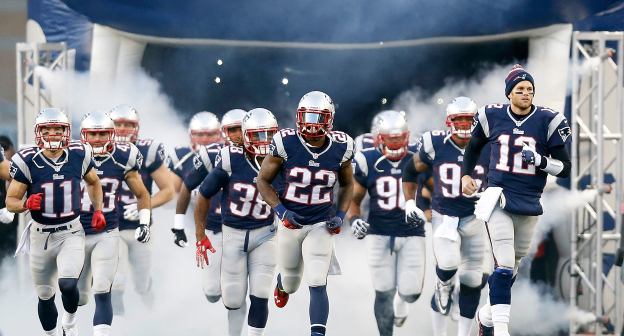 Betting on overs and unders is easy in theory. You're just trying to figure out whether two teams will combine to meet or fail to meet a predetermined score.
To use our previous example, if the Bills and Patriots' game is given an over/under of 47, the over means they total at least 48 points, while the under is saying they'll combine for 46 points or less.
Now, although these are simple enough gambles to make, they're wicked hard to predict. Your best course of action is to bet according to individual team playing styles.
The better the offensive team, the more likely that team is to secure an over bet. The stingier the defensive team, and the more valuable the under investment. Of course, you're dealing with two teams, so you'll need to account for that. If two good offenses clash, you'll know to roll with the over. If two good defenses meet, then it's best to roll with the under.
This system becomes more complex when you're dealing with two teams that are exceptional on both sides of the ball. If this happens, you'll need to dig deeper into health reports, past games and previous meetings between the two squads, assuming there have been any, to get a feel for whether you should be betting for the over or under. And if you can't get a hold on it one way or the other, it's best to just walk away.
How to Bet on Favorites and Underdogs
Some bettors love to bet on the favorites. It doesn't matter the wager. You could be betting on a single game or the future Super Bowl winner. Favorites are enticing plays because they're peddled as forms of certainty in an uncertain world. People are drawn to that.
But the returns on favorites typically aren't good. They are smaller, and thus a direct reflection of why a particular team is viewed as a favorite—because they're so likely to win.
When you bet on favorites, be opportunistic. If you need to lay out, say, $1,000 to win a $100 it's not worth your time, no matter how likely the you feel the outcome is. Remember, the payoff should always be worth the money you're fronting.
It's the same deal with underdogs, only in reverse. Teams that aren't likely to win a particular game or upcoming Super Bowl will have huge payouts. People are attracted to these as well, again for obvious reasons.
But don't pick an underdog for the sake of picking an underdog. The more lucrative the payout, the less likely that team is to win anything.
Only bet on underdogs you truly believe in. All of them usually pay pretty good dividends if they're successful; so there's no need to just pick out the most profitable, yet also unlikely, candidate.
How to Bet on NFL Futures
Futures wagers are among the most popular in the NFL. You're betting on an outcome far in advance—typically the Super Bowl or conference championship, though you can also bet on things such as awards winners and division championships.
Because you're investing in something so far off, the risk is greater; and because the risk is greater, the payouts are normally higher. As a result, you're able to bet a smaller amount with the promise of making a solid profit should your bet prove correct.
But making that correct isn't easy. Think of it in terms of the Super Bowl. It's September, the NFL regular season is about to kick off and you want to bet on the New England Patriots to win the NFL's highest honor. So much can go wrong over the next 20-plus weeks. The Patriots could incur injuries. They could underperform. They could be upset at any point in the postseason, because the NFL's one-game playoffs are conducive to those types of letdowns.
Chances are, your futures bet is going to be wrong, at least with regard to the Super Bowl. You can minimize this risk by waiting. You don't have to bet futures before the season. You can wait until the middle of the year, even toward the end of the schedule. This way, you get to watch every team in its most current element, rather than betting without a recent sample size.
The returns on your wager aren't as lucrative when following this route, but they're still pretty darn good. And it's worth the difference in potential dividends for the confidence you gain.
This isn't to say you have to wait. If you're sure, you're sure. But if you want to peg the Patriots as Super Bowl winners, and yet you aren't entirely certain they're your idea of a sure (ish) thing, hold on to your cash until you know which way you're leaning. The ability to make that bet, whatever it is, will still be there.