By Stephen Gallagher
SUNDAY: Melbourne Storm V Cronulla Sharks – ANZ Stadium – 21.20NZT
It's the two best teams up against each other, and the two most deserved to get here.
The Melbourne Storm's regular season saw them win 19 matches, with 5 losses along the way to a minor premiership.
The Sharks stringed together 16 matches in a row all of which were wins, but a late season blip saw them go from 1st to 3rd.
In the post season, both sides notched up wins to see them take a week off, and then in physical matches last week – these winners have come out on top.
This Sunday is going to be an enjoyable showcase of Rugby League.
MELBOURNE
Having won two premierships, the Storm are the ones who know all about these big matches. They've got international and Origin internationals all throughout their side – so this is just another notch on their belt of absolute dominance.
From 1-17, it's a team that have shown up every week, a side that have defended their line like only the Storm can, and have won matches in nitty, gritty conditions.
Led by inspirational Queensland and Australian captain, Cameron Smith is ready to notch up his 334rd first grade appearance and guide his side to a third premiership.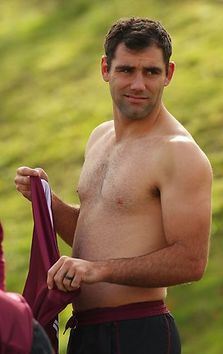 Craig Bellamy is the greatest coach in the modern era. His players respect him, his methods are proven, and he has been here before.
I don't expect their ways to change – especially since they got the better of Cronulla in the fight for the minor premiership.
CRONULLA
The fairy-tale is well and truly alive, and that's why there's plenty of support behind the boys from the Shire.
In their 50th season, but gunning for their first ever premiership – there is a lot of expectation and excitement surrounding these underwater creatures.
Having got to the final on three separate occasions, the most recent being 1997 – there are plenty of supporters feeling the heartache of their empty trophy cabinet.
To win just one premiership would end a horrible hoodoo for this side. They have the talent to do so, in a side that have been exciting to watch all year.
In total contrast to the Storm, the Sharks are point scorers from all over the park. They can also play those close games; and with the win streak earlier this season they have found plenty of ways to get across the line.
There'll be nerves, but mainly excitement from this team.
THREE KEY MATCH-UPS
Cameron Smith against Michael Ennis.
Ennis is looking to end his career a winner, as this grand final will be his last. He has made the final twice before, and come up short both times with two different sides.
Cam Smith is a competitor, he lives for the big games. A quiet Cam Smith game is myth. He's orchestrating a side capable of doing incredible things. His leadership and skill on the field is a big part of the success he's had throughout his career.
Michael Ennis I guess you could say is misunderstood, a pest, or grub in fact. Though, if you've ever heard him speak off-field: He is one of the most intelligent footy brains. The ins and outs and his thought process is phenomenal – and shows on the field. He is always where he needs to be.
Tohu Harris and Wade Graham
Harris is undeniably a big unit, with a ball playing ability that makes him an aggressive ball runner. Sometimes has slotted in to the 6 jersey to show his versatility.
He's at his best when he's running on to a short ball, or trying to topple the defence out on the flanks. A Kiwi lad with a great CV so far, and with many good things to come his way.
Like Harris, Wade Graham is a versatile unit. One of the first guys to be picked always.
Reaping the benefits of his stellar form, he was picked in Origin this season. A quality short kicking game, a busty ball-runner and a damn solid tackler, Graham has proven his worth in the NRL since his debut for Penrith all those years ago.
Still a young man, and still on the up – Wade Graham will be up for any offensive or defensive task that comes his way.
Cameron Munster V Ben Barba
Munster has been unbelievable filling in for the Storm sensation Billy Slater. In fact, it'd be safe to say Munster has sewn that 1 jersey on his back for good.
He's been gutsy, and is a sizable lad with great aerial skills. A Queensland call up is not too far away.
Munster has worked hard all season, and is growing with each performance. His work ethic is important to this side and when he is busy with ball in hand, the Storm are going good.
He'll relish all the chances he gets on Sunday. I expect him to deliver nothing but gold.
Ben Barba is finally the player we have all wanted him to be.  After leaving Canterbury in 2013, he failed to fire at Brisbane, and was hot and cold last season.
I would go as far to say that his performances this season have most definitely been his best.
Short in stature, but his speed and fend can break the game wide open. His silky skills definitely make him the X Factor at the back.
ON THE DAY
I've read many reports of this grand final being a dud, and labelled as the the least exciting grand final ever – but I just can't see that.
The Storm's success comes from their 'ground and pound' style defence. It's frustrating for their opposition, and it may suck the life out of lesser oppositions – but the Sharks won't be copping it.
It's also hard not to buy in to the whole Cronulla fairy-tale. They've been incredible to watch all season.
Both sides have been able to put behind them some off-field disruptions in the past to bring themselves to the biggest game of the NRL season – where 14 other clubs wish they were.
It all starts up front for this game. The forwards are hard to differ on the field. Both sides are stacked with bulk and size which is hard to tackle when running flat out.
The Storm will do their best to control the ruck with their defence. The Sharks will do their best to get a quick play the ball.  If the Storm can slow the Sharks down, then this is where they start to get the upper hand. This is exactly what they did to Canberra last week.
For Cronulla, it's about using territory to their advantage. If they can keep the Storm camped in their own half, and force a couple of repeat sets in the first 15 minutes then we could see them get on the board through Melbourne tiring out.
The Storm are one unit, with everyone knowing their place. Hard to break down. Cronk and Green control the game wonderfully, and with Munster and Smith lurking all the time Cronulla have to be on.
Townsend and Maloney should have easily been the NSW halves, but alas they're wanting to prove their combination on the biggest NRL stage.
The pressure I feel is on Chad, a few big hits as he's putting a kick up may rattle his confidence.
Maloney may take more of the chances, as this sneaky half knows what it takes to win a final.
I'm interested in the first 40. This is the platform. Whoever gets up at half time I feel is the team that's going to go on and win.
RESULT
I'm hoping for a fantastic one. The Storm are going to be hard to beat. The Sharks are going to do everything they can to win it.
Ricky Leutele to score the first try, and the Sharks to win their maiden premiership in a 24-18 scoreline.
Follow Stephen Gallagher on Twitter