NRL finals week 2 Rewind
0
By Stephen Gallagher
Cowboys 26 Broncos 20
Another Queensland cliff hanger between these two.
For the fourth consecutive time, these two teams play a game that goes in the golden point or extra time.
The home side were on the back foot early, as the Broncos pinched a quick try 4 minutes in. A penalty goal 8 minutes later was Brisbane shoot out to a 8-0 lead.
The Cowboys were sure to bounce back and they did through some nice hands on the right flank.
It was the Brisbane brothers who took another scalp before half time to lead 14-6.
The Cowboys had to pull a massive second half, and they did.
The Broncos had a five minute lapse half way through the second which saw centre Justin O'Neill dot down twice to send the home side up 18-14.
A tired Broncos side went big through Boyd and Oates. 80 metres and a lead with 8 remaining.
Thurston darts to the line with 3 to go, and Oates turned villain as a reflex leg auctioned to trip JT up. A penalty goal sends it to extra time.
The clinical Cowboys scored in the 85th minute through Michael Morgan to win it.
To make matters worse, a Ben Hunt style drop off the kick off of the second extra time half all but sealed the result.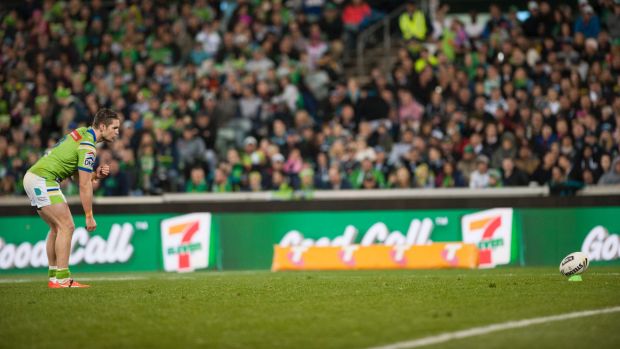 Raiders 22 Panthers 12
In what was talked up as an even outing, the Raiders were able to handle Penrith.
The first fifteen minutes were tight. A couple of Penrith errors invited the Raiders in which saw Blake Austin cut through.
Penrith had some poor last tackle options which didn't help.
Canberra with 2 before the break saw Leilua link up with Rapana again and a 12-0 score at the break.
The second half started green and soon the lead leapt to 18-0.
With 22 to go, Penrith put possession in to points though Tyrone Peachey. Then they went to the other side of the field and pressure grew on Canberra as memories of last week flooded in.
Josh Fisher-Harris gave away two penalties for Penrith, one of which was out in front to give Canberra an eight point lead, and inevitably the win.
A penalty on full time, and the Raiders ended the season of Penrith.
Follow Stephen Gallagher on Twitter