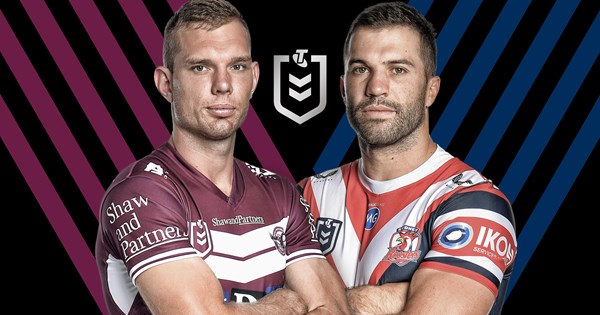 By Stephen Gallagher
No good last week. 2/4 128/194 for the season!
FRIDAY: Sea Eagles (4) V Roosters (5) – BB Print Stadium, Mackay – 21.50NZT
Embarrassed and disposed of easily will be the driving force for Manly this week.
Roosters were a Patrick Herbert away from losing last week and will know they have to be better.
The Sea Eagles have to earn their way into the game. They lacked patience against Melbourne and it showed.
Roosters are going to be a tough side always. Still have 8 premiership winners in their 17. That's always important.
Last time these two met in the finals was the 2013 Grand Final.
Manly need more direction and better execution. Roosters have to be able to score points early and quickly.
TIP: Sea Eagles 1-12
SATURDAY: Panthers (2) V Eels (6) – BB Print Stadium, Mackay – 21.50NZT
Penrith needs less focus on the off-field mind games, and more focus on the on-field situation.
One of the most consistent teams over the last 24 months could be bundled out in straight sets if they're not careful, which would really be a massive failure on their part.
Parramatta won't have too much pressure on them, but there are no doubts they have to keep improving. If it wasn't for five minutes of madness before halftime, they may have lost to Newcastle.
Let the forwards to battle, because it's going to be firey. Whoever is able to bop the other side around more will win and win comfortably.
TIP: Panthers 13+
Follow Stephen Gallagher on Twitter