By Stephen Gallagher
THURSDAY: 
Canterbury Bankstown Bulldogs V Manly Warringah Sea Eagles – ANZ Stadium – 21.50NZT
With the faintest of hopes for the finals, the Sea Eagles have to win this one.
The Bulldogs haven't exactly performed outstandingly this season, but sitting in fourth spot you can't take their success away from them.
Canterbury Bankstown will have to improve this week in order to  get a victory.
The Sea Eagles have been really good over the last five weeks, and if they can get a result this week it would be big for confidence for the young side.
With the finals around the corner, the Bulldogs must take this as a do or die.
TIP: Bulldogs 1-12
FRIDAY: 
Brisbane Broncos V Parramatta Eels – Suncorp Stadium – 21.50NZT
The Broncos form is disastrous, but thankfully not as bad as the hellish season for Parramatta.
Much like Thursdays game, the Broncos are going to have to play pretty well to get themselves out of their form slump against a team who are fierce.
Any sign of sloppiness, the Parramatta Eels will exploit.
Brisbane need to find some players who are going to stand up and take names, because lately they've all been looking around at each other wondering who.
I think Parra have a chance to win this. They've been great in the tight matches, and even better up front.
There won't be much in this match. Two or four points max.
TIP: Broncos 1-12
SATURDAY:
Wests Tigers V Gold Coast Titans – Campbelltown Stadium – 17.00NZT
It's going to be a worthwhile watch. Two teams that have to fight to get the right to play finals footy in a hotly contested showdown.
Frankly, I think both of these sides will end up missing out on the eight- nevertheless this is going to have some spice.
The Tigers are playing like they did at the beginning of this season. Confidence, skill and no Robbie Farah.
Gold Coast are building nicely for a strong 2017, and their 17 against the Tigers is very good.
Both sides love to attack from long range, and with dynamic game breakers on either side of the field you know you'll be a witness to some magic.
TIP: Tigers 1-12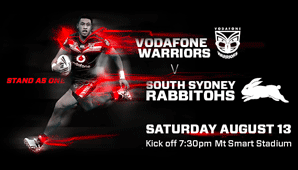 New Zealand Warriors V South Sydney Rabbitohs – Mount Smart Stadium – 19.30NZT.
This is a statement game.
The eighth placed Warriors have to blow the Rabbitohs away.
South Sydney need to make a statement by taking this match in an upset.
Their form has been woeful, but they were a lot better last week.
New Zealand Warriors will just need to play the exactly the same they have the majority of this year.
If they can turn up for each other, and stay committed against a Souths side who are keen to end their losing ways – they can get a big win.
TIP: Warriors 13+
Saint George Illawarra Dragons V Cronulla Sharks – UOW Jubilee Oval – 21.30NZT
I have little faith in the red v winning this game, however the Sharks aren't used to losing.
It'll be interesting how they play after their bad performance last week.
The Dragons are lacking direction. Their forwards are doing the hard yards, but it's just not happening for the 6 and 7.
Cronulla have to just get back in their flow and groove which has served them so well this season.
The Dragons just have to throw all they can to try upset the apple-cart.
TIP: Sharks 13+
SUNDAY:
Newcastle Knights V Penrith Panthers – Hunter Stadium – 16.00NZT
The Knights won't win this game.
Penrith are too good, too strong, and too talented to prove me otherwise.
The Knights woes continue.
TIP: Panthers 13+
Sydney Roosters V North Queensland Cowboys – Allianz Stadium – 18.00NZT
It's been a horrible season for the Roosters, and the Cowboys hasn't exactly played their best thus far – but will make the finals.
Sydney have to execute first. If they can touchdown a early on and rattle the Cowboys, they could go on to win it.
The Townsvillians have to get back in the winners circle with a convincing performance away from home.
Cowboys have to get back to their second-phase play which has terrorised teams for the last two seasons.
TIP: Cowboys 1-12
MONDAY:
Canberra Raiders v Melbourne Storm – GIO Stadium – 21.00NZT
This is a juicy match up this round. 1 V 3 in a game that could determine a top two finish.
The Raiders, so confident, so tough and so big all over the field against the Storm side who year after year after year get the job done no matter their personnel.
It's hard to separate these sides on paper, just because they're all so good at what they do.
The way Ricky Stuart has his side playing football has been exceptional to view from the outside. The confidence they must have after knocking off Cronulla must be high.
The Storm just need to worry about themselves. They're such an unbreakable squad that they will only be focusing on their own jobs.
I think with the way Canberra knocked off Cronulla with ease last week, they have the potential to do the exact same to the Storm. Home ground advantage too.
TIP: Raiders 1-12.
Follow Stephen Gallagher on Twitter