By Stephen Gallagher
Rabbitohs 16 Sea Eagles 12
The Rabbitohs have been so eratic this year… and after leading 16-0 after as many minutes it looked as though Brookvale was going to be a murder scene.
Though the game evened up not long after that, but Manly did not get the result despite a brave showing with a weakened side.
The Rabbitohs tackled themselves to victory. The Manly surge in the second half was big but the return of Sam Burgess was bigger.
Broncos 24 Titans 16
This Queensland derby did not disappoint.
An early James Roberts try paved the way for an outstanding personal performance on the way to an eight point Broncos victory.
However it wasn't without its comeback.
Trailing 22-6 midway through the second half the Titans finally kicked in to action.
Their forwards started to run with purpose and stirred up the Broncos, with Zeb Taia doting down for a double.
Their run was too little, too late as Brisbane held on and notched another win in their season belt.
Storm 18 Knights 14
A scrappy game to kick off Super Saturday. An average performance by the Victorians was enough to beat the poor but slightly improved Newcastle side.
The Knights dotted down first, and took an 8-6 lead in to the half – as an uncharacteristic Storm side knocked on seemingly every time they got in to the red zone.
The Knights, despite being reduced to 16 men – were on the up from last week, but still couldn't hold out. Leaking 12 points in the last 13 minutes which was enough for a sub par Storm team.
Sharks 34 Tigers 26
It was a Campbelltown Crunch match when the Sharks came to town.
Two sides playing solid football this year were destined to put on a display. And they did.
From only the second minute the try scoring started through a tackle-busting run by Luke Lewis.
The Sharks lead lasted less than 20 minutes, as the Tigers scored three consecutively and lead at the break.
But the boys from the Shire were never out of the match, as they performed a solid second half showing to come away with the points.
Both custodians Benji Barba and James Tedesco had outstanding individual performances – making this game a great watch.
Cowboys 36 Dragons 0
When the Dragons learn to attack, only then will they be able to compete.
After the bunker bunked up and allowed what should have been a no try to the Cowboys, the Dragons conceded again just before halftime.
The Cowboys composure was the key in this matchup. They were never flustered and were able to dictate the important moments of the match when it mattered and carried it on for an onslaught.
Dragons averaging only 8 points per gsmr this season, while Cowboys keep an opposition scoreless for the second time at home this season.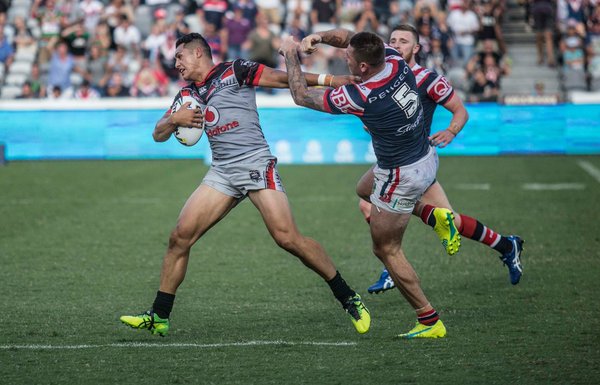 Warriors 32 Roosters 28
A golden point thriller in Gosford went the way of the Warriors as former Rooster Roger Tuivasa-sheck fended off his Kiwis team mate Shaun Kenny-Dowall after a blitz by Tui Lolohea.
This was a fantastic match, to and fro the lead went.
The Roosters started strong, and looked to ease their losing streak – but it was not to be.
Ben Matulino and Mitch Aubusson were standouts for each side in game that finished in epic heart breaking fashion for the Chooks.
Warriors will take a lot away from this, making it two on the trot.
Panthers 20 Eels 18
An average 79 minutes was all forgotten as a Jamie Soward crossfield kick lead to Bryce Cartwright scoring as the clock struck 80.
The lead changed hands several times throughout this encounter, and the Eels had looked to have it sewn up.
There were plenty of basic mistakes, that tarnished the quality of this match unfortunately – but the ending did get me out of my seat!
Raiders 22 Bulldogs 8
It was a Belmore ambush as the Raiders stole the lollies.
Blake Austin and Aidan Sezer took no time in sticking it to the Doggies who were back on their real home turf.
A 14-0 lead early on looked always like it was going to be enough, as Canterbury Bankstown hardly fired a shot all game.
The end result was an absolute fair reflection of the match – but sadly over shadowed by some bottle throwing Bulldogs bastards just before half time.
Follow Stephen Gallagher on Twitter