NRL Round 2: The Preview
0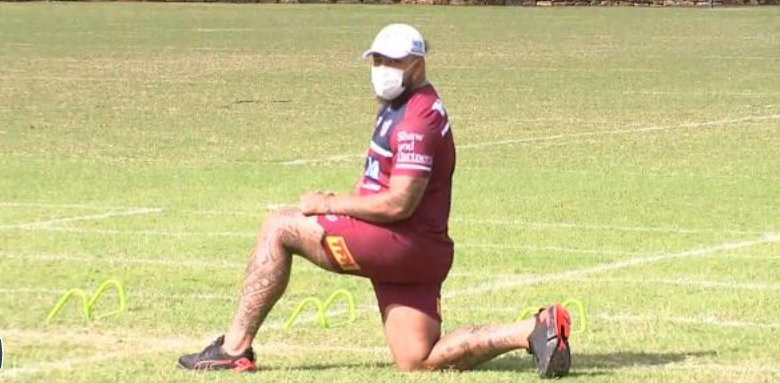 By Stephen Gallagher
THURSDAY Canterbury Bankstown Bulldogs V North Queensland Cowboys – ANZ Stadium – 22.05NZT
The Bulldogs defence was very good in a gritty game last week. Cowboys were slow to start, but did finish strong.
Canterbury's biggest flaw is that their offence looks too one dimensional. They're going to have to do better against the Cowboys.
This will be a tough game. Bulldogs can only defend so much I feel, and the Cowboys have enough attacking weapons to break through the Doggies D.
TIP: Cowboys 1-12
FRIDAY St George Illawarra Dragons V Penrith Panthers – Netstrata Jubilee Stadium – 20.00NZT
A disappointing Dragons against a full steam Panthers. Dragons did enough to win last week but couldn't make their chances stick.
Penrith looked composed after a shaky first half.
Dragons need to play more direct through the ruck to tire the Panthers down, and limit what effect Api Koroisau can have with ball in hand.
Hunt versus Cleary will be a good one to keep an eye on.
TIP: Dragons 1-12
Brisbane Broncos V South Sydney Rabbitohs – Suncorp Stadium – 22.05NZT
This game seems to have more venom since 2019 where the coaches swapped clubs.
Brisbane impressed me last week, and did very well in the redzone.
Souths have to tidy up their errors and stay in the game for the full 80.
For the Broncos, they have the forwards to get the result in this one. If they play like they did in round one, they should win.
Bennett is a smart coach though, and he'll want to turn up to Suncorp and get a victory.
TIP: Broncos 1-12
SATURDAY New Zealand Warriors V Canberra Raiders – Cbus Super Stadium -17.00NZT
Tough start for the Warriors, and it gets tougher being home away from home.
They come up against a Raiders side who barely got out of first gear as they coasted past the Gold Coast.
Warriors have plenty of injury concerns, and a forward pack that's very inexperienced.
Raiders should get the chocolates here.
TIP: Raiders 13+
Sydney Roosters V Manly Warringah Sea Eagles – Leichhardt Oval – 19.30NZT
If I live by Leichhardt, I'd be sitting on my roof to watch this one.
Roosters lost their way, which doesn't happen very often, and Manly despite the result played well without getting a try on the board.
I'd expect the Premiers to be more rounded in attack, especially with Crichton back.
Manly will continue to use their kicking game as a strength, and if the conditions are better, they will execute better in attack when they build some pressure.
TIP: Roosters 1-12
Cronulla Sharks V Melbourne Storm – Netstrata Jubilee Stadium – 21.30NZT
Cronulla's new home ground, and they come up against Melbourne. Sadly no fans allowed in which would absolutely have increased the atmosphere.
These games always seem to bring a bit of niggle, which the Sharks can do to try unsettle the Storm.
Melbourne's still going to be that hard nut to crack. They defended superbly last week.
Cronulla have to hold the ball, and play a little more composed.
TIP: Storm 1-12
SUNDAY Wests Tigers V Newcastle Knights – Leichhardt Oval – 18.05NZT
A Sunday at Leichhardt is a beautiful thing.
The Tigers really showed a lot of grit in an ugly game last week, whereas the Knights looked disappointing despite a convincing win.
If Benji Marshall plays just like he did the week before, it'll be smooth sailing for the Tigers.
Really interesting to see the forwards battle, too. Lots of big guys who played very well last week, in a tougher match up here.
Could see this one being a close game.
TIP: Tigers 1-12
Gold Coast Titans V Parramatta Eels – Cbus Super Stadium – 20.15NZT
Titans were disappointing, and the Eels looked like they wanted to score a try on every tackle one option they got.
Expect a calmer game from Parra.
The Titans once again lacked any real go forward, and any real direction. Could be another long year for them.
Parramatta have the right squad this year, while they still figure out their dynamic, it's important they notch up good wins against weaker opposition like the Titans.
TIP: Eels 13+
Follow Stephen Gallagher on Twitter