By Stephen Gallagher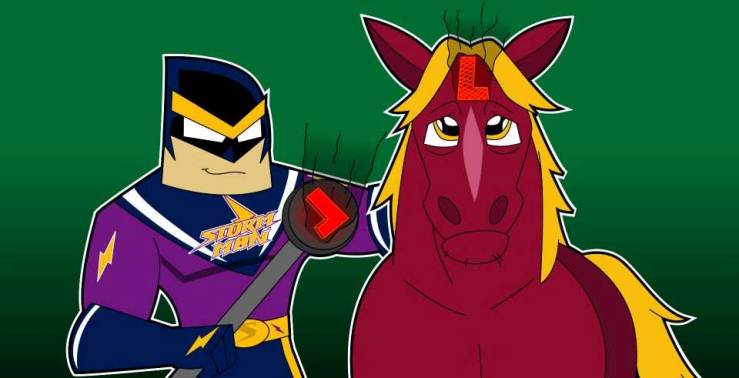 THURSDAY: • Brisbane Broncos V Melbourne Storm – Suncorp Stadium 21.45NZT
What a ripper of a game this is going to be.  A preview of the finals series! The Broncos have been incredible all season and will be raring to go for this test.  The Storm need to prove to themselves they are more consistent than their season has showed.  I think the Storm will do all they can do deliver and get a win.
This is going to show plenty of guts and determination.
I think the Storm will get up.
Storm 1-12
FRIDAY: • Sydney Roosters v South Sydney Rabbitohs – Allianz Stadium 21.45NZT
If the Roosters get up, they'll win the Minor Premiership for the third year in a row – what a remarkable feat.  The Rabbitohs will be doing what they can to stand in the way.  Their form has gone downhill over the last couple of weeks, and the Roosters will be trying to make that continue.  They're such a fantastic squad with remarkable depth who will be out to hand the Rabbitohs another loss.
This is going to be a game for the ages hopefully.
Roosters 1-12
SATURDAY: • Penrith Panthers V Newcastle Knights – Pepper Stadium 17.00NZT
Two sides who have had their fair share of downs this season – the Panthers who were potential Top 2 finshes as the beginning of the season have been ripped apart by injuries to plenty of their key players. The Knights are much the same, they started 3/3 but poor form and plenty of other factors have destroyed their season. There will be a lack of defence in this clash – who ever scores the most tries wins.
Panthers 1-12
• Saint George Illawarra Dragons V Wests Tigers – ANZ Stadium 19.30NZT
If the Dragons get this – they will secure their Top 8 spot. The Tigers want to play spoil sports as plenty of their soldeirs will be leaving them at the end of this match. The Dragons should get up, especially in front of a big ANZ Stadium crowd, but the Tigers won't die wondering.
Dragons 1-12
• North Queensland Cowboys V Gold Coast Titans – 1300SMILES Stadium 21.30NZT
Big brother versus little, wimpy brother. I don't see the Cowboys having many problems with this clash. Perhaps a nice soft match before a chaotic finals series. The Titans have let themselves down with another season of 'what could have been'. The Cowboys will pile on the points.
Cowboys 13+
SUNDAY: • Parramatta Eels V Canberra Raiders – Pirtek Stadium 16.00NZT
I am quite interested in this one!  The Eels have been punching above their weight the last month, and the Raiders have been playing well too.  So there is going to be plenty of fans turn out to this match of two sides who should have done a lot better than their season played out.  The Raiders on paper are more solid, but the Eels will throw some spanners in the works.
Raiders 1-12
• Cronulla Sharks V Manly Warringah Sea Eagles – Remondis Stadium 18.00NZT
There will be all eyes on this match. The Sharks with a victory could end up making the top four, which would be a phenomenal achievement for this club.  The Sea Eagles, if they win and depending on other results, may just have themselves a top eight spot.
Too bad the boys from the Shire are going to get up in this mammoth match.  They will just be too good on the day, with no lack of effort from Manly.
Sharks 1-12
• Canterbury Bankstown Bulldogs V New Zealand Warriors – ANZ Stadium 20.30NZT
Ugh, this is not going to sit pretty for Warriors fans.  This will be their 8th loss in a row unless there is a miracle. The Bulldogs are always very good at the end of the season.  The Warriors not so much.  So I think the Doggies are going to get it done and end the Warriors season woefully.
Bulldogs 1-12.
Follow Stephen Gallagher on Twitter