NRL Round 6. The Preview
0
By Stephen Gallagher
THURSDAY: Raiders V Cowboys – GIO Stadium – 21.55NZT
Who knows what the Raiders will toss up here.
In saying that, this is the first trip out of Queensland the Cowboys have had to make this season, and a cold Canberra night might throw them off.
North Queensland did more than enough to win last week but didn't and that will sting them.
They are an inconsistent bunch, the Green Machine. They haven't played anywhere near their potential, and that's been costing them greatly.
Although they are the home side, I'm thinking the Cowboys will snap their two game losing streak and win.
TIP: Cowboys 1-12
FRIDAY: Bulldogs V Rabbiohs – Accor Stadium – 18.00NZT
Four losses on the trot for Canterbury Bankstown gets harder when playing the Rabbitohs.
This Good Friday classic match at an earlier Friday kick-off is good to note, too.
Only missing Latrell Mitchell from last week, I do think that the Rabbitohs will get the job done.
However, the Bulldogs have to start showing some bite soon, right? They have barely scored a try a game. They look clunky and tired. And they've had a new halfback every fortnight.
Not good, but I think this game will be close.
TIP: Rabtitohs 1-12
Panthers V Broncos – BlueBet Stadium – 21.55NZT
Scary. That's just one of the words I can think of to describe Penrith right now. Undefeated, and looking hotter every week, the boys from the Blue Mountains are looking to keep this streak going.
Brisbane threw the game away last week. A very solid 40 minutes was let down by a poor second half, and came crashing to their third straight defeat.
And it doesn't get any easier in this one, especially missing Payne Haas who is suspended.
Panthers are far too clinical. It'll be a competitive one, but expect a late blowout.
TIP: Panthers 13+
SATURDAY: Sea Eagles V Titans – 4 Pines Park – 19.30NZT
Three in a row, the Sea Eagles certainly are looking like a side who is soon to fly.
Every week, the Titans seem to either rise or fall to the level of the team they are playing at. Competitive against good sides, and weak against lesser.
So going on that logic, it's gotta be a Titans side to front up. 
They haven't been able to get into the wrestle of the game, which has let them down.
Manly are going to kick and kick well, and Gold Coast will be well aware of what DCE can do to them.
TIP: Sea Eagles 1-12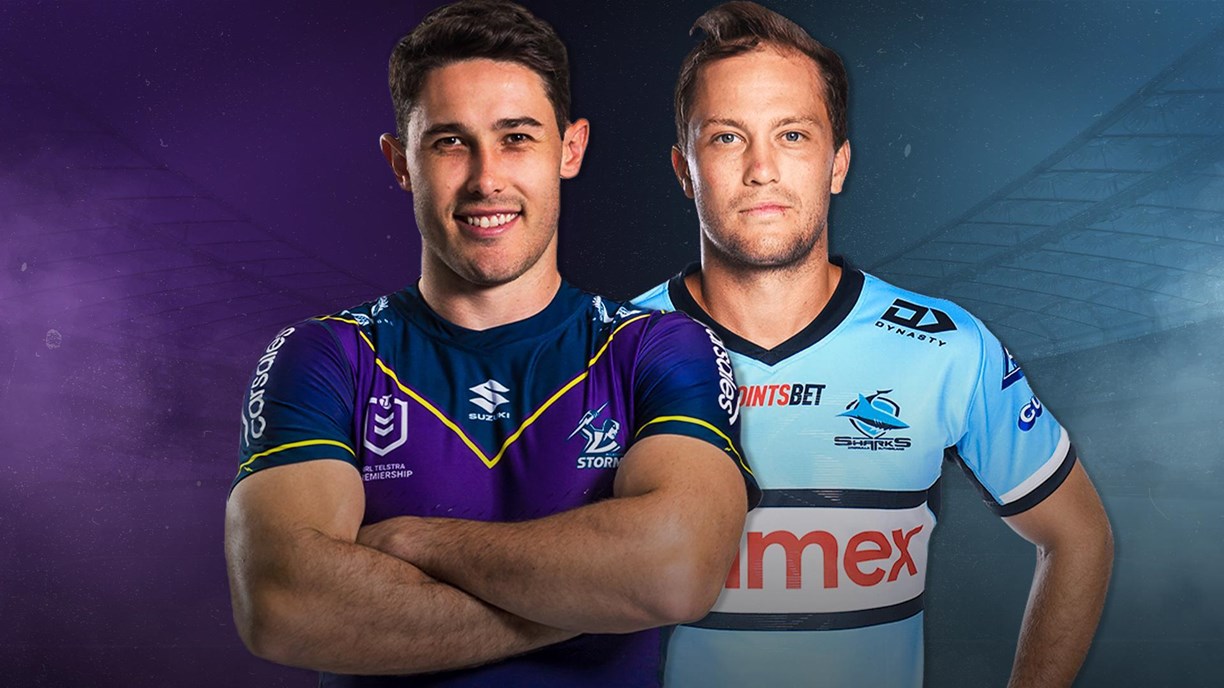 Storm V Sharks – AAMI Park – 21.30NZT
GAME OF THE ROUND ALERT.
While looking at the odds, I had to pick my jaw up off the floor at seeing the Sharks as such rank outsiders in this game. Unreal!
Yes, the Storm are hard to beat at home – but this is a Sharks side who have come to play this season.
Melbourne and Cronulla only make one change each from last week's emphatic victories.
The flair and vision of the Storm see them up for it with every set of six they get. Cronulla have been great defending, forcing plenty of errors. The Sharks are also very good at turning defence into attack.
Love the prospect of this game. I'm going to tip an "upset" and back the Sharks in. 
TIP: Sharks 1-12
SUNDAY: Roosters V Warriors – SCG – 16.00NZT
The biggest test of the season happens this week for the Warriors.
Happy to be sitting 3-2 after starting 0-2, they are growing more confident as a group and you can see it by the way they're playing.
Same goes for the Roosters. They are beginning to look like a side with more direction and better combinations.
I'll be the first to say I haven't given the Warriors enough credit this season – and I expect them to give Easts a run for their money.
Also, both wearing very cool heritage jerseys this week.
The Roosters have more class and more game-winners in key positions, and that'll be what helps them win in a close one.
TIP: Roosters 1-12

Dragons V Knights – WIN Stadium – 18.05NZT
Both these sides aren't in any sort of form leading in to this game, but it's the Dragons who are definitely under more pressure.
Hook has made some interesting (read wrong) decisions in terms of selections, which doesn't help their cause.
Newcastle get some key inclusions back which helps their efforts.
The Dragons haven't really shown any grit after starting the season with some solid defence and attitude. They look soft and underdone through the middle, which is exactly where the Knights will beat them.
TIP: Knights 1-12
MONDAY: Eels V Tigers – CommBank Stadium  – 18.00NZT
The Tigers have not shown me anything this season that makes me believe they will win this game.
They do get Daine Laurie back from Covid, and Jackson Hastings back from suspension – but they need some serious effort from players around these two.
Parramatta do make a couple of forced changes, but they're too good to lose this game.
TIP: Eels 13+
Follow Stephen Gallagher on Twitter