This is where it all stated.  Paul Taylor, a Sydney man, took his weathered bat outside, draped a club cap over it, and took a photo.  He uploaded it onto Twitter and tagged it with #putoutyourbats hashtag as his tribute to Phillip Hughes.

It is a modern mystery trying to work out why some things go viral and others don't.  When it is a picture of Kim Kardashian's backside it is moderately predictable, but this hashtag has been the complete opposite; this has been Social Media at its best.
One by one, from Sachin Tendulkar down, anyone who has ever owned a cricket bat has gone into the wardrobe, garage, or wherever to drag out their beloved bat and taken a snap of it.  When something tragic happens, it is human nature to do something, anything to express people's grief.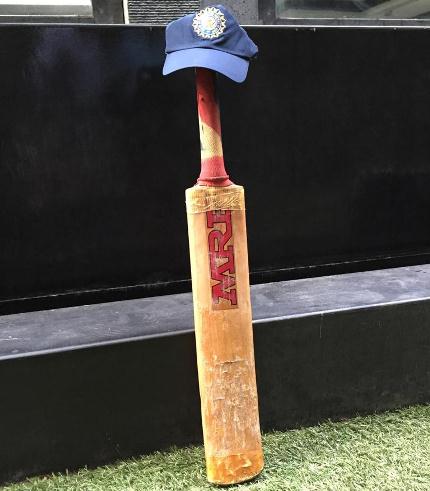 Dean Jones, with Norman on guard dog duties.
Jonathon Trott, a different kind of victim of short bowling himself.
The Sydney Cricket ground, where the accident happened.
It may be winter on the other side of the world, but they got into the movement at Trent Bridge.
Other sports have got into the spirit too.  The Australian Golf Open is currently underway, and the trophy has company.
Prior to kick-off in last night's A-League match.
Horse racing.
And the New Zealand Warriors, with a bat for the ages.
Even Google got into the mood.
Finally, a variation on the theme.  Street art has just popped up in Perth.  The council workers will not be washing that one off in a hurry.