Read's Irish Master-Class Evokes Memories of Other Great Performances
0
By Paul Montague
In the pantheon of great performances in a lead role by an All Black loose forward, the one by Kieran Read against Ireland at Rugby World Cup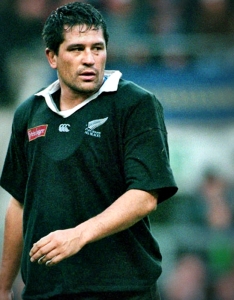 2019 deserves to rank right up there with the best on park of the last twenty-five years.
Read often comes out like a man possessed in the games that really matter, and often right from the start. Last year in Dublin he almost tried taking on too much by himself and looked worn out by the end. Some mistakes came with that. No doubt that 9-16 defeat eleven months ago would have been a motivating force for him on Saturday night. In the first two minutes he and Sam Whitelock gang tackled a one-off runner and drove him back and twisted him around- All Blacks' ball. That set the tone for a night of heavy New Zealand defence- a major contributor to what became an ever-increasing cavalcade of knock-ons from the lads of the Blarney Stone. And we should thank Kieran Read for beginning as they were to go on.
The thing to love about Read is that the tougher the challenge, the more he stands out. He saves his best for clashes at grounds like Twickenham, Newlands and Ellis Park. The inner-beast seems to come out when the threat of defeat is greater. That is surely what marks him as a true All Black great. I should have got around to writing that about two years ago, but now the man has confirmed it beyond any doubt whatsoever.
And Read's master-class was a definitive thumbing of the nose at some critics who said pre-tournament that he was past it at thirty-three years old. Weirdly, almost as soon as Dan Carter turned thirty-three before the 2015 World Cup, the word surfaced that the Rolls Royce of flyhalves was ready for one of the retirement villages he has shares in; that his old legs would be lucky to get him and the team anywhere near the final. As it turned out, without Carter the All Blacks probably would have lost to the Springboks in the semi-final. There must be a lesson in there somewhere that if a great player has a bit of an injury-enforced break, just because they  are the wrong side of thirty shouldn't mean we assign them cart-horse status. Thank goodness they like proving us wrong.
Read's performance wasn't far behind the sheer bloody-minded will and dominance of Zinzan Brooke in 1994, and Richie McCaw in 2008, both against South Africa. Brooke's tour de force was on Athletic Park (the same test match where Johan Le Roux took a fancy to Sean Fitzpatrick's ear), McCaw's at Newlands, Cape Town. Forget the 2011 World Cup Final- that game in Cape Town was McCaw's greatest for the All Blacks; albeit among a fair few other contenders.
That 2008 Newlands match was played out in the shadow of the 2007 World Cup quarter-final loss and a clumsy defeat to the Wallabies at the start of the 2008 Tri Nations. South Africa were defending world champions. They had every right to win. Yet New Zealand won 19-0. A main reason being because McCaw seemed to almost take it upon himself that the Boks wouldn't get across the paint to score so long as he was on the pitch. It was spellbinding to witness endurance and strength on that scale. Sadly, that match has always got a bit lost in the passage of time, as it coincided with a Golden Saturday for NZ at the Beijing Olympics. It's one I'll never forget however.
Ardie Savea was also magnificent in the Ireland game. The All Blacks' loose forward stocks are in the rudest of health. They'll need to keep up their ferociousness against England- because England are very, very good. It's going to be highly nerve-wracking. Because logically there's not a chance in hell we'll clean the floor with them like Ireland.