Remembering our Rugby Giant
2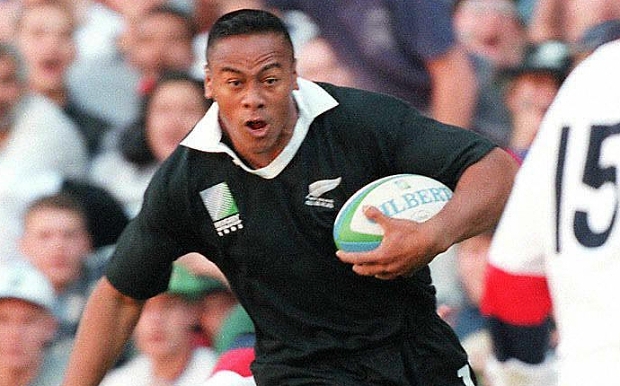 By Scott MacLean
1pm, Wednesday, 18 November 2015. Where were you when you heard the new that one of our greatest All Blacks had left us, and that Jonah Tali Lomu had finally, and unexpectedly, succumbed to the disease he had battled for many, many years.
Even after that disease forced his retirement from playing he remained rugby's greatest and most easily identifiable icon, evidenced once again during the Rugby World Cup where despite his illness – which seemed on the surface to be well under control – handling official duties for World Rugby, and numerous sponsor engagements.
The Jonah legend began in South Auckland, a giant Tongan terrorising opponents from Number 8 in Wesley College's 1st XV. International attention came from his performance at the 1994 Hong Kong 7's, and made his international debut at Lancaster Park on the left wing in a loss to France; at 19 years and 45 days he became the youngest test-match All Black of all-time, something he still holds.
The legend of '11' reached mythical proportions the following year at the Rugby World Cup. Two tries in pool play against Ireland, and another in the quarter against Wales set the table for his definitive performance in the semi-final against England. His first try, the steamrolling of Mike Catt – and Keith Quinn's iconic 'Oh! Oh!' commentary – is ingrained in most people's memory, and set the tone for the rout with each of his four tries that day showcasing his unprecedented combination of power and pace.
Let's not forget, South Africa was only then emerging from the Apartheid-era, and the sight of a man of colour performing like that had an effect that still resounds there today.
In 1996 came the news which would be part of the Jonah story, he had a rare and serious kidney disorder, something he would later disclose had been evident as far back as that 1995 RWC. He missed most of the 1997 season as a result, but made his return on that year's northern tour. 1998 would see him claim a Commonwealth Games gold medal in Kuala Lumpur, ahead of another RWC campaign the following year.
Eight times Jonah would score in that tournament, before the devastating loss to France in the semi-final. Lomu scored twice, but that wasn't his defining act of that day, rather it was his remaining on the field to congratulate the French on their victory afterwards long after his teammates had left.
2000 saw his other iconic moment, winning perhaps the greatest Test match of them all at Stadium Australia in front of 109,874 people; taking a pass from Taine Randall and tiptoeing down the sideline past a despairing Stephen Larkham to secure victory. Like 1995, most people can replay it in their head, together with Grant Nisbett's "Will he make it, you betcha, you betcha! Jonah's in" commentary. Perhaps his greatest solo effort came in that years NPC final, fending off Marika Vunibaka twice in a titanic 60m battle to help Wellington beat Canterbury in Christchurch.
2001 saw Jonah win a World Cup, leading the 7's team to the title in place of a badly injured Eric Rush, but his career in black was done by the end of 2003, missing out on that year's World Cup squad largely due to the effects of his disease. When he underwent a transplant it seemed we'd seen him play for the last time.
Amazingly though, he did make it back to the field. The fact these appearances were often fleeting didn't take away from the effort just to get there.
Wherever else his rugby career took him – Counties-Manukau, the Blues, the Chiefs, the Hurricanes, Wainuiomata, North Harbour, Cardiff, Marseille – he was a magnetic personality, and if someone of 1.96m and 120kg could be larger than life he was it. He may have endured several setbacks off the pitch, including some high-profile relationship failures, but was always engaging. I'm amongst the tens of thousands who can attest to that – my longest conversation with him had nothing to do with rugby, but car audio at a competition all the way back in early 2000.
Few would argue his profile and appeal raised rugby to unprecedented levels, something that continued long after he'd been forced to hang the boots up for good. Wherever he went, people would flock to him, to shake his hand, get an autograph, get a photo.
63 Tests for 44 wins, 37 Tries. 59 Super Rugby matches, 26 tries. Seven's World Cup champion. Commonwealth Games champion. Super Rugby champion. International Rugby Hall of Fame. World Rugby Hall of Fame. Rugby's first true global superstar.
The game they play in heaven just got a hell of a lot tougher
A man taken from us far too soon. Rest In Peace Big Fella.
Follow Scott on Twitter