So farewell then Clive Rice.  Arguably the best all-rounder test cricket never really got to know.  Gone at 66 after battling a brain tumour; too early.  He did get to lead his country back into international cricket in the first post-Apartheid ODI in India.  He understood the significance of it.
We in New Zealand know him primarily for his astonishing partnership with Sir Richard Hadlee for the dominant Nottinghamshire in the 1980s.  He had a first class batting average of 41 and bowling average of 23.  That glory decade of all-rounders (presumably Imran was busy that day).  He would have been regarded as one of the greats but for the fact he was born in a country still run in a 1700s mindset.
And fashion.
And this strange photo where Sir Richard is lagging behind in what would appear to be a race.  Clive Rice was that good.  And here is a scorecard to prove it; as it happens from a rare game that did not go that well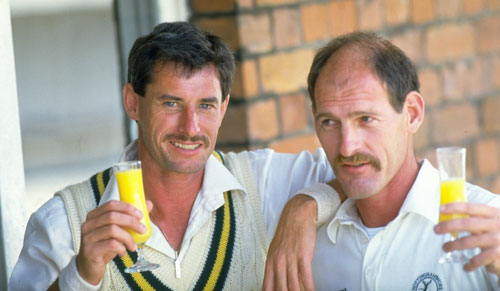 He was also part of the most colourful photo of all time.