10 Of The Best Ashes Performances
5
We're in the full swing of another exciting series of The Ashes as England host Australia for arguably cricket's most famous trophy. It may be a tiny and unremarkable urn at just 11cm high, but the scales of its importance in world cricket is huge. It's mostly for bragging rights between the two nations, but it's also been the home of the sport's greatest rivalry.
   by  mugley
As with any series of this nature, there are often standout performances that live on as the stuff of legend; magnificent strokes with the bat, ferocious pounding of the wicket with the ball, and displays of courage and intelligence as captain. The Ashes series over the years has had them all and then some, so we'll take a moment to remember a selection of epic performances as we enjoy another set of hard-fought test matches
Ian Botham, 1981
It could be argued that Botham's performances make him the greatest Ashes player of all time. He was the loveable rogue, a national treasure that could bat and bowl, but he could also be very volatile. Often, many of the most revered athletes are those that have their issues but can be sublime on their day. "Beefy" had many days, and the 1981 Ashes series highlighted a few of them.
His third test heroics at Headingley saw him drag England back to victory from a near impossible 105-5. He never much cared for the rulebook and slashed his way to 145 not out to give his side a faint chance, then a revived bowling attack finished it off. It is one of the greatest comebacks that had the stage set by one of the most inspired batting performances.
It was Botham's ferocity and defiance that really shone through. He had help as he charged forward, though it was hard to take your eye off the main attraction. He hammered every ball to within an inch of its life, dotting fours around the park and a huge six. The context plays a huge part in this innings, but that's not to say it wasn't an amazing tally no matter where it had come.
Alistair Cook, 2010/2011
Alistair Cook has always been reliable for England. He's a cricketer who works hard to minimise his peaks and troughs, letting them rear their heads very rarely and maintaining a consistent output. That said, he raised the bar enormously in his 2010-11 performance as he joined an elite club who have scored more than 600 runs in an Australian Ashes series. With 766 from his seven innings, it's hard to imagine what more he could have done.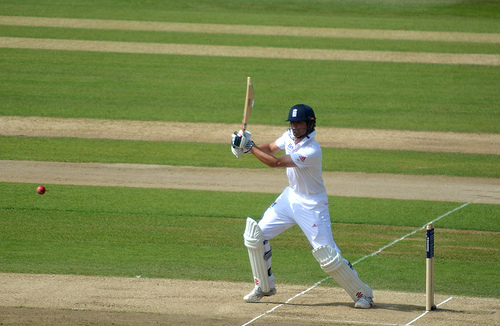 by  nic_r
A faultless 235 not out in Brisbane was a spectacle to behold. He followed it up with more fixating cricket and the centuries kept coming as he led the way for his team to take the series 3-1. It seems unlikely he can repeat it for his team this summer though, Betfair having the hosts 7/2 outsiders.
Michael Vaughan 2002/2003

Vaughan's legacy will always see the focus shifted to his 2005 success as captain. That was a great series and a phenomenal outing for the whole England side. Let's not discard his prowess elsewhere, especially when he was up against it and with not much backup. England were 4-0 down and on their way to a whitewash. 183 from Vaughan was the catalyst for a victory in Sydney and helped the other players believe in their ability to win despite being thoroughly hammered up until that point.
He was one of the few highlights of the whole trip, with two more fine centuries. Not only were they much needed in the face of adversity, but they were pure pleasure to watch with his strokeplay and mastery with the bat in hand more evident then than ever.
Jim Laker, 1956
Yorkshireman Jim Laker will forever be a part of Ashes history thanks to an unprecedented haul at Old Trafford in 1956. Laker took 19 wickets over the course of the two innings. Yes, 19. In the second test he usurped every Australia batsman. With only 90 scored against him, in raw numbers you will not find a better bowling resume in any test. His off spin attack took wickets in a variety of ways, and it wasn't until 1999 that Anil Kumble became the only other man to do it in a test since.
Not only did Laker make himself an Ashes legend with this, but he still remains the bowler with the best ever stats for a test. 19 wickets for 90 runs. Just say that out loud. Truly incredible.
Steve Waugh, 1997
Waugh is another player who could have made the list a few times. It's his twin-hundred at Old Trafford in 1997 that find their way here as it's impossible to overlook such a significant pair of innings, especially as they led to Ashes victory. It was also the first twin-hundred in fifty years in the Ashes.
Part of the appeal was the punishment he gave England after a great early lbw shout from Andy Caddick. The finger stayed down and Waugh then played a patient game, with the odd hint of viciousness when it was needed. He top scored both innings with plenty of room to spare. He went on to become captain in 1999, with the temperament he showed in Manchester no doubt a big part of that decision.
Dennis Lillee, 1972
The numbers can speak for themselves. Dennis Lillee took 31 wickets for an average of 17.67 in 1972. This amazing feat cemented him as enemy number one for the English batsmen who were terrorised by him time after time when he was in his prime. He was a major force that will go down as one of the all time greats.
He would come in fast and aggressively every time, no matter how many overs he'd had to his name. He was confident, coupling this with his power and accuracy to put the fear of God into those at the receiving end. It's no surprise he went out as the leading test wicket taker.
Harold Larwood, 1932-33
This is a controversial addition and many will argue you could put several much 'cleaner' alternatives into such a list, but it was a poignant moment in cricket and showed how different tactics have really caused an evolution in the game of cricket, sometimes by design and sometimes by accident.
Douglas Jardine's "leg theory" was no accident, and Larwood was clinical in delivering it. The aim was to keep batters penned in and on the back foot, with the title "Bodyline series" ringing very true. It was passionate and enthralling in equal measure and it definitely got inside the heads of the opposition. The great Don Bradman was even somewhat flustered by the attack, with his averages much lower than usual. Larwood's 33 wickets came by sticking to the plan religiously, even if it didn't prove popular universally. The third test in particular saw relentless punishment, with Bert Oldfield suffering a fractured skull to really polarise the sporting world on the decency of the tactics.
England took the series 4-1 so the risks paid off, and plenty of Australians were left nursing some painful bruises from zipping Larwood deliveries. The first test was his best, with twin five wicket hauls to lead his team to a comfortable victory.
Don Bradman, 1948
It wouldn't be a list without the Don. It's every cricket fan's favourite tale to tell of his 99.94 average on retirement and what could have been (not that the average is anything but unbelievable). Bradman would consistently do damage to opposing sides no matter who they were or what was at stake, but you can bet in The Ashes he tended to come at England with some particular venom. He was slowed down somewhat in the aforementioned series of 1932-33. England, however, were unable to keep the leash on any other time.
In 1948, Bradman said he wanted to go through The Ashes series undefeated, and he captained his team to just that. They went 4-0 with victories, with a draw just enough to save the total whitewash, though not by much. They were dubbed 'The Invincibles'. Bradman's numbers weren't the highest of the Australians – with 502 runs from 9 innings and a top score of 173 not out – only because Arthur Morris played sublime cricket to get past him and score 696. However, Bradman's captaincy, and consistency were a pivotal part in every moment on the field.
Shane Warne, 1994
   by  zoonabar
There could be so many Shane Warne moments to pick from. He was an absolute nightmare for England for many years had another one of his most memorable performances over a decade after the one in question. In 2005 he was a rare shining light of defiance in Australia's losing battle. However, his 1994 series had a moment that will be remembered forever.
England knew about Warne thanks to 34 wickets two years prior, although that doesn't mean to say they had him figured out. He came a hair's breadth away from a hat-trick in the previous test and this time he saw it through to its conclusion. He dismissed Phillip DeFreitas with a low leg spin, and then tricked Darren Gough with a bouncy number that he just couldn't escape from.
The butterflies would have been fluttering their wings like crazy inside his abdomen but Warne kept it together. He threw down another leg spinner and an outstanding catch from David Boon saw them team up for the wicket of Devon Malcolm. On another day that catch might have gone down but Boon's reflexes and speed were on point; it was as if there was no other way, this was the time. It was the first Ashes hat-trick in 90 years which shows how rare a feat it is.
Glenn McGrath, 1997
McGrath wasn't brash like some of his countrymen. The niggle and on-field antics weren't his thing as much as the Shane Warnes of the world, but he was Mr Consistent. Reliable and steadfast, the team always missed him terribly when he wasn't available because when he was, he was so potent.
McGrath was the type of bowler that would stay on you with accuracy ball after ball, with very little let up. That's disconcerting for a batsman when the man throwing the ball down the wicket at you seems to never make a mistake. That makes batsmen reach for shots or force things they wouldn't normally have to, and that was what brought so much Ashes success for McGrath; 157 wickets of success to be accurate.
His 8 for 38 at Lords in 1997 was a real showcase of first class bowling. Again, it was just the right area time after time…..after time after time. His eight wickets for such a low economy helped dismiss England for 77 runs.
This list could go 100 deep and we'd still be thinking of more names, but what we've chosen hopefully embodies some of the Ashes attributes that the sporting world has come to love. Fierce competition, skill, and a rivalry that will stand the test of time.
These names are all in the history books for a reason. It can be a single test, a whole series, or a career as an Ashes great. Whether it took days, months or years to build their Ashes legacy, they'll last for decades, even centuries, as the legend of the competition continues to grow.