Rugby's Human Rollercoaster
0
By Keith Miller
By the time I had sat down to watch the first test against Wales at Eden Park, it had already started to nag away at me.  I simply knew Waisake Naholo reminded me of someone, but I just couldn't place it.
Then, after seeing Naholo drift off his wing to allow a Welsh try in the corner, take out Ben Smith, handle the ball as though he's been passed a grenade, and bombing a try scoring opportunity in the process, we watched him scorch through the Welsh defence twice as though they were standing still.
We'd seen it before at test level (albeit very briefly), but there it was.  My epiphany.  My Eureka moment.  Waisake Naholo could well be rugby's version of Manu Vatuvei.
Like Vatuvei, Naholo can score tries that other wingers simply can't.  On their respective days they are pure match winners, and the value they add to their teams cannot be overstated.  They have strengths that sometimes go unnoticed (or unappreciated).  For Naholo one of those is his ability to create devastating angles when cutting back to receive an inside pass.  For Vatuvei it's his ability to take pressure off his forwards and make vital yards in the Warriors own 20 metres when they are under the pump.
But both players can be insanely infuriating to watch in defence.
Naholo's awful decision to rush in from his wing lead directly to Taulupe Faletau's try, and it was carbon copy Manu.  It was unnecessary, and extremely hard to fathom.  Unfortunately, from there it looked like the harder he tried the worse he got.
However, not long after, we saw him at his best.  Two critical plays later, the All Blacks were back, and Naholo had turned from villain to hero. Sound familiar?
The All Black selectors have a lot of faith in Naholo.  They took a risk (which ultimately didn't reap rewards) when they took him to last year's World Cup, based on the strength of half a test.  His talent is obvious, and it's not surprising that they want him to develop into a test match winner.  Thanks primarily to his incredible speed off the mark, he does things that other wingers can't.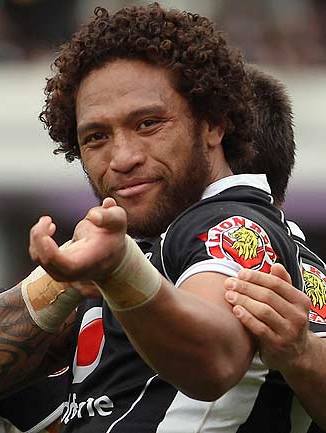 Likewise, Vatuvei from 10 metres out is very rarely stopped.  Give him the ball and it's usually a given that four points is in the bank.  But, man – has he copped more than his fair share of criticism.  "Hands like feet", or, "remember that night at Parramatta Stadium in 2007?"  It was a very long nine years ago, but Vatuvei still can't escape that night.
You'd like to think that with both players the positives will ultimately outweigh the defensive and ball handling negatives.  Both are untouchable at their best, and their talents crucial to their respective sides.
Should Waisake Naholo settle into the side as a first choice winger – and let's not forget, he's only played a handful of minutes at the top level – then All Black fans will need to lock themselves in and expect some turbulence.  In much the same way as the Warriors have had to accept that match-winners have their up and down moments, they may have to expect a bumpy ride.
It is likely that Naholo will be an All Black for a number of years to come.  Let's hope his defensive frailties are arrested so that in 2025 we're not saying "remember that night at Eden Park against Wales in 2016?"
Both players deserve better than that.